Hi friends!
Today is my day on the Hello blog hop! Hello is a new fabric line by Susan Emory of Swirly Girls for Michael Miller.
The line has fun funky prints like this one called call me!
And this one called get to the point!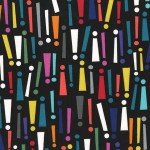 And these bracket stripe and hashtag textures in a variety of rainbow colors!
When Susan sent me some fabric to play I decided to create a mini version of my quilt, Savannah Squares. And guess what I called it? Savannah Squares Mini! What can I say?
But isn't it cute? I love it!
When I started to play around, I realized that since I wanted to use the call me! fabric, I had to make my Half Square Triangles (HST) a slightly different way.
Most of us will cut squares, draw either a cutting line on the diagonal or draw 2 sewing lines ¼" away from the diagonal. Then we sew on the ¼" lines, cut on the diagonal line and voila!- we have 2 HST units.
For this project, I actually cut my squares a little oversize, cut the square in half on the diagonal and then laid the triangles on the fabric. I wanted both of my phones to face the same way. So I auditioned where to cut. Once I knew where I wanted to cut, I laid the triangles on top of the fabric, cut around them and sewed the diagonal seam.
Then I trimmed them to size. Worked like a charm!
With a bit of my leftover fabric I even made a cute little pin cushion. I am doing a pin cushion mini challenge this week. Go over to my Instagram feed to see today's pincushion!
To make this one, I cut my center square at 3 ½" x 3 ½", the hashtag strips at 1 ¼" wide and the back at 5″ x 5″. I layered the top with some batting and quilted it with Aurifil thread. Then I layered the back and the top right sides together, sewed three sides and left an opening on the 4th side. I turned it right sides out and filled it with crushed walnut shells.
How about a giveaway???
I have a couple of goodies for you. One lucky winner will get a copy of my Savannah Squares mini pattern and a little of the call me fabric to fussy cut your 2 HST blocks.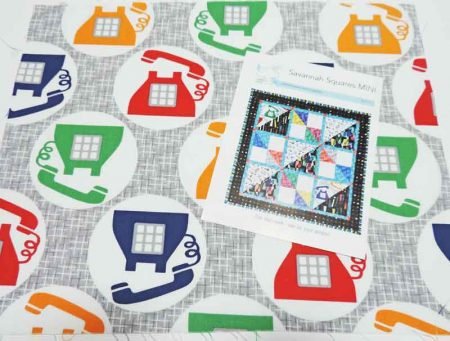 The second lucky winner will get a small call me square, some hashtag fabric and a little of get to the point fabric, a piece of batting and some Aurifil thread to make their own pincushion!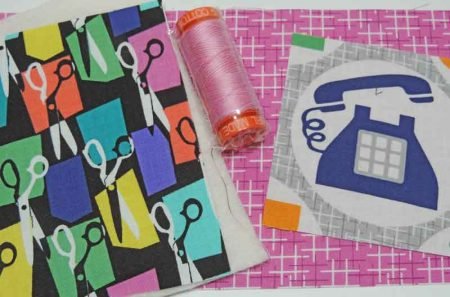 Just leave a comment on this post about which goodie you would like to win. Contest ends Sunday July 23 2017 at 9pm (my time) and I will draw 2 names. I will email the winners and if I don't hear back in 7 days, I will draw a new name.
Good luck!
happy quilting,
Kate
SaveSave