Hi friends!
When I do a lecture for a guild, or teach a class, one of the things I love to talk is color in quilting. Change the color, change the look of a quilt. And sometimes the addition of a specific color to a quilt can really make or break the design.
Color is the thing many quilters seem to struggle with.
And so many of us tell ourselves, "I am not good with color."
I say you can learn to master your quilt colors! Over the years, I have learned a bit about mixing colors and fabrics, about value, about warm and cool colors… but I think that the act of mixing fabric and color in a quilt is an ongoing learning process. We learn a little bit more from every quilt we make.
I have made some serious missteps along the way.
Sometimes I have put fabrics together that have blended so beautifully you couldn't see the design.
Oops!
Or I just did not provided a pop of color so the quilt felt a little boring. Or I put the pop of color in the wrong spot and highlighted an uninteresting design element. It happens.
But don't you love it when it works??!!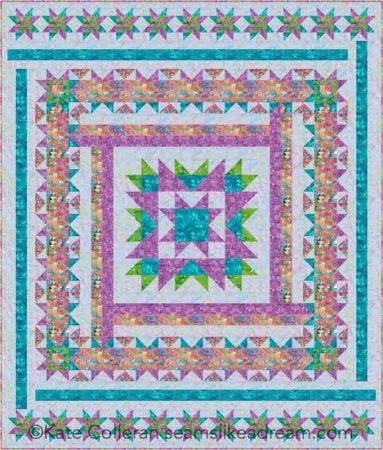 Mixing fabrics, picking the fabrics for a quilt is a process, part art, part science and I believe we can all learn to do it better. Remember, I didn't go to design school or art school; I was trained as a nurse! It just takes practice.
So how about we explore quilt color theory together?
This weekend is the fall Retreat from Home so I am busy teaching but soon I will share a post chatting more in depth about color and picking fabrics for a quilt.
In the meantime, leave me any specific quilt color questions you may have in the comments and I will see about incorporating them into an upcoming post!
happy quilting!
Kate