How did it get to be the end of August already? Where did this month go to? I have not checked off nearly enough things on my to do lists. Yikes.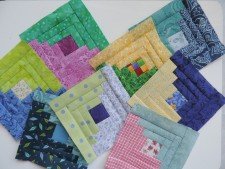 One of the things I wanted to get a chance to play with were the Quiltmaker Bitty Blocks for August. So the other day, I just dropped everything else and played for a couple of hours. This month they were making bitty Log Cabins. I LOVE Log Cabin blocks.
It was so much fun!
I did not worry about colors or wonder if all the blocks went together… I just grabbed my bin of fabric, found pieces that I liked and made a few blocks.
Here are a few tips to make them.
1. Lay out all your strips for each block in order. I used the backside of my sandboard so I could carry them from the cutting table to the sewing table.
2. A good ¼" seam is crucial!
3. Finger press or press after each addition. I would finger press for 3 or 4 strips and then would take the block to the iron for a nice press. I would also trim after adding about 4 strips. Even when I ironed after each strip, I found a little trim kept me on track.
4. Trying to remember which side to add the next piece to??? Always place the piece you just added at the top and add the next one to the right edge.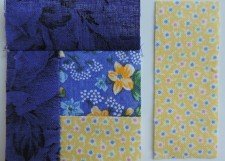 I have a few more to make- I think I have enough scraps, don't you?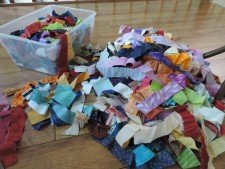 Have you made any of the Quiltmaker Bitty Blocks? They really are fun and addictive! Click here to go to their page and get the free patterns.
happy quilting,
Kate