Thanks to everyone to who posted a comment about my quilt in the latest McCall's Quilting magazine. I am so glad you liked the quilt!
Last week, I had the honor of speaking at the Arapahoe County Quilter's guild meeting and then teaching a class for them at Holly's Quilt Cabin on a quilt from my book, Smash Your Precut Stash.
We primarily worked on the quilt Down the Garden Path using my Braid Template. A few decided to work on Crosscut and Table Scraps instead.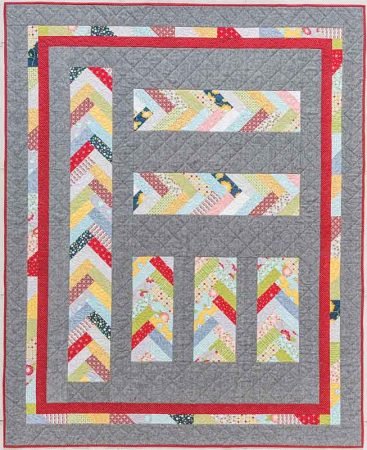 It was so fun to see all the different braids and fabrics used. Some used jelly rolls, some cut up their scraps… I admit to being terrible about taking pictures. I am bummed I did not get more pics with everyone's braids, but here are a few.
You can see her long braid section is done; it is hanging on the wall next to the original quilt. Looking good!
Thank you ladies- I hope you had as much fun as I did. I can't wait to see the finished quilts!
Today starts Quiltmaker's 100 Blocks vol 14 Blog Tour. You will get to see a lot of the blocks from the issue and have chances every day to win goodies and a magazine! Click here or on the image below to go to the first post to get started!
Oh- the winner of the McCall's magazine! I almost forgot!
Verna! Congratulations!
I have emailed you to get your mailing address. If for some reason, you don't see my email, check your spam folder. Every now and then, I get put in spam. 🙁
Have fun on the 100 Blocks blog hop and remember to pop back here on Thursday; that's my day on the hop.
happy quilting,
Kate