Hi friends!
Back in this blog post, I mentioned a few of the Quilt Alongs I plan to participate in this year- 2 are BOMs. For every block, I have a whole month to make it; surely I can make a block in a month!
January Block- Rolling Stone
The directions for the AQS blocks include the option to make this a quilt-as-you-go quilt. Which means, you quilt each block when you make it. By the time the blocks are all done, they are quilted as well and you can just sew them together, bind and be done!
I debated doing that but in the end, I decided not to. I am not sure how I want to put my blocks together so quilting first may end up messing with the plan! Of course, I don't have a plan yet but …
I stuck to the basic color scheme AQS used. I wanted to see how I could make the fabrics I picked work. Not too bad! Here is a link to the block directions.
Now another fun thing they are doing is offering up options each month for block variations. It might be kind of fun to make some of these variations and have multiple blocks for each month.
Hmmm, would this be a case of biting off more than I can chew? It may be. Click here to see their post on the variations for the Rolling Stone block.
Which would you do? The block, a variation, a bunch of variations….
Adventure Quilt
The fabric giveaway over on Instagram ends tomorrow so be sure to pop over to my Instagram post @seamslikeadreamquilts for a chance to win one of 2 FQ bundles!
2019 Goals
In my post about my goals for 2019, one was to take care of myself better this year. Drink more water and exercise more. Today I took the pup for a nice walk- we have a trail near us and a cemetery with lots of paths for walking. Today we went up the street and into the cemetery- what a great view.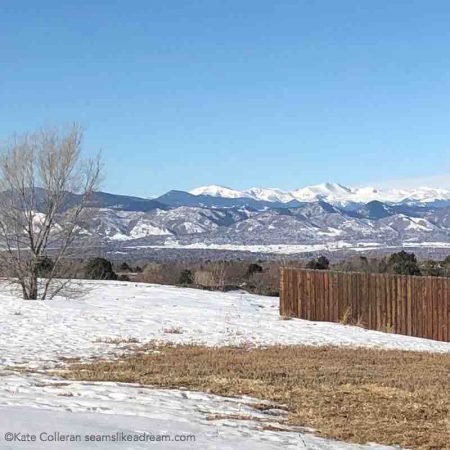 Bits of our snow from the storm last week is still hanging around and we are supposed to get a storm tonight but today the weather is great. And I just hope I wore Kira out!
happy quilting,
Kate