Hi friends!
I decided I needed to list out some of my projects for 2019 so I could get a handle on what I am doing. Or planning to do.
How about you? Have you signed up for a ton of QALs and other fun stuff and are already overwhelmed? Here's my current list.
Adventure Quilt … a Road Trip Quilt QAL
Well, of course I am planning on my Adventure Quilt QAL! I already made one, but I will be making a second one along with the QAL to show you tip and tricks.
In case you missed it, the first post telling you the schedule of the QAL is here.
Quilter's Planner Blocks
Scattered throughout the planner are fun, simple blocks for you to make. And there are instructions for the blocks on the QP website. Easy peasy and fun! I blogged about the first block and the fabrics I am used here.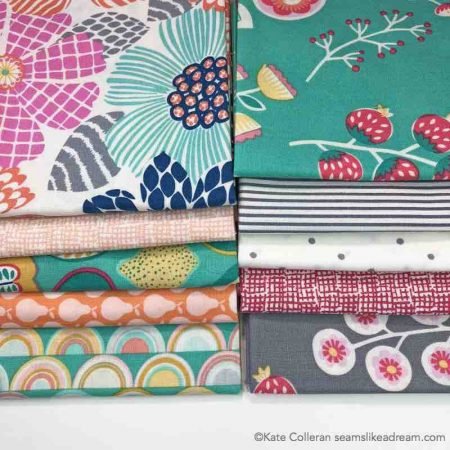 Block 1- done!
Quilter's Planner Hexie Snowflake Sampler
I just got my fabrics for this one. The pattern comes when you buy the Quilter's Planner 2019 and I thought it would be fun to make a 2 color quilt. So I picked this yummy line by Debbie Maddy for Moda fabrics called Nuno .
Aren't these awesome?
The quilt calls for 4 fabrics and a background but I decided to use a few more to get a greater ranges of light and dark since I am only using blues. My background will be a soft white solid. Because I love white background quilts. Just my fav.
FYI- the fabrics should be in stores next month!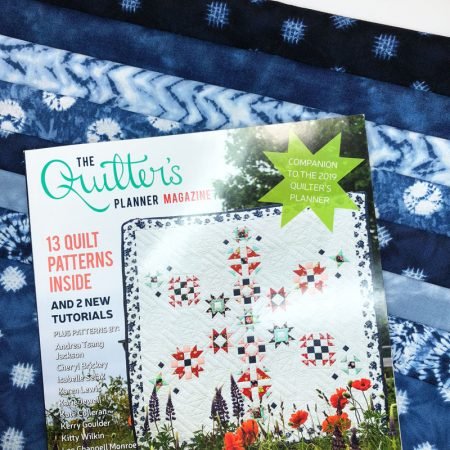 My plan is to make the blocks and to worry about the setting later. I think I am going to do something different than the cover quilt; they have a second setting idea on the QP website so I may use that or I might come up with my own. We'll see.
Fabrics: Picked. And Luna approved!
Jan Block: To Do.
AQS Block 2019
AQS is also sponsoring a free BOM. Click here for more information.
Now I know I fell down on the Christmas blocks and did not finish but… hey! They were small and I was busy and… the dog ate my fabric… and the kittens got into my thread… and ….
First step for this one was pulling fabric. Last year a dear friend gave me this AMAZING FQ stack of Miss Kate by Bonnie and Camille for Moda.
Clearly named for me, right?
I think this will be a great way to use these beautiful fabrics. First though, I have to get brave enough to undo the ribbon. It just looks so pretty all stacked up!
Fabrics: Picked.
Jan bock: To Do.
#365quiltblockchallenge
Some people I know- including Tammy my fellow Adventure Quilt designer– is doing this challenge! Now that is brave. A block a day for the year!!!
If that interests you, click here to check out Kathryn Kerr, the designer and sponsor and find out how you can download the blocks. I think that is one QAL too many for me! But who knows…. I reserve the right to change my mind.
OK! QALs are picked- for now.
I started listing out the projects and writing down details on each project to keep me on track.
Let's see how it goes this year with STAYING on track!
What QALs are you doing? I would love to hear about them. Post in the comments! Maybe I might find a new one to participate in!
happy quilting,
Kate