Hi friends!
This month on Instagram, the folks at the Quilter's Planner are hosting a Best Year Ever Photo challenge!
Each day there is a prompt and today's prompt was "Plan for Success". Hmmm. How to capture that in a photo?
Well, first I need to know what my plan for success is!
Organization. I need to organize my sewing area and find a way to return items to easily stored places. I am forever looking for that pair of scissors, or Jack (my seam ripper and though I have many, none are ever around when I need them!), or my awl… I think I have them put away but then I find them on the floor.
Can you say kittens? They love to play with things on my sewing table and knock them off! They may look sweet here but they can be feisty!
And projects! Each project needs it's own space. I am constantly working on more that one project at a time- the nature of the biz- so each one needs a spot otherwise things get piled up and I can't find the next fabric because it is buried under a different project.
Today I started a new project.
Don't judge- I start working on one project, focus on that, and then… Squirrel!!
The Quilter's Planner has blocks posted in the planner throughout the year. And they have instructions for the blocks on their website. Click here to go to their website and see this week's block instructions.
I decided to use this sweet FQ stack I got at Quilt Market a while back from Dear Stella. Aren't they fun!
I may have to add a few solids or tone on tones along the way be able to make all the blocks, but that gives me an excuse to go shopping! And I really want more of that grey stripe- can you say awesome binding?!!!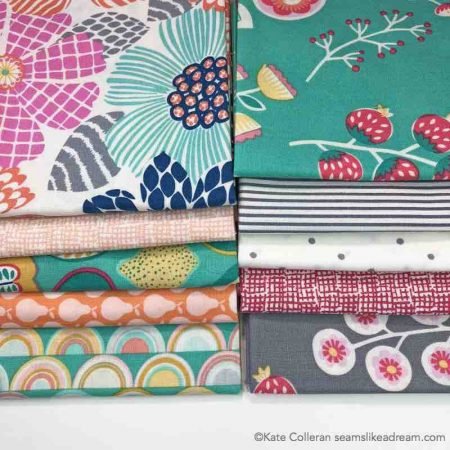 OK- back to organizing. I grabbed a plastic bin (and yes, I threw the project that was in that bin into another bin but I will deal with that later!). Then I put the fabrics in there. It will go on my shelf and then, when I want to make the next block I can grab the bin.
Easy peasy.
This week's block is a super simple four patch.When laying out the block, since the fabrics were directional, I made sure each square was going the same way.
Don't you love it when the back is as pretty as the front?
Now to find a new bin for the project I dumped!
happy quilting!
Kate