Hi friends!
Today is my day on the Spring Clean Your Studio Blog Hop! 
My studio is usually a mess. And since many of us can say that, nothing new there. I like to say it is organized chaos; in that I know where everything is, it is just all over the place!
But right now, it is even more chaotic because I leave tomorrow for Quilt Market. So I have projects all over the place. And the kittens have been helping by knocking things off the shelves in the closet area!
I function much better when the studio is clean. Even the organized chaos can start to stress me out. But it is so hard to keep things under control.
The thought of cleaning my entire studio seemed so overwhelming. So, for this blog hop, I decided that I would focus on what makes things get so out of hand. I already have places for my tools like my rulers and rotary cutter, scissors etc. And this storage works well for me.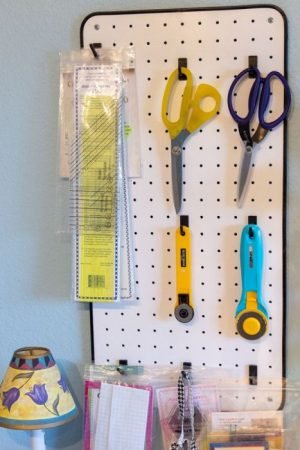 I also have a system of fabric storage for some of my leftover fabric that works pretty well. I have bins for different colored fabric, bins for precuts etc..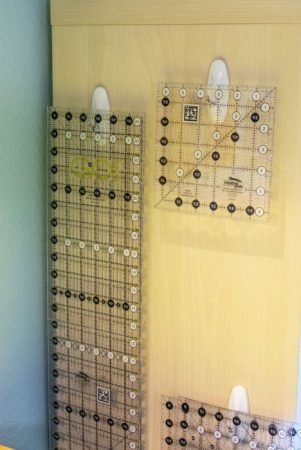 So what is the issue?
One: volume! My current level of fabric is more than my current system of bins for storage can handle!
Two: Fabric for current projects. I constantly have more than one project going on at the same time and each project has lots of fabric. I need a better way to store each project or it ends up on the floor.
And then when I am done, the leftover fabric ends up… well, back on the floor!
So I decided to try more bins.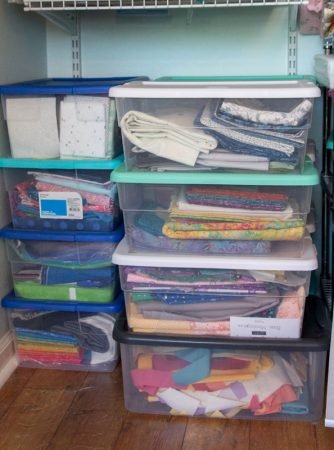 And clear off a shelf in my bookcase and see if that works for storing projects.
Do you have a good system for current projects or ones that will be current really soon? I would love to hear what works for you.
I will admit; I have more to do in this studio to get it really clean. But that is a project for another day. Right now, I have my projects organized, my tools in place and I can see my bookcase. 
That is a win in my book!
Want to see more studios get a spring cleaning?
Here is the whole schedule: 
April 29 – Linda Bratten – http://lindabcreative.blogspot.com/
April 30 – Sandra Johnson – http://www.sandrajohnsondesigns.com
May 1 – Jennifer Schifano Thomas – http://www.Curlicuecreations.com
May 2 – Becca Fenstermaker – http://www.prettypiney.com
May 3 – Sue Griffiths – http://www.duckcreekmountainquilting.com
May 4 – Kate Starcher – http://katiemaequilts.com/blog
May 5 – Jo Westfoot – http://www.thecraftynomad.co.uk/blog
May 6 – Sam Hunter – http://www.huntersdesignstudio.com
May 7 – Simone Fisher – http://simonequilts.com/blogs/news
May 8 – Elisabeth DeMoo- http://www.brownbirddesignsquilts.com
May 9 – Sarah Myers – http://www.quilted-diary.com/blog
May 10 – Amy Bradley – http://www.purplepineapplestudio.com
May 11 – Kathy Nutley – http://www.QuiltingsByKathy.com
May 12 – Carla Henton – http://createinthesticks.blogspot.com/
May 13 – Sherry Shish – http://www.poweredbyquilting.com
May 14 – Kate Colleran – https://katecollerandesigns.com/blog
May 15 – Pamela Boatright – https://www.pamelaquilts.com/
May 16 – Cathy McKillip – http://wishuponaquilt.com/blog
May 17 – Cheryl Sleboda – http://blog.muppin.com
In the meantime…happy quilting!
Kate