Hi friends!
I am so excited! Today I am giving you a sneak peek of the 2020 Quilt Along project that Tammy Silvers and I created!
We had so much fun last year with our Quilt Along that we wanted to do another one. We hope you will quilt along with us in 2020!
The quilt is called Luminous and we will do the big reveal on Jan 1, 2020.
When Tammy and I started talking about doing another quilt along, it was right after our first one last spring.
That quilt, A Road Trip, was a travel adventure quilt.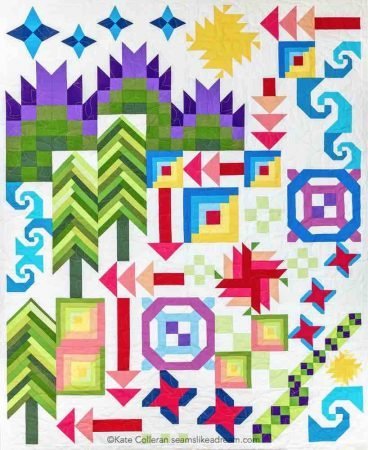 We needed to come up with an idea for our next quilt adventure.
What would our next adventure be?
And then it came to us- an Adventure in Color!
2020 Quilt Along Project: The Concept
Tammy leans towards quilts with bright color backgrounds or dark backgrounds. I lean towards quilts with light or white backgrounds. What if we designed a quilt and then showed it 2 different ways: one with a dark background and one with a light background?
Yes!
And so we had our Quilt Adventure!
For fabrics, we used the Toscana line of fabrics from Northcott. My background is light; Tammy's is dark. Here is the stack of fabrics that I used!
The Design for our Luminous Quilt Along
Then we just needed to design the quilt. This quilt has 6 blocks, and yes, you will be making more than one of most of the blocks!
So tell me, are you a dark background kind of quilter, or a light background quilter? Or do you like both? I have to tell you, both quilts look so amazing, I love them both!
Click here to go to Tammy's blog post and see her colors.
Our Quilt Along Plan
We will release the blocks every other week starting January 29th which gives you a little more time between blocks. The last post will be the setting.
Want to know when each block is being released? Plan to sign up for our Adventure in Color newsletter, where every time a new block is ready, we will send a reminder email. Email signups will begin January 1.
Be sure to pop back here on January 1 and check out the new quilt for our next quilt adventure: An Adventure in Color – Luminous!
happy quilting!
Kate