Hi friends!
Today as part of our Exploring the Basics series, Tammy and I are sharing about our recent block challenge: to remix and reimagine the 7 grid quilt block!
The 7 grid quilt block
What exactly is this block you wonder? Many quilt blocks start as a grid- the nine patch is a perfect example! It is a 3 grid block.
Three squares across and three squares down for a total of 9 squares.
I have made a bunch of these lately as part of my #the100dayproject!
The 7 grid quilt block is seven squares across and seven squares down for a total of 49 squares!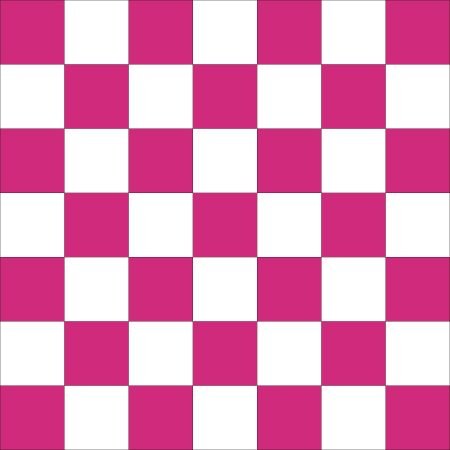 Yikes! That is a lot of squares in one block!
The Remix – color
For my remixed and reimagined block, I started with color. I knew I wanted to name this block after the Hackberry tree- I mentioned in my post last month how I am going to name each block after the tree for the month. And for February, that is the Hackberry tree.
The tree has green spearhead looking leaves and small dark red drupes that turn dark purple in autumn. The berries stay on the tree into the winter.
So I had my palette- green and red/purple. Ok, my fabrics are more pink but I like it!
The Remix – the new 7 grid quilt block
For the block, I just started playing around with shapes. I just kept drawing lines. Once I had a design I liked, I made the block. It was all stitch and flip and tiny squares.
No. No. That was WAY to much work! No one said my block had to stay as 49 squares!
So I played with the lines, removing some so I could make larger units while still keeping the block shape. I love EQ8! It makes it so easy to reconfigure a block.
Now I had flying geese, HST, stitch and flip and a square in a square!
Still a lot of piecing for a small block.
The quilt
I am making a quilt using the blocks and I have a specific spot in my house that I want to hang it. So I wanted it to be around 30-36″ x 36- 42″. Here's the planned quilt. it will be 34″ x 42″.
I will admit the quilt is not done. I have pieced all the small ½ blocks (4 green and 2 pink) and made 2 full blocks. So I have 7 more full blocks to go before I can put the quilt top together but that is OK. 
What do you think? Still too much piecing? It it a lot, the blocks are only 10.5″ square but I think it will look great when I am done!
Now, click here to head on over to Tammy's blog post to see her reimagined and remixed 7 grid quilt block ! They 2 quilts couldn't be more different!
happy quilting!
Kate
p.s. Guess What?
Next week, Tammy and I are revealing our Quilt Along quilt!!! It is called Sisterhood. We can't wait to show you all the quilts (there are 3 sizes you can make) and reveal all the great giveaways that will be part of the quilt along.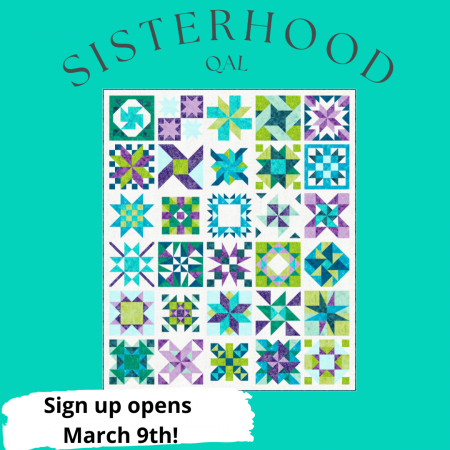 Be sure to pop back next week to get all the details!