Hi friends!
Happy New Year!
It's time! Time for Tammy and I to show you the quilt for our 2020 Quilt Along!!!!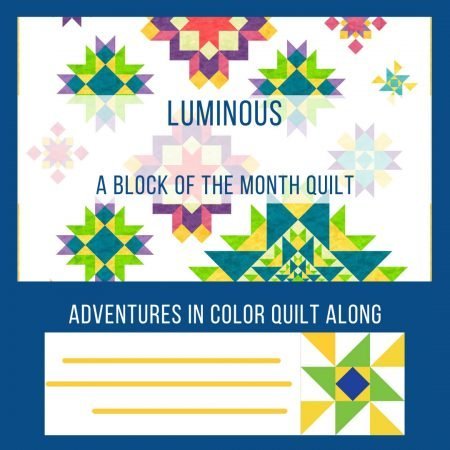 Meet Luminous!
Luminous feels like a sky filled with stars. My version of the quilt is called Dawn.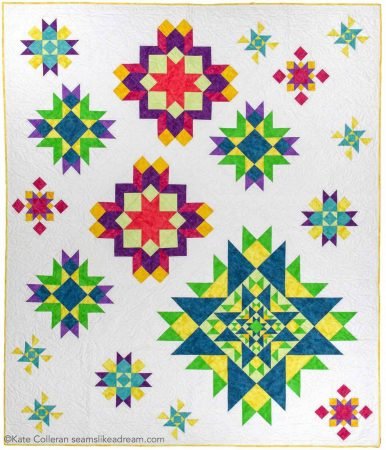 Dawn: the sun has just risen and the sky is so light it appears almost white. When you look closely at the stars you see their last twinkle of the day before they disappear from view.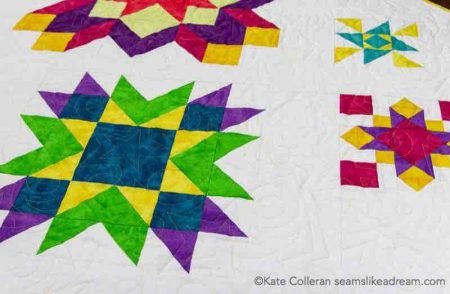 Tammy's version is called Dusk.
Dusk: as the sky darkens and elements on the ground are hidden in the shadows, the stars pop out and shine against a dark sky.
Want to see Tammy's Dusk version? Click here to go to her blog!
For fabric, we both used a line from Northcott- their beautiful collection called Toscana. We love how the fabrics feel. And they have the look of suede which gives the quilt a wonderful texture.
To add a bit of whimsy to our celestial theme, we have named each of our blocks for goddesses of Greek and Roman mythology. As you quilt along with us, we will tell you a little story about the goddess we named each block after!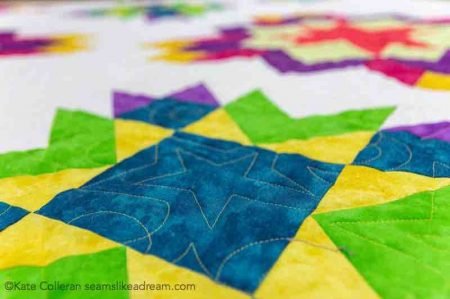 Luminous– a celebration of the wonder of nature, of the sky, of the stars and of the female spirit.
Quilt Along Details
Each block will be available on both sites on the scheduled day by 8am MT. The blocks and the setting will be only $3.00 each during the Quilt Along. Once a block has been released, it will stay available through May 13, 2020.
If you would prefer to purchase all the blocks and the setting at once, the full PDF pattern will be available starting Jan 29th for $24.00. It will be available thru May 13, 2020.
After May 13th, 2020, the blocks will no longer be available individually or as a full pattern in PDF format. The pattern will then be available as a complete printed pattern at the full price of $28.
For any customers living outside the US, the patterns will be available in our ETSY shops during the quilt along.
I have a Quilt Along page set up with a PDF of the FAQs and a link to my ETSY shop.
Quilt Along Schedule
Jan 1 – Introduction and FAQs
Jan 15 – General Information handouts including fabric amounts and color charts
Jan 29 – Block 1
Feb 19 – Block 2 
March 4 – Block 3
March 18 – Block 4
April 1 – Block 5
April 15 – Block 6
April 29 – Setting
May 13 – Bonus pattern. PDF patterns go away!
May 20 – Luminous in our new Island Batik fabrics!
June 3 – Quilting suggestions
Quilt Along Sponsors
We have wonderful sponsors who will be adding a little fun to our posts with awesome giveaways! Here is the list of our sponsors:
Aurifil Thread, Northcott fabrics, Warm Company, SCHMETZ Needles, Grabbit Sewing Tools and Studio 180! So you won't want to miss a single post. Giveaways open to those in the US only; shipping costs are just so prohibitive.  No purchase necessary to enter giveaways.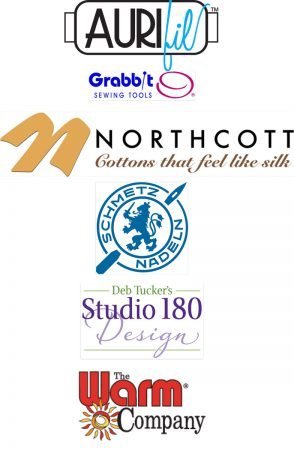 Newsletter
To help keep you in the loop, we have set up an Adventure in Color newsletter. This way, you can get an email every time a new block is available and blog post goes live. If you want to get the emails click here or on the image below to sign up.
And don't worry, once the Quilt Along is over, we will stop sending emails.
So, are you ready to go on an Adventure in Color with us?
Start thinking about what colors and fabrics you want to use for your quilt. Will you go for the dawn version with a light background or for the dusk version with a darker background? 
Bright Colors? Pastels? Autumn or Spring? Winter or Summer? What feeling do you want your quilt to convey? Bold and daring or soft and relaxing?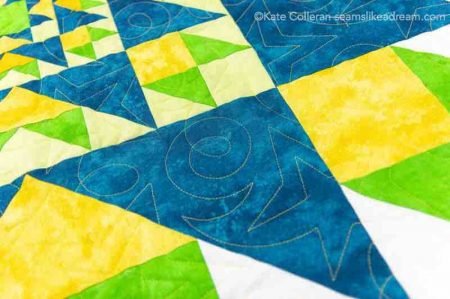 Note: as you start to think about the colors for your Quilt Along project,  keep in mind you will need 10 colors plus a background.
Up Next
Be back here on January 15th for the free Quilt Along downloads – the General Information page, Fabric Amounts and a Color Chart.
Don't forget to head over to Tammy's blog and see her Dusk version of Luminous. It's gorgeous!
Let's start our next adventure!
happy quilting,
Kate