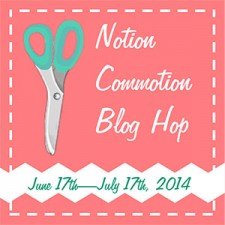 Today is the day- the last day of the Notion Commotion Blog Hop posts! I hope you have had a good time visiting all the designers and seeing all the great gadgets and gizmos they have shown us.
I know I have had a blast!

Today our blogger is my good friend Annette Ornelas of Southwind Designs. She is a great lady with some really cool patterns. I can't wait to see what she has in store for us! Pop over to her blog and check it out.
Thank you to everyone who participated in our blog hop. Don't be a stranger- come back soon!
Elizabeth will be drawing a name on Friday and she will post the winners of our giveaway here either Friday or Saturday. So make sure you have entered our drawing- click here to go to the blog post if you have not entered yet! Click here for the entire list of bloggers- you don't want to miss single one!
happy quilting, Kate