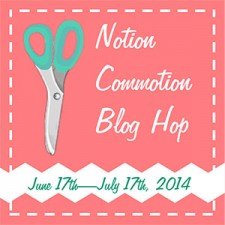 Day 4 of the hop! And guess who is posting? That's right, it is our day on the Notion Commotion Blog Hop. So let's get to it!
We are excited to show you our nifty notion, our cool tool, our groovy gadget…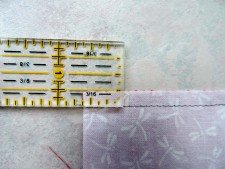 Today we are addressing that pesky ¼" seam allowance. The elusive one- you know, sometimes you are right on the money,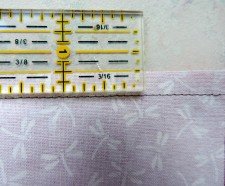 other times, well, not so much!
For those who have seen my Craftsy class, you know that I like to use a small seam guide on my sewing machine bed to help me maintain that ¼" seam allowance.  Now I know there are lots of ways to do it; some people will tell you to use a small stack of post it notes to bump your fabric up against. For me, that never worked. I "bump" too hard and the notes move!
Other people love their ¼" foot on their machine. I have two but I don't use them. I really like having a seam guide. That way my fabric is heading to the needle all lined up and I don't have to adjust as it hits the foot.
( The other reason I don't use my ¼" foot is because I forget I have it one and then I try to do a fancy stitch and poke holes in the foot and break needles! But don't tell anyone that part; it is a little embarrassing!)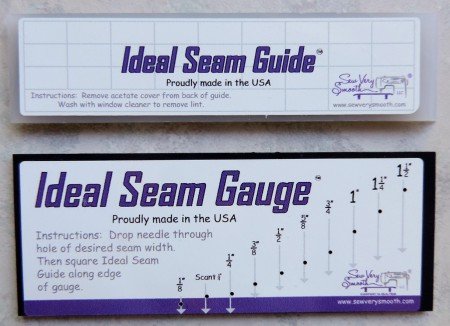 While we were at Quilt Market, Elizabeth spotted this great seam guide. It is called the Ideal Seam Guide from Sew Very Smooth. It is a pretty nifty little gadget!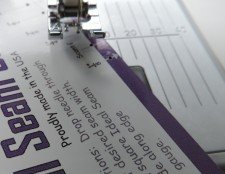 First they have a seam gauge to line up with your needle- you stick the needle in the hole and gently lower your pressor foot onto the gauge.
The gauge has a bunch of markings; including both ¼"  seam and a scant ¼" seam marking.
Then you peel back the cover from the sticky stuff on the back of the guide and press in place.
Remove the gauge from your needle and done! Ready to sew perfect ¼" seams!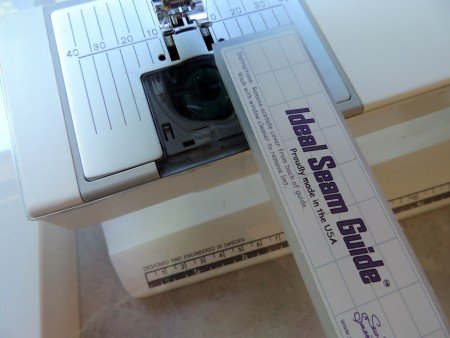 What is nice about this guide is how sturdy it is.
To be honest, it took me a while to get used to it; it is thick, so your fabric can bump against it and not easily slide over it. If you firmly press the guide in place, the sticky stuff is pretty sticky, so it stays secure.
Once I got used to the size, it was terrific!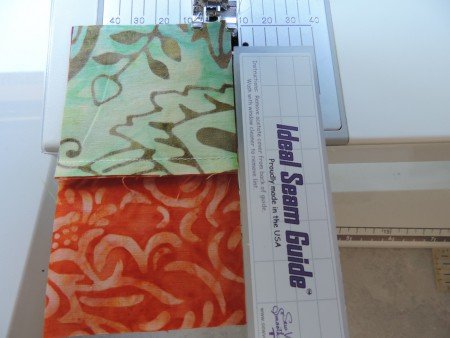 See me sewing my little 4 patch units for Jelly Roll Jumble!
Their website has lots of how to videos- how to use it; how to clean it, etc… so it is worth a visit!
They have a 5″ long guide (which is what I have) and a 10″ long guide. And other groovy stuff!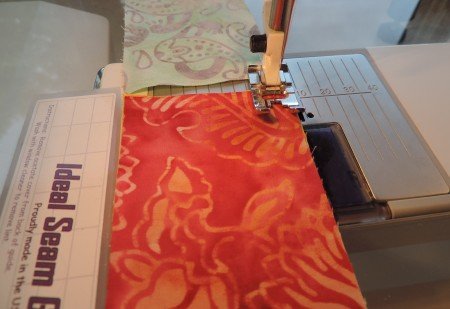 One way to use both guides is when you are piecing long strips of fabric like I was doing for my quilt, Jelly Roll Jumble. You use one guide to mark the  ¼"  seam and the other on the other side of the strip to form a channel.
I did that, but since I only had one Ideal Seam Guide, I used my other seam guide on one side. Then you can easily guide long strips thru the machine without a lot of adjusting. Nice!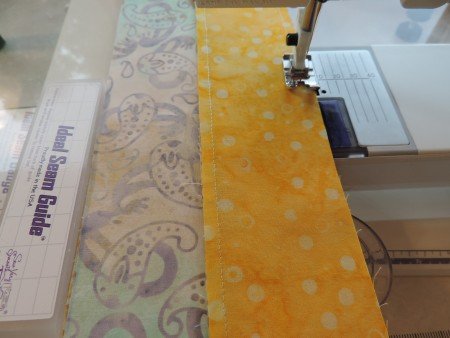 You can even move the guide over for larger strip sets.
So, wouldn't you like to try this seam guide? Of course!
The folks at Sew Very Smooth are going to give away one set of the Ideal Seam Gauge and the Ideal Seam Guide to one lucky winner!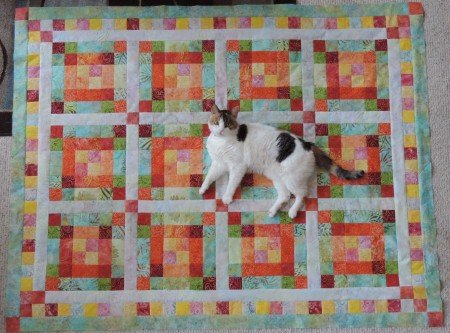 And we are going to give away two patterns; one of our new updated patterns, Jelly Roll Jumble, and one of gRadiant– our newest pattern!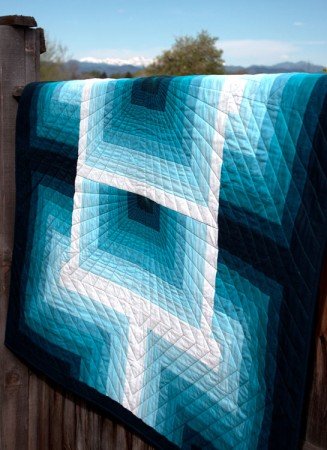 So a total of three winners! Woo hoo!
So how do you enter the drawing? Leave a comment below an you will be entered in the drawing for a chance to win one of the three prizes listed.
That's it- one comment and you are entered into the drawing for the Ideal Seam Gauge and Guide or one of two of our patterns.
You can earn extra chances by signing up for our newsletter (did you know you get a free pattern when you sign up?), by liking our Facebook page, by following us on Pinterest or by sharing about the hop on Facebook or on Twitter! Please, help spread the word about the fun things happening on the blog hop!
Just leave us a comment for each "extra thing" that you do and you will get extra chances in the drawing. We will draw our three winners on Friday, July 18th after the end of the blog hop.
Thanks for visiting with us!
happy blog hopping,
Kate
If you missed the first few blog posts on the Notion Commotion Blog Hop, click here for links to earlier posts by other designers! Go show them some bloggy love and enter to win their giveaways! What's not to love?
Click here to get a link for 50% off my Craftsy class.
Tune in June 30th to hear me on Pat Sloan's Radio show, sponsored by American Patchwork and Quilting! How cool is that!!!