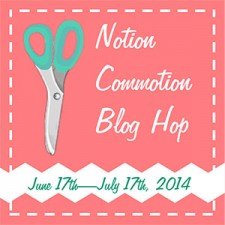 Another day, another notion! Today's blogger is Laura Blanchard of Plum Tree Quilts. I wonder what she has for us today?
Well, pop over to her blog and wonder no more!
I hope you have been able to get to all the bloggers and see their great notions and enter their giveaways! Why miss a single one?!
What has been your favorite tool so far? Curious minds want to know! (And it does not have to be the one we showed, I really do want to know what you like!)
If you need to catch up, here is the whole list of bloggers so you don't miss a single groovy gadget! Next week is our last week of the Notion Commotion- it will be so sad not to have more tools to covet!
Have a great rest of your week-
happy quilting,
Kate
Have you heard me on Pat Sloan's Podcast? It was so fun to chat with her! Click hear to listen.
Have you signed up yet for my Craftsy class? Click here for a link to get 50% off  my class!