Hi friends!
It has been while since my last post- a month! Where did the time go?
Since I last posted I have been to Des Moines to the AQS quilt show. I had a booth there and it was a blast. It was hubby's first time at a show and he came in handy hanging quilts!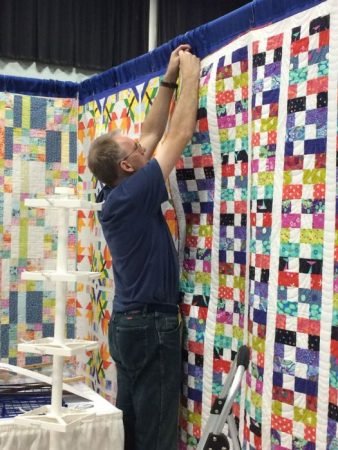 I think the booth looked so great. Many people would stop and say: Wow! Bright! Love it!
And one lady emailed me pictures of her Tannenbaum Trio card holder that she made since the show. How cool!
A few days after we got back, I flew down to Louisiana and taught for 2 days at The Fabric Shop in Ruston. The owners, Louise and Ron Adams, were lovely and gracious hosts, the staff was so nice and the customers were just a ton of fun!
If you are ever down that way, you have to pop in their store! (To see some pictures of the ladies and their projects from the morning class, go to my Instagram page.)
Then it was was back home and time to work on the October Island Batik ambassador project. The challenge this month was Borders and Bindings.
I really did not know what I was going to do!
When I was in Louisiana, I taught some different techniques one day including QST (Quarter Square Triangles) and I was demonstrating the Card Trick Block. Hmmmm…. maybe I can start there.
I had this fun little bundle of "bonus" fabric in my recent Island Batik box and I planned to start with those fabrics.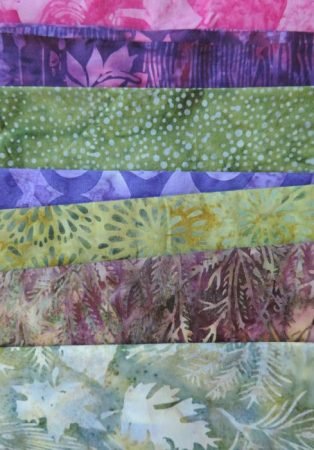 I tweaked the color placement of the block and so I needed 2 backgrounds. I had a white batik in my Island Batik stash but I did not have any black batik so I just used a solid black cotton.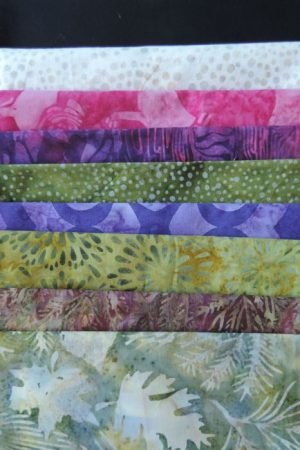 I made 4 blocks for the center of the quilt.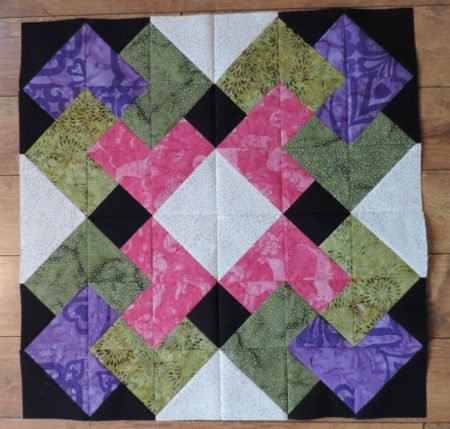 Then it was onto the borders. I started with a skinny mitered border.
Next up was a border made of braids.(I know- I can't help myself. They are so much fun to do!) I cut the pieces using my MINI Braid Template and then added the borders using a partial seam so that each braid section went into the corner.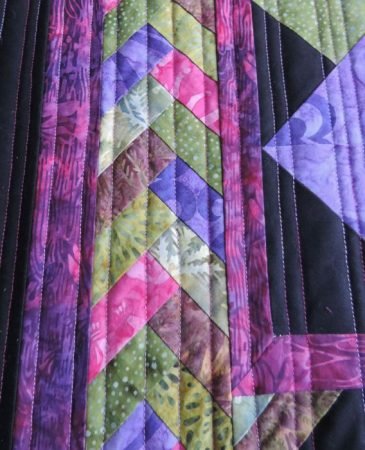 Then I added a straight border but I used HST (Half Square Triangle) blocks in the corner so the border looks like the corners are angled.
Then I added the straight black border to help with the angle illusion. For the binding, I used a flange binding. And added cat hair for a unique(?) touch. Actually, the cat hair was Lily's idea. She loves to share.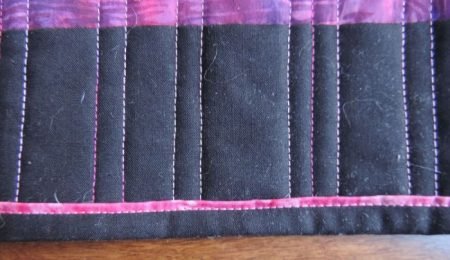 I even quilted it myself using semi straight lines with a fun variegated thread.
Whatcha think? I like it!
If you want any handouts on the QSTs or the Flange Binding, click here to go to my Tips and Tutorials page and see what great information I have made available to you.
Bright and early this morning, I am off again- this time to Houston for Quilt Market. I won't have a booth this year but I will walk the floor and see what's new. I wish I had planned to stay for Festival- I would love to take some classes. Maybe next year.
Happy quilting friends!
Kate
SaveSave
SaveSave
SaveSave
SaveSave