Hi friends!
Today in the A Quilter's Alphabet series, Tammy and I are up to the letter U!
I am chatting about the quilting terms UFO quilts and units.
Let's start with UFOs!!
UFO Quilts
Unfinished Objects, or UFO quilts are quilts that are started but not yet finished.
Quilters also call them by other names:
PIGS– projects in grocery sacks,
PhD– projects half done
HSY– haven't started yet
WIP– work in progress
or, the worst one, the one that may never get finished …
WOMBAT– waste of money, batting and time!
The real question is, do you have any UFOs? And do you know how many you have? At one point a few years ago I started a list, but the list wasn't complete and then I didn't keep up with checking things off!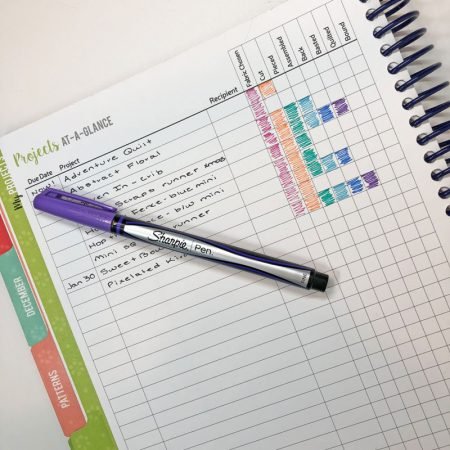 I know I don't know the number currently hidden around my house but I am working on one this week- my pink version of PeakView! I have the top done and just need to make the back and cut the binding! Progress!
Units
In quilting, units might refer to different sections of a quilt. First, they might refer to smaller pieced units, like Half Square Triangle units.
Or sometimes the word is used to indicate a larger pieced unit, such as a corner unit.
If you look at the large star in the center of my quilt Summer Sky, you can see that the corner unit is made up of 2 HST units that use green and the background and 2 squares, 1 background and 1 blue.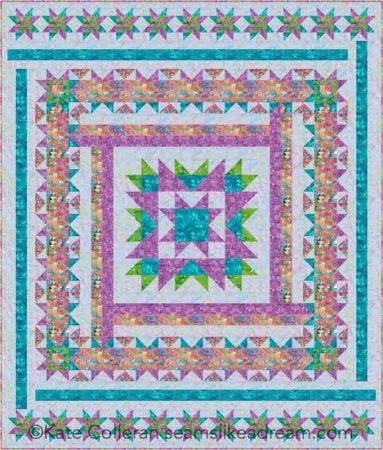 I love that center star from Summer Sky!
I have used it in a few quilts! Including my painted mini barn quilt!
That was a fun project.
Tammy and I will be back on July 21 with the letter W and then with more in the Exploring the Basics series on July 28th! Next week's post is on… well, I'm not sure but something fun and sewing related!
happy quilting!
Kate