Hi friends!
Welcome to the Tiki Punch Project and Blog Hop! I am so excited to share more with you about the Tiki Punch fabric line and my projects! And to share a super giveaway with you!
The Tiki Punch fabric line
The Tiki Punch fabric line was designed for me by Kathy Engle of Island Batik. The motifs are full of flowers and leaves of different shapes. The line is a mix of golds, yellows, reds, magenta, greens, purple, aqua… colors that remind one of summer, the beach, the tiki hut where you get your drink with the little umbrella in it…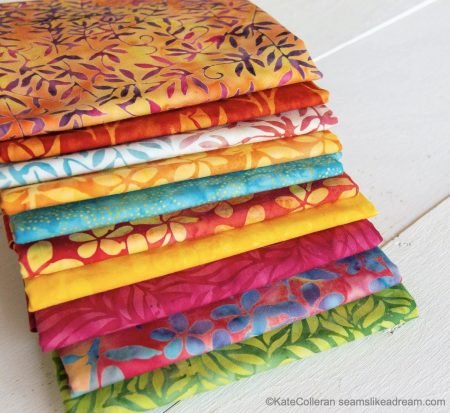 Turn your face to the sun and relax; breath deep and watch the waves lap up on the shore, the leaves on the palm trees sway gently with the light breeze that dances across the sand.
That's the mood! Now for the fun projects!
The Tiki Punch Projects
I designed so many projects to work with the Tiki Punch fabric line. If you have been following along on the blog, I have been sharing them, one by one, over the last couple of months. Here they are:
Tropical Breeze
Tropical Breeze plays up the wonderful leaf shape that just says the tropics!
The pattern has this wonderful lap quilt with different size leaves…
This wall quilt that just adds a touch of the tropics to any room. Or you could use it as a table topper.
There are also placemats and a table runner in the pattern!
Tropical Moon
This quilt is one of my 2 new modern drunkard's path quilts. It is fat quarter friendly and has 3 sizes in the pattern- crib, youth and lap.
This quilt inspired me to explore the best way to cut and sew drunkard's path blocks. And I found a way to sew them that works for me!
I will be sharing a tutorial on YouTube soon!
And I created a template to cut these blocks and show how to cut them different sizes using the same templates. the handout with the templates includes a free pattern for a table runner.
Tropical Sky
The quilt was my take on an old fashion row quilt- well I guess a column quilt! I love how the star blocks look on point.
With the all the blocks just showcasing some of the super fun fabrics in the line, it is an easy to put together quilt!
Tropical Sunset
This has to be one of my favorites from this collection. A few things I love about are that it is fat quarter friendly and it pieces together quickly.
And for those who like appliqué, there is the optional addition of these fun flowers!
So yummy!
Tropical Terrace
when I was planning my projects, I really wanted a quilt that would show off the versatility of my Braid Template.
Most of my braid projects use braids in one size. So what about a quilt using braids of different sizes?
Don't you love that purple??
Tiger Lily
Tiger Lily is one of my more popular patterns. It is a strip friendly quilt. And I love using it to show off different fabric lines.
This quilt is a one block wonder- change the look by rotating the blocks and changing the look of the setting!
The Other Blogs
A few of my super talented designer friends also played with the fabric and have some fun projects to show you. Be sure to visit their blog posts! I know I can't wait to see their projects!
And my good friend, Toni Smith of quiltoni created a project and then shared a tutorial on YouTube. Click here to check out her project!
The Giveaways
Giveaways are closed! Thank you to all who commented and congratulations to the winners!
Now for the really fun part! I have some amazing giveaways for you. First, if you would like a chance to win this FQ bundle of the Tiki Punch fabrics, head over to my Instagram and follow the instructions in the Tiki Punch post to enter.
Here on the blog, I have some great goodies to giveaway as well!
I have this amazing scalloped basket from Kris of Poorhouse Quilt Designs…
this Pop Up and Sew Organized from Joanne of Fat Quarter Gyspy…
a small bundle of FQs…
and a Pack it Up! bag!
For a chance to win of these awesome goodies, leave a comment below on which is your favorite of my new quilts. Contest is open until 9pm MT Sunday Jan 10, 2021. Winner will be notified by email. Must be 13 years or older to enter.
Subscribe to my newsletter and you can leave a second comment letting me know for a second chance to win!
I hope you enjoyed seeing the Tiki Punch fabrics and the projects!
Don't forget to head over the the other blogs and to Instagram!!!
Happy quilting!
Kate