Hi Friends!
Today is the day that my new appliqué leaf quilt pattern Tropical Breeze is here and ready to go! I am so excited!
When I was approached by Island Batik and asked to create using a signature line called Tiki Punch, I knew I wanted to play with the leaf shape from one of the fabrics.
Called a monstera leaf, this fun shape is bold and dramatic!
Wall Hanging
I decided to make a small wall hanging to start, because it seemed like a fun way to decorate for summer. And easy to do as I fused the leaves in place, stitched around them, did a little echo quilting and ta-done!
And this was just one of the quilts that I had in Island Batik's catalog showcasing the fabrics.
Click here to see Tropical Sky, here to see Tropical Sunset and here to see Tropical Terrace! Do you sense a theme in the pattern names???
Lap Quilt
But I needed more than that in this new appliqué leaf quilt pattern. I wanted some small projects and planned on placemats and a table runner. The designs for those were pretty easy to decide on but the lap quilt… well that took a while to plan out!
I wanted it to have movement and not just be one size block in row after row.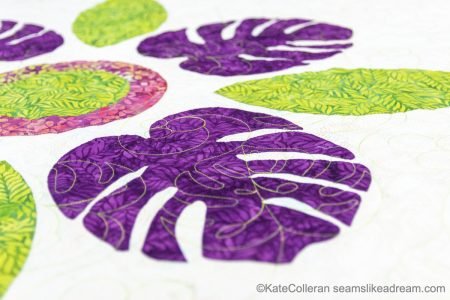 I wanted it to be a little bold. And do-able; too many appliqué blocks and no one would want to make it!
I love how it came out! The large blocks anchors the design with the smaller blocks floating around it. Lark liked it too!
And the quilting is perfect! I worked with my long arm quilter Crystal and she found an edge to edge design of the leaf shape and used a variegated green thread.
Green thread in quilting is one of my go-to choices! It works with so many of my quilts!
Table Runner Quilting
And while the table runner design was easy, the quilting was not! For the placemats, I just echo stitched around the appliqué and around the sashings. Easy peasy.
For the runner, there was more open space. First I stitched around the appliqué leaves using a variegated blue thread.
To start the quilting, I stitched around the appliqué and then made some large, loose and organic rings around the shapes.
And I hated it. Well, hate may be a strong word but I did not like it! But I wasn't ripping it out. What to do?
Looking at the background fabric, I thought the proper choice would be to add stippling or circles. Not something I enjoy quilting. When I am quilting, I prefer to quilt in straight lines. I like how it looks and I like the rhythm of doing that.
Back and forth. It's peaceful to quilt that way.
I decided, this is my my runner, it is my choice of what is "proper". So straight lines it is!
And now I love the quilting! I like how the first set of quilting, the outline quilting, really pops the leaves. I like how the straight lines surround the leaves and give interest to the background.
And I quilted the straight lines in one start to finish session all around the runner. Well, I did have to stop as I ran out of bobbin thread but otherwise…
I didn't mark the lines, I didn't worry if one was a little farther away from the last line… I just went up, over and down. I used 4 stitches as a guideline but if it was 5, oh well! And when I was going on an angle, I eyeballed the distance. And if I wasn't perfectly straight, I didn't worry about that either!
Something for us all to remember; it is your quilt and you get to decide the outcome. The fabrics YOU like, that pattern YOU like, the color of sashing and border that YOU like, the color of the quilting thread that YOU like and the quilting design! No one else has to like it; just you.
Appliqué Leaf Quilt Pattern
Don't you just love my new appliqué leaf pattern? Tropical Breeze patterns will start shipping tomorrow; until then the pattern is $2 off.
happy quilting!
Kate
There is one more quilt in the Tropical pattern series- Tropical Moon– coming soon!
For now, you can click here to take advantage of the preorder sale!
Have you signed up for my newsletter? Get a free quilt pattern when you sign up!