Hi friends!
Today I wanted to share with you a new braid quilt pattern that I have just come out with. The pattern is one that uses my Braid Template.
Say hello to Tropical Terrace!!
Tropical Terrace: a New Braid Quilt Pattern:
Tiki Punch
But first, the story about the fabric. Last year, I was asked by Island Batik if I wanted to work with a signature line of fabric. How cool is that??? The line is called Tiki Punch and it was designed by Kathy Engle!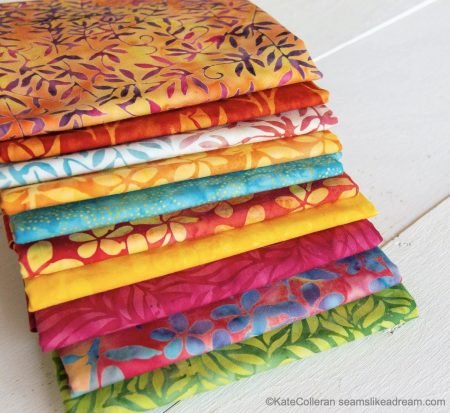 So I got to work designing quilts to go along with the wonderful fabric! The fabric has a lot of yellows, reds, a beautiful green and a turquoise, a deep rich purple, a magenta….. so many fun colors and prints!
Now, here is the sad part. The fabric won't be in stores until November. I'm not sure I can wait that long.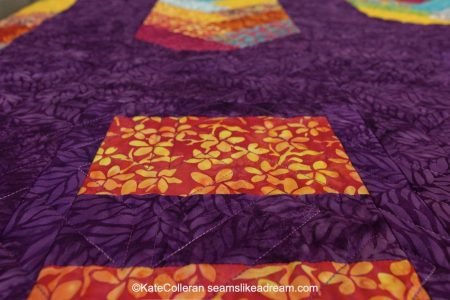 Over the next few months, I will be releasing 6 new patterns using my new signature line. I can't wait to show them all to you. For today, I am sharing Tropical Terrace and the good news, the pattern is ready now!
The Quilt
I knew when I saw the new fabric line that I wanted to create one of the quilts using my Braid Template. Often when I teach about the template, I mention how versatile it is, how you can cut the braid shapes different sizes and end up with different size braids.
Hmmmm…. What if I made braids in different sizes and put them in one quilt?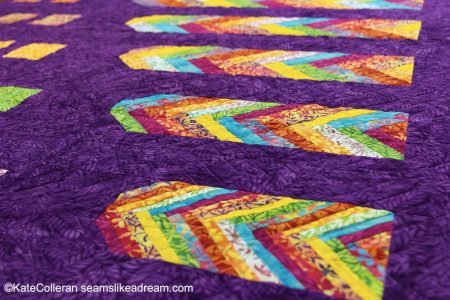 Yes! So that is what I did!
I love the bold graphic look of the quilt. I paired some the Tiki Punch fabrics with this awesome, rich purple from the line and ta-da!
This new braid quilt pattern is a lot of fun to make. The larger braids go together quite quickly and I love the look of the smaller braids. The angled ends of the braid sections is quite easy to achieve as nothing has to match! You just trim to size.
The quilt uses 10 fabrics and a background.
For fun, I also made the quilt using the Bohemian Rhapsody fabric line from QT. For this quilt, I used a white background. 
Whether you choose to go with a light and bright palette, or bold and dramatic, you are going to love making Tropical Terrace!!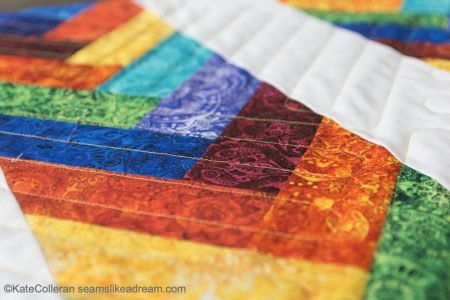 Click here to go to the pattern page.
Happy quilting,
Kate