Hi friends!
Today I want to talk about sewing curves. Are you curve phobic? I have to admit, I was afraid of sewing curves for quite a while! Then I designed a quilt for the 2019 Quilter's Planner that had curves in it and it was time for me to get over my hesitation.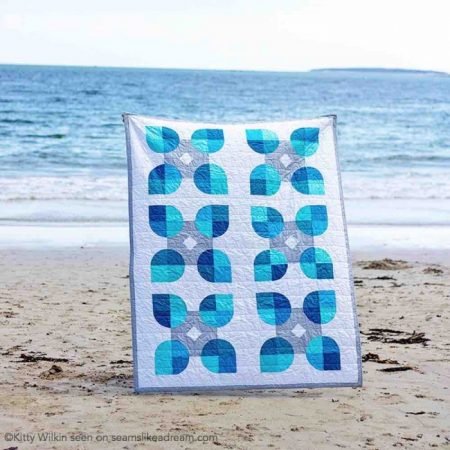 To be honest it took several tries before I found a method I really liked. Here are my top tips for sewing curves!
Tip #1
Don't stretch the fabric! Curves are bias and fabric cut on the bias stretches very easily!
And I don't know about you, but when I am nervous about sewing something, I hang on to the fabric rather tightly to control things while I sew. But when sewing curves, that makes it very easy to stretch the fabric! So relax, hold lightly onto the fabric and sew.
Tip #2
To help with #1, hold the fabric with tweezers as you sew.
And if you have long tweezers, the kind that usually comes with a serger, these are the best.
Tip #3
There are many videos out there on different ways to sew drunkard's path block. Watch a lot of them to find your favorite method! There are options to sew using lots of pins, with different pieces on top, glueing the pieces together….
Then, try 2 or 3 different methods- and try each method more than once. Really! Grab your scraps, cut some pieces and try each method. Usually the first time you try, it doesn't go well; to be expected.
Then try it again a couple of times and see how it feels. Then try another method and see how that one feels.
Tip #4
You don't have to press all the pieces in one direction. When I am sewing together blocks with curves, I press the seams of some to the concave piece and some to the convex piece.
That way the seams nest together nicely and things line up easier.
I used this pressing for my Tropical Moon quilt.
Do you forget which is the concave piece and which is the convex piece?
For some reason, those terms were hard for me to remember until I read something which said the concave piece looks like you are going into a cave.
Thinking about a cave really helped me remember. I got it now!
Tip #5
Try my favorite method: I call it the one pin method! Originally it was the 2 pin method but once I got good at it, one pin was enough. But I will show you the 2 pins to start…
The One or Two Pin method
Start with your 2 pieces right sides together with the convex piece on top.
Here are my 2 pieces of fabric, RST, with the convex piece on top.
Pin the 2 together at one end.
Now line up the end and pin the other end.
Once you have the 2 ends pinned, sew the seam using the tweezers to gently guide and hold the top piece and using your left hand to smooth the wrinkles away from the seam in the underneath piece.
I sew very slowly, stopping when needed with the needle in the down position so I can GENTLY adjust the fabric as needed.
Once you get good, skip the first pin!
Click here to see a short video on my favorite sewing method. I hope to have a video on how to cut using my Drunkard's Path Templates Set 1 very soon!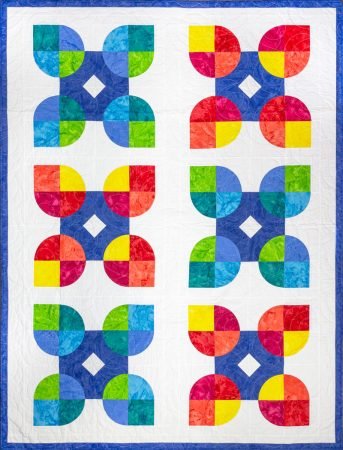 Next week in the Exploring Quilting Basics series, Tammy and I will be chatting about the Partial Quarter Square Triangle block!
happy quilting!
Kate