Hi friends!
Today I want to talk about sewing machine needles.
Not a glamorous topic I know but an important one. I mean, no needle, no sewing right?
I don't know about you, but I never really learned about sewing machine needles. Anything I know was picked up from trial and error and occasionally a suggestion from someone. Mostly, I just use what I needle I have on hand and hope for the best!
As a teacher, I have been guilty of not addressing what size needle may work best for the project we are working on that day. Maybe because most classes I have taken in the past didn't address that and so I just didn't think about it. Plus, needles didn't seem like a big deal to me. Many quilters have their favorite "go to" size they use and they just use that one.
If we were to think about needles (and thread but that is the topic for next week!) every time we start a new quilt project, or for the different steps in a project,  we may find that our sewing and quilting will go a little smoother. So let's start with some basic needle information, such as size and type and then what needle might work best for what type of fabric.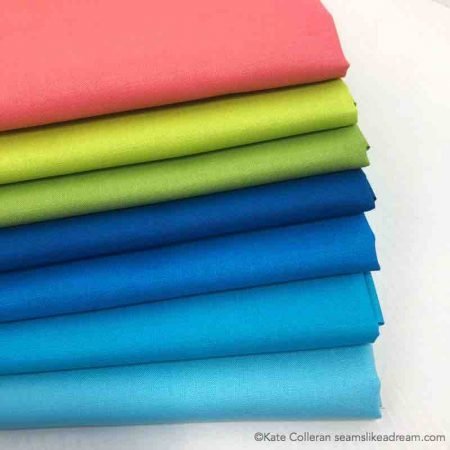 Different Sewing Machine Needle Sizes
Understanding the different sewing machine needle sizes is step 1 to picking the right needle for your project. We have all seen needle sizes on the packs of needles we buy. They usually have 2 numbers such as 70/10 or 90/14. What do these numbers mean? Basically one number refers to the European sizing scale and the other to the American sizing scale.
European numbers go from 60-120.
American numbers go from 8-19.
So for needles, 70 and 10 mean the same size in different languages!
What is the difference between a 60/8 and 90/14? The scale for needles goes up- the larger the number, the bigger the needle. So a 60/8 is a fine needle meant for fine fabrics and a 90/14 or a 100/16 are thicker needles meant for thicker fabrics.
Different Sewing Machine Needle Types
There are a lot of different types of needles but let's focus on some basic ones that a quilter might encounter. 
Universal needles are a great multipurpose needle. They have a slightly rounded tip that makes it work well for many fabrics including cottons, poly cottons, silks and even some knits.
Ball point or Jersey needles are designed for knit fabrics. The tip is rounded which allows it to slip between the fibers of knits and poly cottons. The stitching with a ball point is not as straight as with a universal as the needles slip between fibers, but that is what allows the stitching to stretch with the knit fabric. 
Stretch needles are also for knits and fabrics with elastic. 
Sharp or Microtex needles have a sharp thin point, sharper than the universal which makes it great for when you need a sharp point and straight lines of stitching. It is also good to use with silk, polyester and some vinyl. I like it for batiks.
Topstitch needles are good for decorative stitching as they have a larger eye for thicker threads.
Quilting needles are made for piecing and quilting. They have a specially tapered point and are strengthened to go through many layers.
Jeans or Denim needles are built for thicker, heavy fabrics. Hence the name as denim is pretty thick!
SCHMETZ Chrome needles are considered professional grade needles and will cost you a little bit more but they last longer! I love these!
SCHMETZ Super Non Stick needles are great for fusible appliqué, or when using embroidery stabilizer or temporary spray adhesive. They have a coating that means no sticky residue!
There are more needle types, but this gives you a start. Keep in mind, there is a right needle for your sewing project and the right needle can make the job easier. The needle companies want to keep you well informed and SCHMETZ even has an app that you can download. So if you are out and about and are not sure what needle to use, that can be very helpful!
Different Sewing Machine Needles by Fabric
Now that we know a little bit more about needles, it's time to talk about the right needle for your fabric! First, I want to say that everyone will develop their personal preference. Second, within each needle type, there are multiple sizes.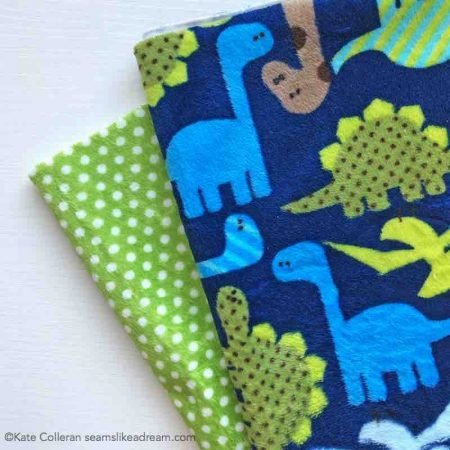 So not only do you need to consider the right type of needle for the job, but you have to pick right size. And that depends on the fabric you picked for your project.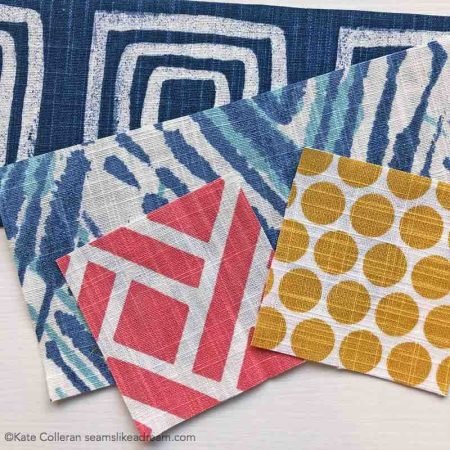 Don't know what size needle to use for your project? The list below will get you started but the best way to decide is to experiment with small bits of your fabric and find the one you like!
Here is a list of suggested needle types/sizes for different fabrics. 
| | | |
| --- | --- | --- |
| Fabric | Suggested Needle Type | Suggested Needle Size- depends on the fabric thickness as it can vary |
| Voile | Universal | 70/10 – 90/14 |
| Cotton | Universal | 70/10-90/14 |
| Batik | Universal or Microtex | 70/10 – 90/14 |
| Denim | Jeans | 70/10 -110/18 |
| Canvas | Jeans | 90/14 – 110/18 |
| Fleece | Universal or Stretch | 70/10 – 90/14 |
| Flannel | Universal | 80/12 – 110/18 |
| Cork | Microtex | 70/10- 90/14 |
| Vinyl | Microtex | 60/8 -90/14 |
Troubleshooting Sewing Machine Needles
When we don't pay attention to the needle and the thread we are using, we can experience some issues while we piece or quilt. 
In an earlier post in my Exploring the Basics series, I talked about getting ready to start your project and some things to do to get ready to sew. One of the first things to do is to change your needle. We have all heard that we should change our needle at the start of every new project or after 8 hours of sewing.
I know- I don't do that either! But I am getting better at changing my needle more often. Which really does help the sewing to go more smoothly.
If your thread and needle are mismatched, then you may experience some of the issues listed below.
If your needle is to small, you may experience the following issues:
The threads breaks on a regular basis.
The needle breaks.

 

The stitches are not even and are irregular or crooked.
If your needle is too large, you could experience these issues:
The fabric puckers.
The fabric is damaged.
There are skipped stitches.
So, before you start your next project, take a minute to choose the right type and size needle for your fabric. You may need to test sewing on some scraps to get the size right. The next step in making the right choices about supplies for our project is to pick the right thread.
Next week I will be chatting about thread, thread sizes and how to pick the right thread for our needle size. Or is it the right needle for the thread???
Which came first- the chicken or the egg?
I hope your found this information on sewing machine needles helpful and for those who want this content as a handy PDF that you can download and save to your computer, click here to sign up for my newsletter and get my free PDF Guide to Needles and Thread!
happy quilting,
Kate
Addendum: I forgot to add links to some of the needle companies where you can get more in depth information and their specific recommendations:
SCHMETZ: schmetzneedles.com– go to their Learning Center tab- lots of great information!
Superior- superior threads.com– go to their Education tab. Good info!
Click on the images below to shop some of my favorite needles! 
Disclosure: Some of the links in this needles post are affiliate links, meaning – at no additional cost to you – I will earn a commission if you click through and make a purchase.