Welcome to our series exploring quilting basics! Previously, we looked at the anatomy of a pattern. Coming up next in our basics lineup is fabric prep: the great debate. Or if you would like to start from the beginning and work through all the topics, you can find them all here.
Hi friends!
Next up in our Exploring the Basics blog series, Tammy and I wanted to chat about all the things you need to get together before you start that new quilt!
What things you might ask?
Machine Prep
First, you should make sure your sewing machine is in good working order. Take things apart and clean the lint our of your machine!
When was the last time your had your machine serviced? Give your sewing machine some love and it will work hard for you!
Then, change your needle! They say (needle experts) that you should change your needle after every 8 hours of sewing. Or, after 3 full bobbins but at least for every new project! You will know that your needle is dull when it pulls fabric, or makes that popping sound or if it just seems that the machine is working harder. But don't wait for it to get that bad!
Change it. Now.
Tools
I am sure most of you have your basics essential sewing tools already on hand- Jack (the seam ripper), rotary cutter, ruler and cutting mat, iron and ironing surface…
But, have you read through the pattern? Does it require any special rulers or tools? Be sure you have these on hand before you get started. There is nothing worse than being so excited to start that new quilt and realizing you don't have everything you need.
What other tools and supplies should you make sure you have ready to go?
Thread- a nice neutral for piecing. Yes sure to wind a bunch of bobbins! That way, when one runs out, you have the next one ready to go.
What's your favorite thread for piecing quilts? I usually use Aurifil 50 wt light gray or beige or Superior thread.
Extra needles- what if you break your new one?
Rotary blade- we will mention that again when we talk about cutting, but don't forget to change the blade in your rotary cutter! I have a tendency to use my blade until I am frustrated with the nicks and having to recut and finally go buy a new blade. And then I wonder why I waited so long because the new one cuts so easily! Why did I wait???
Clean your cutting mat- there are articles on cleaning your mat and if you are good about it, your mat will last longer. Click here to read a good article from the National Quilter's Circle.
Clean Your Sewing Space
Speaking of cleaning, there is nothing better than a clean and organized space for when you start that new project. When you have to move papers, piles of fabric and stuff around just so you can cut or sew, it can be frustrating and sewing and quilting are about enjoying the creative process.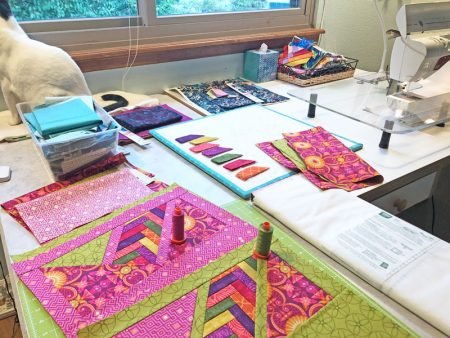 So do what you have to do to make your space a place you want to be and that works for you.
Click here to read Tammy's tips for getting ready to quilt!
Now that you have your tools, your space is clean and and your helper is in place….
You are ready for your fabric! Next time we can chat about the big Fabric Prep debate: to prewash or not to prewash!
happy quilting!
Kate