Hi friends!
It feels weird to be back writing a blog post as it has been such a long while since I last posted. But it is time for a summer update and to share about some new quilt projects!
Summer Update
First – how is your summer going?
My summer vacation was great- I got to see all my kids and their spouses for a few days. So lovely. Here are a few pictures. I cannot believe I did not get a family photo but we enjoyed our time together!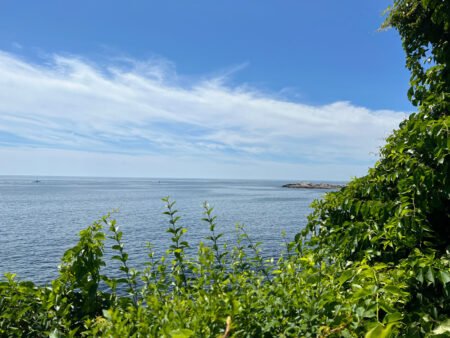 Next, let me share about my house renovation.
Sigh.
No, not a fun Reno project where we updated a room or anything. This reno was all about fixing the basement and garage floors. So we had to empty the basement and the garage and they fixed our concrete and then we had to move it all back.
Of course, we didn't move everything back to it's original place, that would be boring, right? We moved rooms around and a room from the second story was moved to the basement and the room stuff in the basement was moved up and then 2 other rooms were flipped… lots of up and down stairs!
My sewing area is  now in the basement which I swore I would never do- it was too dark! but with new bright lights in the ceiling, it's working out pretty well!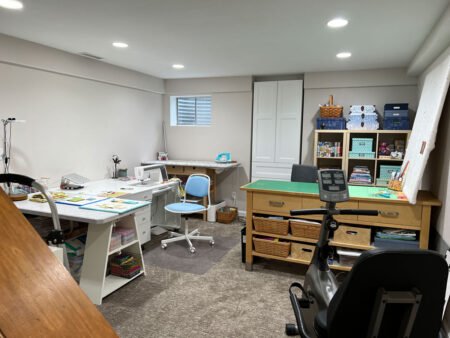 But we are getting closer to having all our stuff moved, organized and unpacked. There are still some thing to hang up and decisions to make. And we still have a dining room filled with fabric and quilts! So that sale I had planned for sample quilts and fabric packs will have to go on soon – just have to photograph, catalog, put up on the website… soon though! We can't eat at the table until I move all the quilts and fabric!
New Quilt Projects
Let's talk about new quilt projects! What are you working on?
Here is my exciting news: I have new fabric from Island Batik in the house! It is my first digital fabric line called Blooming. It is one that I designed and I am so excited to have it shipping out to shops!
I will share more about it soon, with a FQ giveaway(!) but here are my first projects using it!
Pop Open Pouch
I don't always make just projects using my patterns- I appreciate lots of other patterns and designers! Here is a Pop Open Pouch from Annela Houey.
Isn't it cute?
Tote That!
I also made a tote bag using my pattern Tote That!
I made the large size which I just love. The tote is big enough to hold lots of stuff but not too big- especially for someone like me who is a little height challenged.
Blooming Stars
I am working on my new quilt using my pattern Blooming Stars.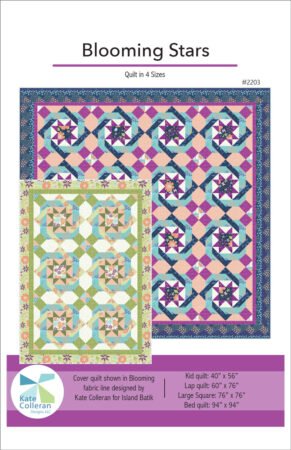 The first quilt I am making is the small kid size quilt and here is the image of the block's center star.
I will post more when I have the quilt top done and when I show more pics of the fabric in a few weeks!!!
Other New Quilt Projects
So… in moving things around, I uncovered a bunch of quilt tops that are done, almost done or partly done! Yikes!
Some were for quilt patterns that I never ended up writing or finishing. It really is true- so many quilts, so little time!
Next up- I am organizing them into piles- some for the long arm quilter to quilt (they might just need the backing!), some for me to figure out what is next to do and then I will slowly start working through the pile.
Part of that pile is my Tula Pink 100 Blocks quilt that I have quite a few rows done!
Back when I was working on my 100 days of nine patch blocks (which, by the way, those quilts need to be pieced as well), I was also putting the 100 blocks together into rows for my quilt. A block a day for a while but then…. I fell off the wagon.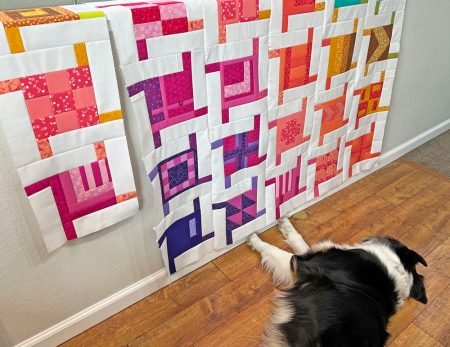 So that is something I am also going to do- finish that quilt top!
So back to my earlier question- what are you working on??? Inquiring minds want to know!
happy quilting!
Kate
p.s. I am working on my plans for a Mystery QAL this fall and for a couple of blog hops. I will keep you posted as I get my plans together!