Hi friends!
Today I want to chat about something that may not seem quilt related- being vulnerable.
Vulnerable
What does it mean? One definition is: "susceptible to physical or emotional attack or harm." Or it relates to a person in need of special care, support, or protection because of risk of abuse or neglect, age, or disability.
Being a quilt pattern designer and a fabric designer means making yourself vulnerable. You pour yourself into your business and then you put yourself out there in the guise of your patterns and your quilts. Putting yourself out there opens you to attack.
You may be saying really? But yes, especially in these days of communication through the internet, people are more likely to say things they wouldn't say in person. In other words, they forget what their mama taught them- if you don't have anything nice to say, don't say anything!
I was so nervous to share my fabrics with you all, worried about that but you were all so supportive! Thank you!
If you missed the posts about my new fabric lines, click here to read about Blooming and here for Paisley Got Mod!
Our Quilts and Patterns
A business savvy person might say that those quilts aren't you and to remove yourself from the equation. Channeling the movie, When Harry Met Sally– "it's not personal, it's business." Her response was classic. "It was personal to me; it was personal to a lot of people."
Because that is "head" talk, not the emotional talk of a creative. And quilters are creative! All quilters.
You too.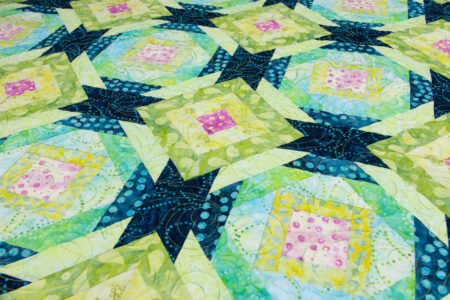 People don't like being vulnerable; it is equated with being weak. But putting yourself out there in a vulnerable position is an act of strength. 
For Quilters
For you, a quilter, picking a pattern and putting your own assortment of fabrics together can be the fun part of quilt making. But it can also be stressful and make one feel vulnerable. 
That's why many quilt makers like kits; they know it will work and feel less vulnerable. And using kits is fun! Whatever way you approach quilt making, it's all good. There is no judgement here. It's what you like and what makes you happy.
And isn't it funny how, while we may not like being vulnerable, we all point out our mistakes when someone compliments our quilts!!! Why do we do that?
Is that you? I do it too. We need to stop that!
Instagram and 

Facebook 
As a quilt pattern designer, I have to be on IG and FB. And for people to decide to buy from me, I need to be seen and trustworthy, reliable and real. So, today on IG and FB, I and a few of my quilt designer friends posted selfies of ourselves to say Hi to the quilt community. It made all of us feel vulnerable.
So if you are on Instagram and /or Facebook, please go and check out their posts and leave them a nice comment. It will make them feel better.
My IG post:
And, if you aren't on IG or FB, here is the blurb from my post. Just to make me feel even more vulnerable – especially after I have read some comments about women with grey hair. Yikes!!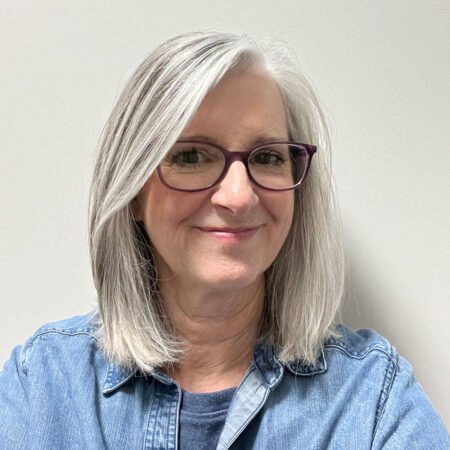 Hi! I thought it was time to show my face to say Hi! to all my new followers!
I am Kate Colleran, quilter, blogger, designer and chief creator of Kate Colleran Designs and I am so happy to be here with all of you!
A little bit about me; I am originally from the small but mighty state of Connecticut and currently live in Colorado with my husband, 2 cats Luna and Lark and a mischievous Aussie pup named Kira. I have 3 amazing grown children and 3 lovely children in law.
I have been designing quilt patterns for almost 20 years and I started to add in designing fabric and hopefully soon, more products! And, I worked as a nurse for 30 years before focusing exclusively on my business in the last few years.
My first 2 fabric lines, Blooming with Suite B Fabrics and a batik line Paisley Got Mod with Island Batik, are currently in stores. It's so exciting to see the designs on fabric!
I sell paper and PDF quilt patterns and my tools on my website and PDF patterns and sample quilts in my ETSY shop. And my first greeting card is also available in my shop!
I have a blog on my website with lots of great posts about the quilt making process.
Three random facts about me:
1. I love to dance. If you see me wiggling in my car, I probably have the radio blasting 70s music and am chair dancing while I drive.
2. I read a lot – some deep and interesting books and biographies but I also enjoy a good, not very deep, romance read! My favorite author is Jane Austen. I love all the spin off books too!
3. I am not very adventurous; I tend to stay in my lane, do the same things, wear the same things, eat the same things but I am OK with it – I know what I like! In the fall, that means plaid flannel shirts! OH- I did make one big change- I stopped coloring my hair a few years ago and it is finally all grown out!
Now, I would love for you to meet some of my fellow designer friends and follow them on their creative journeys on IG and FB! Check them out!
@sjmax105
@tamarinis
@southwind_quilts
@poorhousequilts
@swirlygirlsdesign
@seworganizeddesign
@quilter623
Next Week's Post
Next week on the blog, I will be sharing about our October block remix challenge. This month we are remixing the block Clay's Choice! My remix is so me- lots of HST, QST and pQST units!
And the following week I want to chat more about being creative. 
What can I talk about in the future here on the blog to help you make quilts? That is what this blog is about, connecting and making. Please let me know in the comments what subjects we should chat about!
happy quilting!
Kate
p.s. some people asked me where you can buy the Paisley Got Mod fabrics; I know you can buy them online at Missouri Star. Click here.
p.p.s. I you are looking for some great holiday gift ideas, Creative Spark is having a Handmade Holiday Bazaar On Nov 12th at 9am PT with lots of great ideas for you! And if you can't make it live, they are recording it so you can watch anytime! Use my affiliate link and save $20!!! Click here.