Hi Friends! Today's post is short and sweet; it is about gratitude.
Looking for the giveaway? It's at the end of this post.
Giveaway is closed.. thank you so much to everyone who entered! I loved reading all your comments about what your are grateful for! Happy Holidays to all!
Gratitude
Some days it is easy to forget about the good things. I didn't want to let this holiday season go by without telling you all how grateful I am to you. To those of you who read my blog posts and newsletters, those who purchase from my website or take my classes: thank you.
I am profoundly grateful that you spend some of your time and your quilting budget with me.
Free Pattern for post mastectomy patients
Recently a friend approached me as she wanted to write a pattern for a post mastectomy vest made from a T-shirt. The vest makes it easy to corral those pesky drains while being easy to put on and take off. She was making a couple of the camisoles for a family member going through this and thought it would be great to make the pattern available to others as well. Being a breast cancer survivor herself she knows the needs of a patient post mastectomy.
She asked me if I could hep her format the pattern and get it out in the world. Of course I said yes! It took  a while to get it done but it is on my website, on the Tips and Tutorial page. The pattern is all Marybeth's; I just put it together with her images and gave it a home to live on the internet.
Click here to check out the Comfort Camisole pattern. Please let anyone who might need this know where it is!
A year of Firsts!
This year has been especially exciting for me – the year my first digital fabric line, Blooming, hit the stores, the year my first batik fabric line, Paisley Got Mod, came out and the first year I opened a shop on Society 6 and had some of my designs on actual products!
I called the collection Winter Rose. I put a few of the designs on mugs and notebooks.
If you click on the image, using my affiliate link, it will take you to Society 6. You can see the mug and all the other designs I uploaded there!
How fun! I love a good notebook! Society 6 is a great place to find lots of unique designs on mugs, notebooks, pillows, phone cases and more. There are so many designs to choose from designers of all different styles and genres.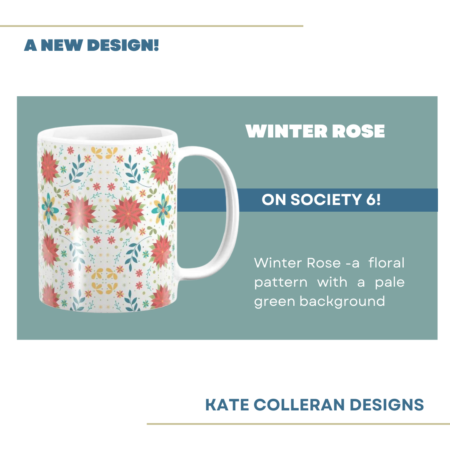 I have so enjoyed learning to do new things like design fabric and designs to put on other products and I hope to do more in the future.
Gratitude giveaway!
In honor of all the exciting things that happened this year, and in honor of all of you who support me and my business, it's time for the last giveaway of the year! Normally I just do a fabric giveaway when a line first comes out but… since this year it's MY fabric, I decided to do one last FQ bundle giveaway of BOTH Blooming and Paisley Got Mod!
To be entered for a chance to win one of these bundles, leave a comment on this blog post. You can leave any comment you want, but maybe you could tell me one good thing that happened for you this year or one thing you are grateful for?  I would love to hear about you!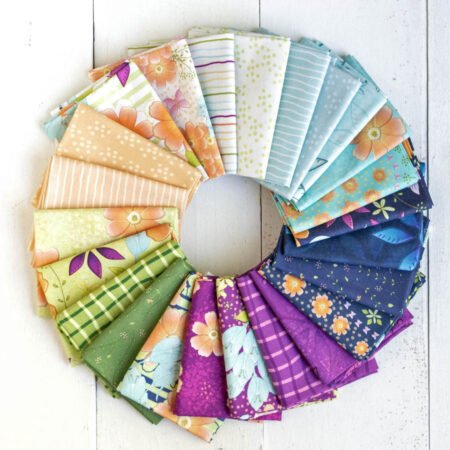 Giveaway is open to US only. Sorry but shipping cost are so much right now 🙁 .
Giveaway entry ends Monday night December 19th at 9pm MT (MT means Mountain Time or My Time -haha! )
Thank you again for a great year! I hope you have a wonderful holiday season and a Happy New Year! See you in 2023!
happy quilting!
Kate
P.S. I have a couple of my Paisley Got Mod strip packs left. See them here.