Hi friends!
Working from Home
So many things are happening in our world right now. A lot of changes for many of us. And while, yes, I have had teaching/lecture gigs cancel, to be honest, my day to day life has changed very little. 
I usually work from home which means I am used to being here, all day, working away and not being out and about. What I am not used to is having hubby work from home all day as well!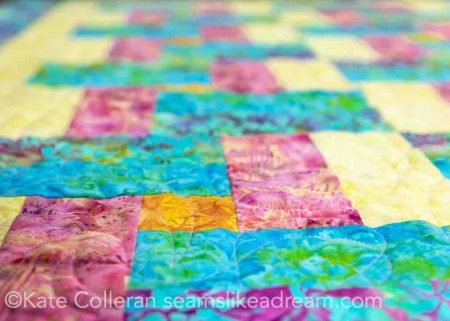 These days we share office space. A few months back, we switched spaces in our house. Our large master bedroom became the office and we moved our bedroom into the little spare room.
The office works pretty well; I now have a desk that is an old countertop from our home in Connecticut that sits on 2 small Ikea bookcases. It used to be my sewing table but I recently upgraded myself to a new sewing table with an insert for my machine.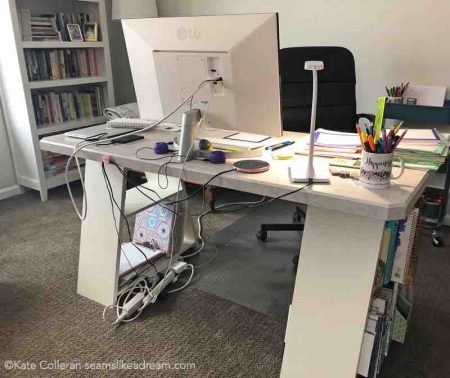 We even created a mini shipping station!
The next few weeks will be an adjustment for both of us. We can't be on business calls at the same time unless one of us moves to another room. A friend, who also works from home, joked that now that her hubby is working from home she needs to make adjustments to her shopping list as he did not factor into her toilet paper plan for the week! (What is up with hoarding toilet paper anyway?)
How do we cope in these uncertain times? I know for many of us quilters, we are happy to stay in and play with our fabric!  That is why we have a stash- just for times like this. Even if the outside world is making us anxious, if we can spend a little time sorting fabric, planning and sewing our next quilt, we can relax just a little. 
Do you need a new quilting project?
This is a great time to go thru your stash- you have a small stash, right???- and maybe plan some new quilts for your family, for charity or start to get a jump on those holiday gifts!!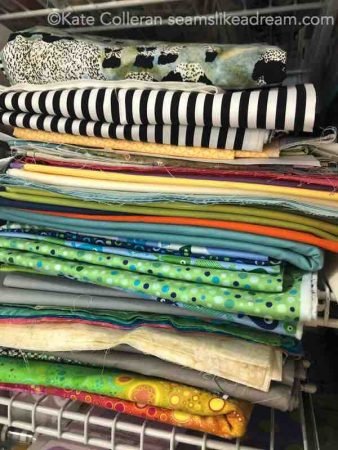 Here are a few of my patterns that will be great for making a fast and easy scrap quilt from your stash.
5 Fast and Easy Scrap Quilts
Fast and Easy Scrap Quilts: Whirlybird
This is a super fun block to make! In Whirlybird,  there are very few spots where the seams match up so it is pretty easy to piece.
You could just go to your stash, grab some leftover bits, and make scrappy blocks. To keep the quilt from feeling too scrappy, pick one fabric for the small squares that are in each block- in my quilt, they are yellow squares.
Fast and Easy Scrap Quilts: Boston Bricks
Do you have  stack of pretty fat quarters just waiting to be made into a quilt?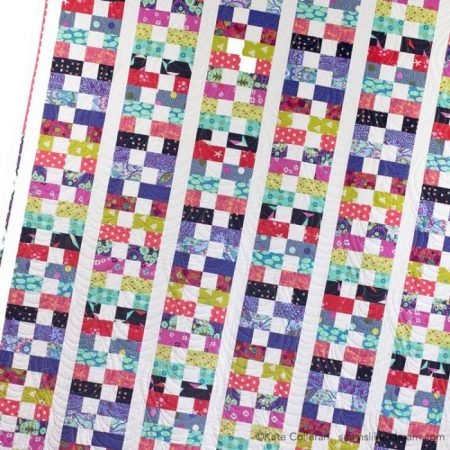 Boston Bricks is great for a scrappy quilt. In my version, I mixed fat quarters from a bunch of different lines and just kept my background one fabric. I love how bright and happy this quilt is!
Crosscut
Do you have a jelly roll or layer cake bundle that you bought but never used?
Crosscut is a pattern that I have made from a jelly roll, from a layer cake and from scraps!
It is super easy and works with my Braid Template. And you can turn the blocks in different directions to get different looks.
Fast and Easy Scrap Quilts: Hop the Fence
Another option for that jelly roll that has been hanging around or those scrap 2 1/2" strips is Hop The Fence.
Super fast- make with or without sashing!
Fast and Easy Scrap Quilts: Little Leaves
Little Leaves is a fun quilt where you can use up those leftover bits of background fabrics.
Just use random squares for the backgrounds and then use your scraps for the leaves. Easy peasy!
How about a quilting giveaway?
To cheer us up, I decided to do a little giveaway! How about some yummy batik fat quarters?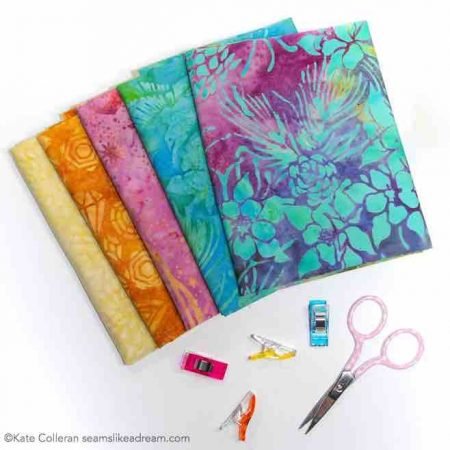 This group of 5 Fast and Easy Scrap Quilts are from the fabrics I used to make my quilt, Half Step.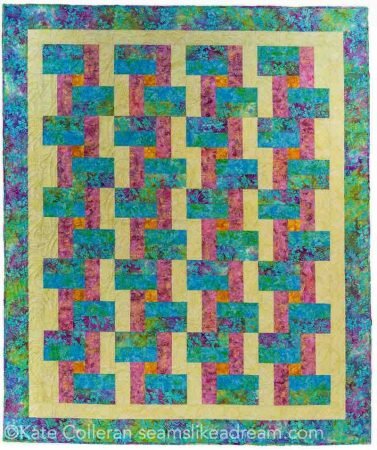 Enter the using the widget below and leave me a comment on what quilt project you are working on! I would love to hear. Giveaway is open until Monday night March 23rd. No purchase necessary to win. Giveaway is open to US residents only. Sorry, shipping is just so prohibitive!
Note: I have some of this fabric available to make your own Half Step quilt! Click here if you are interested in making the lap size quilt- the kit comes with a free Half Step pattern, with or without backing. I only have 2 kits available. And they are 20% off until Monday night, March 23rd!
Social Media Shop Hop
If you are on Facebook or Instagram you probably have already seen all the quilt shops, pattern designers and others putting up videos and pretty pictures of the projects they are working on. I can't show what I am working on right now as it is in super secret mode BUT I can tell you about a fun "Shop Hop" that I will be participating in; it is called: Stay Home and Hop With Us!
Some of us are posting sales or other fun stuff on our websites; others might be on Facebook. If you aren't on Facebook, and I know some of you aren't, there will be still lots of websites to visit!
Starting on Saturday, March 21st, I'll invite you to explore the newest offerings, patterns and notions from my fellow quilty colleagues.  You'll meet pattern designers, explore quilting websites, and perhaps make a purchase or two along the way. All of them have something unique to offer to you – our virtual shop hoppers. So when you need a break, come virtually hop and shop with the gang!
Adventure in Color Quilt Along
Block 4 of the Luminous Quilt was posted this week and we have another great giveaway; this week it is on Tammy's blog post.
Click here to see my Block 4 and get the link to Tammy's blog!
happy quilting!
Kate