Hi friends, today I am reflecting on my time and travels as a quilt teacher.
Quilt Teacher
In my quilt teaching history I have spoken to quilt guilds both on Zoom and in person, I have taught classes in person and online and I have to say, it has been fun!
I get so anxious before I teach or lecture, but all in all, it has been great to meet quilters, to share our experiences as quilters and to hopefully, inspire them! When I teach a class and a quilter gets a small nugget that will help them not just with the quilt we make in class, but with future quilts, well, that is the best thing.
I just got back from a trip to Texas and the guild I went to was wonderful. They were warm and friendly, obviously supportive of each other, involved in the guild and in their community. Denton Quilt Guild, thank you for having me to visit!
Traveling as a quilt teacher
But the life of traveling teacher is not all glamorous. It involves hours of prep to plan the class, make the step outs, create the lecture and then pack! It involves traveling with large and heavy suitcases full of quilts and products.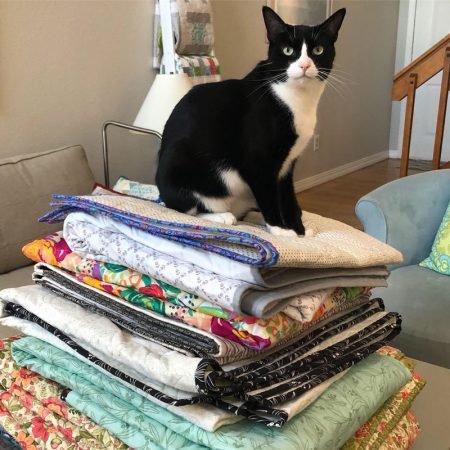 Sometimes it involves airports, long security lines (even with TSA recheck!), flight delays, flight cancellations and then more delays. And that was all just with this latest trip!
Still, with all of that, I had fun!
Quilt Pattern Design
Life as a quilt pattern designer can be lonely. We are usually a one person business, may work from home and therefore the bonus of teaching is the ability to get out and be with other like minded quilters! To interact and to hear and be heard. Quilters are mostly a great bunch of people; creative, supportive and community minded.
There are perks to working for yourself and working from home. As I type this blog post, I am sitting on my bed, curled up with a quilt and 2 cats and keeping me company.
Yay for cuddling under quilt! I mean, I just went from 88 degrees in Texas on Tuesday to negative numbers here are home! Talk about a temperature swing- Yikes!
Future Teaching
As I ponder the future of my business, I know the teaching part of my career will wind down soon. It is getting harder to lug suitcases and to deal with the travel. But truly, it is so much fun to visit with a group in person. I enjoy meeting quilters!
But my time being a quilt teacher it is not over yet!
Quilter's Color Mixer
Coming up soon, on March 30th is the online class, the Quilter's Color Mixer!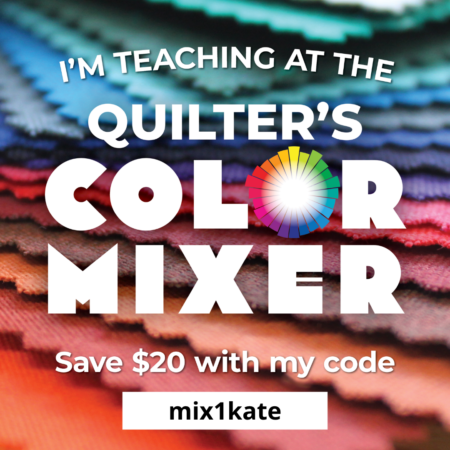 Do you struggle with color?
Do you find yourself stuck trying to figure out which colors and fabrics to use in your next quilt project?
Are you wondering how to use fabrics in your stash that you love but can't seem to figure out how to use in a quilt?
Do you rely on kit quilts for a successful project?
Well, help is here!
C&T Publishing is offering the Quilter's Color Mixer – a four hour event full of classes with 12 color experts! How fun is that?
Guided by real-world examples, you'll learn how to:
– Master value, hue, and contrast
– Emphasize feelings, portray ideas, and influence style with color
– Create your own custom palette with a focus on using what you already have in your sewing room
– And so much more!
Click here to use my affiliate code to learn more and get $20 off registration for the event! Remember- you get access to all the classes after the event as well so you watch them again later at your leisure!
StitchFest in Loveland
I am teaching this April at StitchFest in Loveland, CO.
Will you be there? I would love it if you can take a class with me! Click here or on the image to learn more and see all the rest classes being offered!
In the meantime, have fun quilting and I hope to see you at one of my teaching gigs soon!
happy quilting!
Kate
p.s.
Quilt Cruise with Stitchin' Heaven
So…. soon I will get to officially announce that I am teaching on a quilt cruise with Stitchin' Heaven!!! How cool is that? It will be in March 2024 and as soon as it is open and official, I will share more information on how to sign up!
p.p.s. Bonnie Christine's Immersion course opened up this week.
For those of you who might be interested in learning to design your own fabric, it is a great course with a wonderful, supportive community. Use my affiliate link here to learn more. Registration ends soon.