Hi friends!
I have been pondering what comes next. Next? You may ask after what?
After a 12 week Quilt Along! It seems like the Adventure Quilt Quilt Along took over the blog this past winter and spring and now I am unsure what comes next.
Quilt Market
Of course, after the Quilt Along was Quilt Market and that always takes up lots of time and energy! 
And after Quilt Market was order fulfillment! 
Today starts the time frame of "after" and I am wondering what is next. First I guess I can start to tell you about Quilt Market. This spring market was in Kansas City. We seemed to have a nice spot for our booth. 
Spring market is different rom fall in that there is usually only a small quilt display; pretty much just booths. In the fall, there is always a huge display of quilts, just like at Quilt Festival. Even so, I didn't take a ton of pictures. I know right?
Here are a few images from my market time… mostly me and my stuff!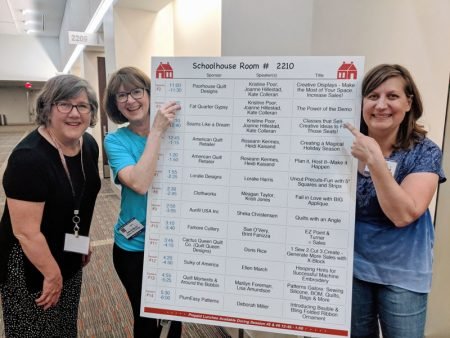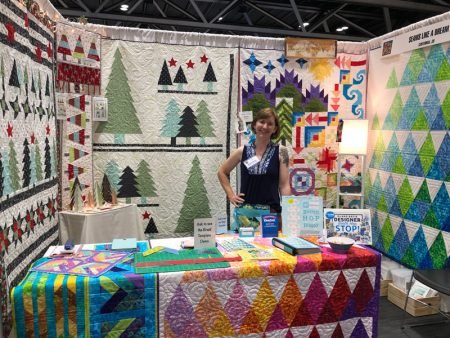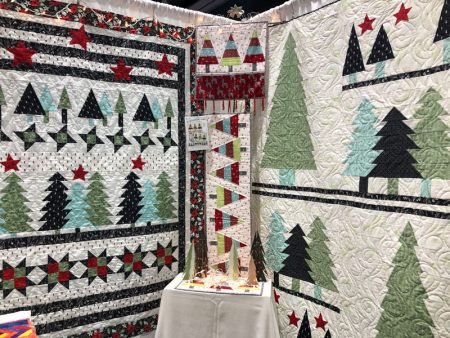 My Pack it Up bag was in a few different booths- here are a couple:
And then when I got home… it snowed.
Really? Aren't we done with this yet? Apparently not.
I needed some help when I got home to finish up some quilts I had to get done. They are cute but not really helpful!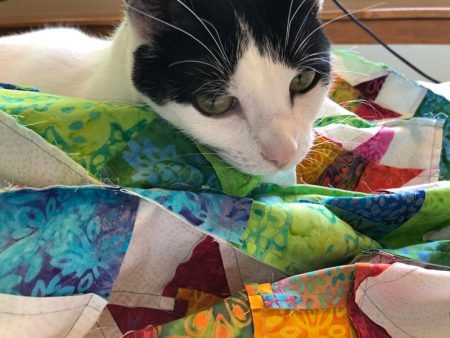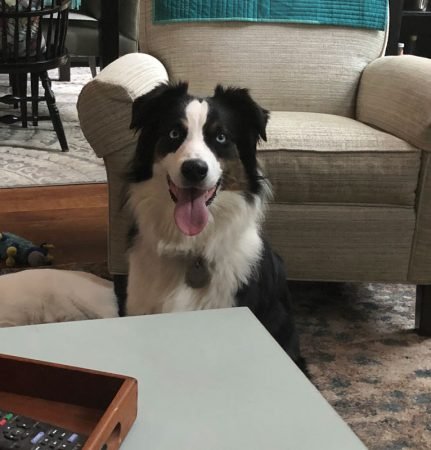 Craftsy aka Bluprint update
I don't know how many of you have heard or seen posts about some things happening at Bluprint (formally known as Craftsy). When NBC Universal bought Craftsy and changed the name to Bluprint, they also went to a subscription model. They had new contracts with instructors that said we only would be interacting  and answering questions for the students who bought our classes in the old model. We would not be part of answering questions for the ones who use the subscription model. They would just post discussions and other students would help them out.
OK. The problem is they did not accurately inform students that instructors would not be answering questions. Last week, instructors were given access to see the dashboard where the "discussions" are posted and many of us became so upset! We could see that students had posted questions to us and we had not answered. Because we can't. We could not even see the questions until last week and we still don't have an easy way to answer them.
For any of you who have viewed any of my classes via the subscription model, posted a question and wondered why I ignored you, I am so sorry. I really wasn't ignoring you; I did not know! 
Or if you wondered why other teachers weren't answering your questions, same reason. 
And now, it is just overwhelming to even consider going back and trying to answer questions that are months old. If I could. Like I mentioned, we don't have an easy way to do this.
So just know going forward, if you view a class via the subscription model, I will not be answering your questions. If you buy the class with lifetime access, I will. 
(Though, I used to get an email when there were questions and I don't seem to be getting those lately so I will try to check in when I can.)
What's next?
So, back to the question I posted at the top of the blog, what's next? Well, Tammy Silvers and I will be restarting our monthly Adventures in Quilting coordinated blog posts starting at the end of June. We have a fun idea fo r topics and once it is finalized, I will share that.
Plus I have to share all the new quilts that I introduced at Quilt Market. So expect to see more some pictures soon.
Until next time…
happy quilting!
Kate