Hi friends!
There are so many things going on over here at Seams Like a Dream – not just the Adventure in Color Quilt Along –  and I haven't had a chance to do a quilting update! 
If you are looking for the Adventure in Color Quilt Along  Block 1 post – click here.
Signature Line
Last year I was asked by Island Batik if I wanted to work with them and design all the quilting patterns for a fabric collection. I got to review the fabric lines that were designed by their in-house designer Kathy Engle and pick one to work with. They will be putting my name along with Kathy's on the collection- Designed by Kathy Engle for Kate Colleran of Seams Like a Dream!  How cool is that? 
Of course, the fabric is still in super secret mode and I can't show you anything until May. Bummer.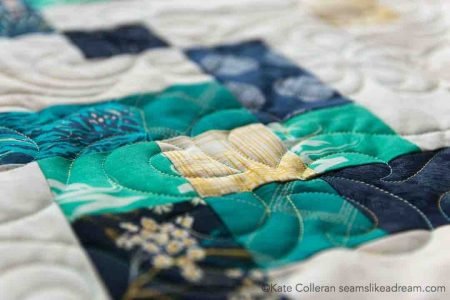 I could show one of those pictures where the fabrics are all out of focus but, you can wait, right? Instead I will show some sneak peaks of other new patterns coming soon!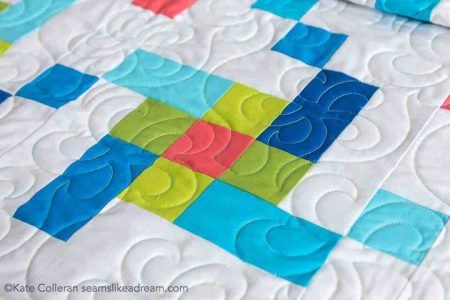 I will have 5 new patterns to go with the Island Batik fabric line and a remake of my quilt Tiger Lily. Tiger Lily is one of my all time favorites – and a best seller – so I thought it would be fun to give her a remake in a new line. 
In one of the new patterns I used my Braid Template; I can't wait to show you this quilt! I made a second version of the quilt in a line of fabrics by QT called Bohemian Rhapsody and I will be able to show you that one soon.
Quilting Pattern Updates and Plastic Bag Reduction Plan
As many of you know, while I write my patterns using a half page format, the patterns ARE NOT printed as a booklet. I never wanted to get into the issue of having to staple the centers plus I liked the idea of setting aside the pages you are not working with. 
And for the most part, it has been working well. I have gotten a couple of emails over the years from someone who thought the pattern was printed wrong since it was not in a booklet order, but those have been few and far between.
Can you already tell there is a BUT? I have been debating going to a booklet style and along with that, going to paper covers. I really want to reduce the amount of plastic bags I use.
I have been shopping using cotton canvas bags I have gotten at quilt shows for years. I was doing it before it was even a thing. Ask my family – they will tell you I am very unhappy when anyone comes home with groceries or clothes in a plastic bag!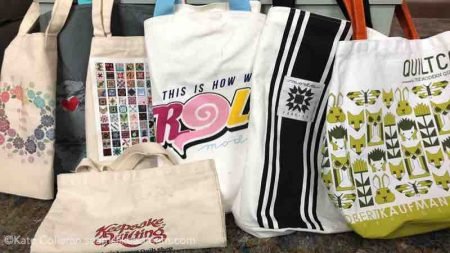 Paper covers are tough to do – to make them financially feasible, I would have to do very large runs of printing and I am a small business. Hubby and I live in townhouse and we have no room to store large quantities of paper patterns. So, I am going to reduce my plastic bag use slowly. 
The upcoming plan: my new patterns will be printed as booklets so they can be stapled and therefore not fall apart if they aren't in a plastic bag. I will slowly shift over some of my older patterns to booklet style. When a pattern is printed as a booklet, I will stop sending them in a plastic bag when someone orders off my website. For those who really feel the need for a plastic bag, I will have a box you can check to ask for the pattern to be in a bag. So no worries!
For shops, I will continue to ship all pattern in a plastic bag. My hope is that I can eventually find a financially reasonable way to print pattern covers as paper envelopes!
I am also planning to offer more of my patterns as PDFs. I have resisted going to PDF patterns as it so so much easier for people to share the patterns when they can just send their friend the PDF. While we all know making a copy of a pattern or sending a pattern to a friend is against copyright, it happens all the time.
But when you buy a PDF pattern, you don't have to print it! You can view it on your computer or tablet and therefore there is no printing, no shipping charges and no plastic bag involved!
Quilting Blog Schedule
Another quilting update is the fun things that are going on here on the blog in February. Next week is the Kismet Blog Hop. Kismet is this bright, fun super happy batik fabric line designed by Tammy Silvers for Island Batik. My day on the blog hop is Wednesday but the blog hop starts on Monday.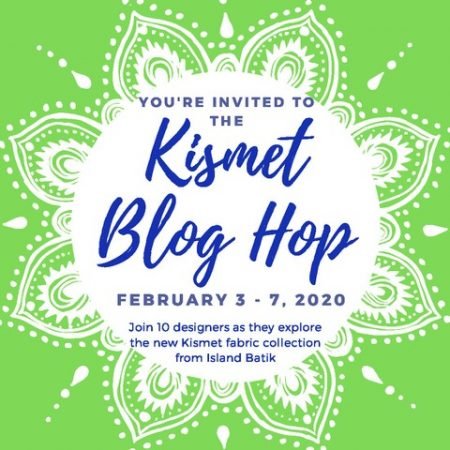 I've listed the whole schedule below. And there will be giveaways!
Monday 2/3
Tammy Silvers – Tamarinis tamarinis.typepad.com
Island Batik  https://www.islandbatik.com/blog
Pauline McArthur – Funky Friends Factory http://wwwfunkyfriendsfactory.com/blog/
Tues 2/4
Joanne Hillestad – Fat Quarter Gypsy http://www.fatquartergypsy.com/Lex-Luther-Blog.html
Shayla & Kristy Wolf – Sassafras Lane https://sassafras-lane.com/blogs/news
Wed 2/5
Kate Colleran – Seams Like A Dream seamslikeadream.com/blog
Becky Jorgensen – Patchwork Posse https://patchworkposse.com
Thur 2/6
Kris Poor –  Poorhouse Quilt Designs https://www.poorhousequiltdesigns.com/blog
Swan Sheridan – Swan Amity www.swanamity.com/blog
Fri 2/7
Erin Sampson – Aurifil auribuzz.wordpress.com  
Jessica VanDenbrugh – Sew Many Creationsthestraightstitch.wordpress.com
Sarah Furrer – Studio 180 https://deb-tuckers-studio-180-design.myshopify.com/blogs/news
Tammy Silvers – Tamarinis tamarinis.typepad.com 
Making It Mini Blog Hop
Starting next Friday Feb 7th and for a total of 3 Fridays, I will be part of a Mini Blog Hop along with Kris Poor of Poorhouse Designs and Joanne Hillestad of Fat Quarter Gypsy. The blog series is called Making It.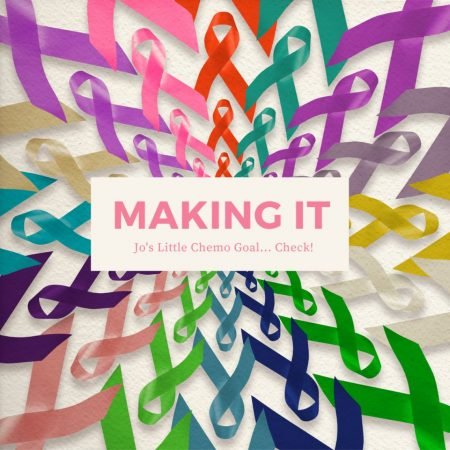 We are designing 3 projects using an amazing line of fabric from Marcus Fabrics. The fabric line is called Soulful Shades of Pink and is their Breast Cancer fabric line. Joanne battled breast cancer and we are celebrating her story. You won't want to miss it.
The Luminous Quilt Along will continue in February with Block 2 being available on February 19th.
And there will be 2 new posts in the Exploring the Basics series. A busy month!
Family Time
My daughter is here for a visit. She lives in CT; we live in CO.
So we don't get to see her, or her brothers who live in MA and FL, as often as we would like. But we are going to enjoy our time with her this weekend and take a little break from too much social media- limited email time etc!
Besides, I have to watch my 49ers football team play in the Super Bowl!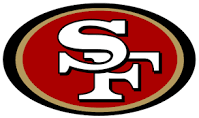 Have a great weekend whatever you do!
happy quilting,
Kate