Hi friends!
It's that busy time of the year isn't it? Busy with holiday plans, holiday shopping, cooking… but it is also time to reflect back on the year and it's time to wrap up 2021!
Thanksgiving
We traveled to Connecticut over Thanksgiving to spend time with our daughter, son in law, our oldest son and daughter in law, our daughter's in laws and sister in law! I am so thankful we all get along so well and were able to spend the holiday together. 
We had to extend out trip for a funeral and then I took a fall on our last night in CT so I have been moving kind of slow since I got back. I am even more thankful I didn't break anything; wounded various parts but all will heal in time.
As it happened, I could imagine hearing my mother's voice yelling at me for running across a busy street!
The end of a year is a time when many businesses reflect on the past year to see what they accomplished and to plan for the upcoming year. I realized that a lot of what I did last year I have not been able to share with you all yet, but some of it will be shared next year!
Blog Posts for 2021
But, while I was absent the last 2 weeks here on the blog, I have done 63 blog posts so far this year- wait, today makes 64! 
There were blog posts that are part of the Exploring the Basics series which includes tutorials and how to's; post that are part of the Quilter's Alphabet series where Tammy and I explained various quilting terms, posts on blog hops, fabric giveaways, quilt alongs and general posts about quilting. Be sure to check out the post categories in case there were some you missed!
New Quilt Patterns
I also published 16 new quilt patterns and designed a few more that will be shared next year. Creating quilt designs is so fun- playing with lines and shapes, then coloring them a ton of different ways to see what might be best. 
I am really proud of some of the patterns and while not all will be a success, some are already fairly popular. Like Pinwheel Palooza!
A favorite seems to be Side Step. I think the bold graphic nature of the quilt combined with simple piecing makes it appealing. It is one people can imagine they will finish!
Another popular pattern is Drinking in the Sunshine. I am not sure if the rainbow cover quilt is more popular or the second quilt that is on the back!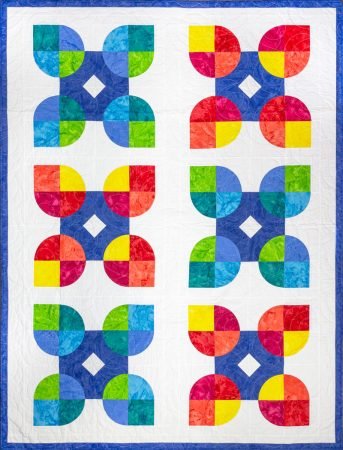 Both are fun to make and while I love them both, I am partial to the blue and green version called Water Play.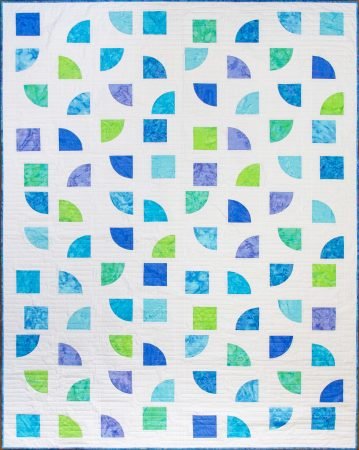 Fabric
This past year, I worked with 2 more signature lines from Island Batik!
The first was called Painted Blossoms; a line designed by Kathy Engle for me.
Line #2 was called Moonlight Sky. This one should be in stores now!
Soon I will get to show you what's coming next year!
Quilt Collaborations
I worked with other quilt designer friends on different projects. Being a solo business owner, it is always fun to get to collaborate with other quilters! One collaboration was the series of quilt blocks challenges on Instagram, organized by myself and Tammy Silvers, called the Imagination Renovation Block Challenge. Each month, from February to November, quilt designers were challenged to recreate a basic quilt block in their style, in their own way. It was so fun to see all the blocks and how everyone made it look so different. I always shared my block here on the blog as well once the challenge was over. We can't wait to start up again in January!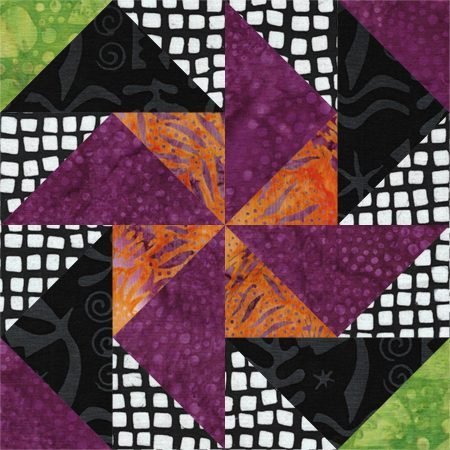 I also donated a bunch of quilts and fabric and I gave quilts to family and friends. Seeing my kids and other family this year after being vaccinated was a highlight!
Sew much fun stuff! Thank you all for spending time with me here on my blog. I appreciate all your comments and your time.
So, how was your year? Any quilt related wins you want to share with us? Or anything at all you want to share about your year? Feel free to leave a comment.
I'm listening.
happy quilting!
Kate
P.s. It's time to wrap up 2021 here on the blog; I am taking a holiday break from blogging and will be back in the new year! Have a wonderful rest of the holiday season and Happy New Year to all!