Hi friends!
Today in the A Quilter's Alphabet series, Tammy and are chatting about the letter M!
I am going to explore the quilt terms Measure and Meander.
Measure
When measuring fabric, the amount of fabric amount refers to the length of the cut- for example 2 yards of fabric is 72″ of fabric. You measure that along the selvedge edge.
The measure of the width of the fabric, or the crosswise grain, is usually around 40″ – 44″ for most quilting cottons and batiks. You measure that from selvedge edge to selvedge edge.
For more about fabric grain, click here.
The best advice about measuring comes from an old construction adage: Measure twice, cut one!
Meander
Meander refers to an all over quilting stitch pattern. The pattern usually involves loose curvy lines that do not cross over each other.
It can also be called a stipple stitch, stipple quilting or stippling. When people refer to free motion quilting, the first stitch one might think of is the meander stitch. There is no set design; you just meander over the quilt top!
I hope you have been enjoying the Quilter's Alphabet series. Be sure to check out Tammy's post on Miters and Mats!
Next week in our Exploring Quilting Basics series, Tammy and I will be chatting about partial seams!
happy quilting!
Kate
Have you signed up for the Lighthouse Steps Quilt Along??? It starts March 5th.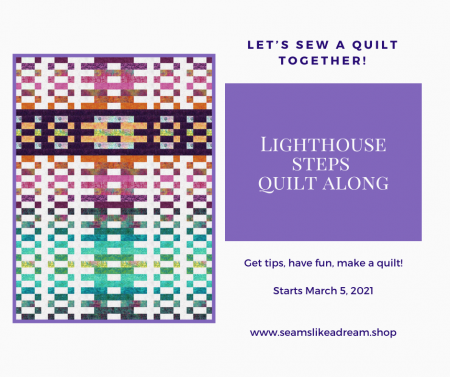 During the Quilt Along, you will get to work on your Lighthouse Steps quilt at your own pace. Each week, I will share tips on each step of the quilt, including color, ¼" seams, organizing the rows and more! There will even be a few prizes! I would be so happy if you joined me making this quilt!
The pattern includes 2 sizes; the cover show the smaller lap quilt and I will be making the queen quilt for the quilt along!
Click here for more information!
Sign up for the Quilt Along newsletter here!