Hi friends!
Today is my day on the Blue Moon blog hop.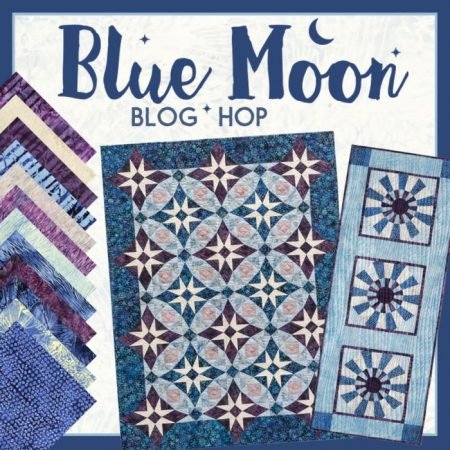 Hmmm… you may be wondering- what is Blue Moon? 
Well, it is Jackie Kunkel's new Signature Batik Collection from Island Batik designed by Kathy Engle! And it is yummy.
Lucky me, Jackie sent me some scraps leftover from her projects and I got to play. Wanna see what I made? First, I made one of my new Pack it Up! bags.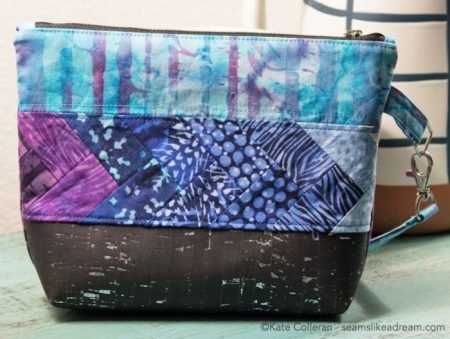 I just love how well the fabrics worked with the black cork. 
Then with some of the leftover blues and purples, I made this table runner.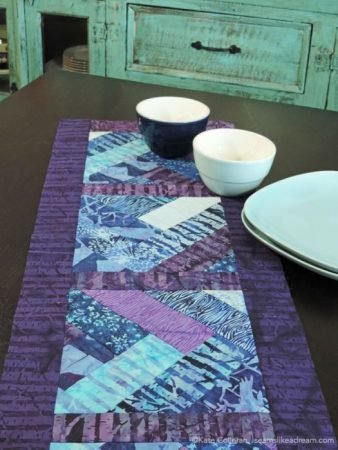 And no, it is not quilted yet but I know that I will be using this really fun Aurifil thread to quilt it.
It was funny when I was trying to pick my thread. At first I thought this thread would not work out but once I unrolled a bit of thread from the spool and placed it on the fabric, it was perfect!
And the binding is pieced from different fabric scraps. I can't wait to see how it looks on the runner. I love the pop of turquoise in the binding!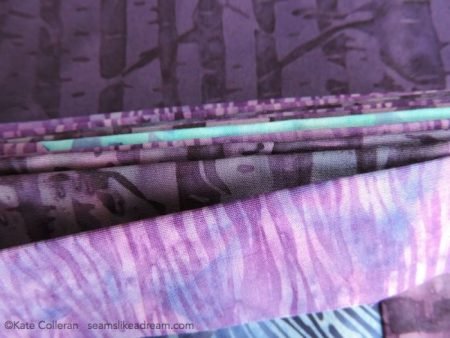 I still had some leftover pieces of the blues in the line. I set aside 4 of them and from the rest I made 2 placements. I even had enough to piece the backs. 
I think these turned out just great- perfect for a nice lunch table setting on a snowy winter day.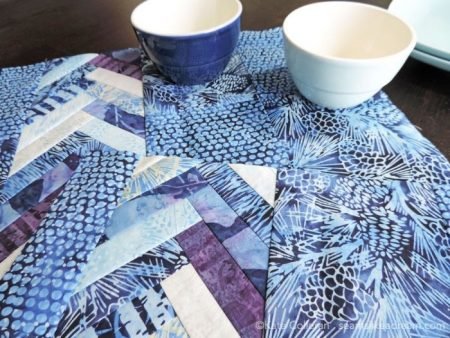 The placemats and the table runner are from my pattern Table Scraps and I used my Braid Template.
And last but not least, I made a scarf! Have you seen my pattern called Kozy Q scarf?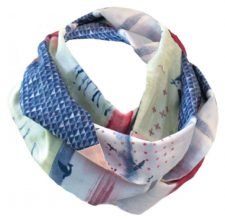 Well, I paired the 4 fabrics I had left with some soft white cuddle fabric I had in my stash and now I have a cozy scarf for a cold winter day! So perfect.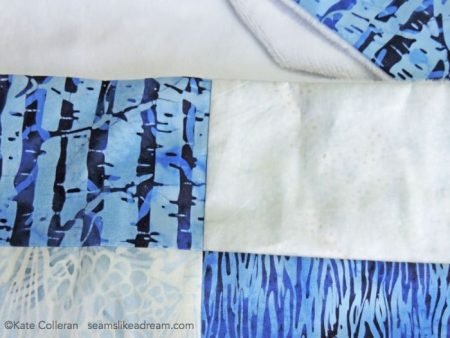 I just love all the beautiful icy blues and the warm purples in this line. Thank you Jackie for letting me play with your scraps! I had sew much fun.
GIVEAWAY: I am giving away 1 of my Kozy Q Scarf patterns so one lucky person can make their own scarf! Just leave a comment below to enter and I will pull a winner on Sat Feb 10th.
Giveaway is now closed! Thank you to all who entered!
happy quilting!
Kate
Do you want to visit all the blogs in the hop? Well here is the complete schedule. I can't wait to see what everyone does with the fabric and what awesome giveaways they have going on. Be sure to visit all the blogs! 
BLUE MOON BLOG HOP SCHEDULE
Monday, Feb 5
Will you be in Lancaster at the AQS show in March? I will be teaching! I would love to see you in class. Sweet Beets is one of the classes I am teaching; HST fun!
SaveSave
SaveSave