Hi friends!
So…. I was going to have a new heart pattern for you using a log cabin design. Well, I hate to put anything out there that is not well done and to be honest, with this little new puppy, I just ran out of time to create a quality pattern.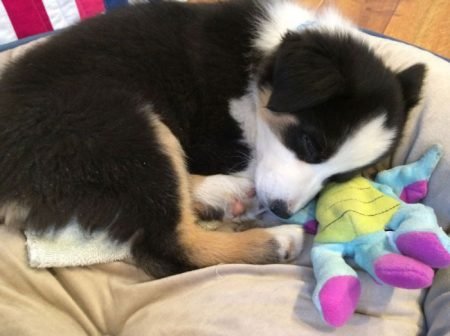 So instead, I will chat about one of my other heart patterns and offer you a groovy discount! 
Little Bits of Love is a favorite of mine. It is just a really fun pattern. Something you can whip up just in time for Valentine's Day!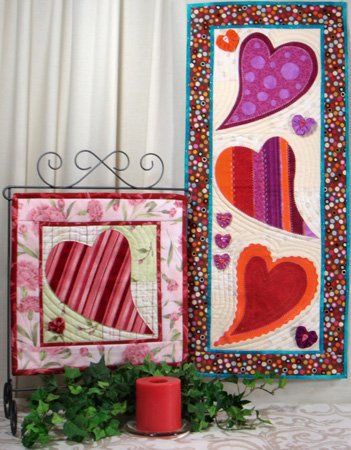 The pattern has instructions for a small mini quilt, a banner and a table runner. There are three hearts in the banner- for heart #1- I had a darker background heart fabric, then a lighter foreground heart fabric and then dots that I fused on top.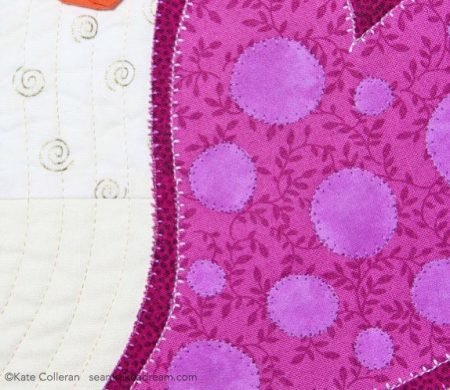 Heart #2 I created from strips of different fabrics. I sewed them together to make a new fabric and then cut out the heart. I used fancy stitches on my machine to embellish the heart. It was a great way to test out some of the different stitches.
For the little mini quilt, I just used a striped fabric which made it even quicker! 
For heart #3 I used 2 fabrics and cut the edges of the background fabric using a wavy rotary cutter blade to get the scalloped edges. I also did some decorative stitching. Easy peasy! 
And I just fused all the hearts down though you could hand appliqué them if you prefer.
For the little hearts, I used a heart yo-yo maker to make them and then added little heart buttons.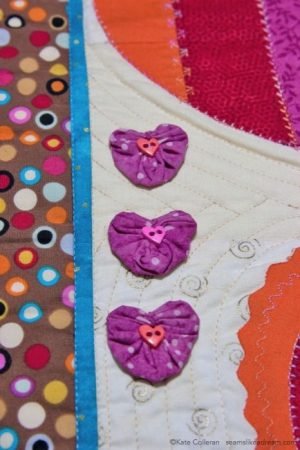 Now, just for you, my blog readers, I am offering the PDF of this pattern for only $5 – just for a short time (until Feb 7th). Use the code "valentinesday" when checking out and it will discount the pattern.
Guess what else you can do with this pattern? Make Pop Ups! Aren't these fun????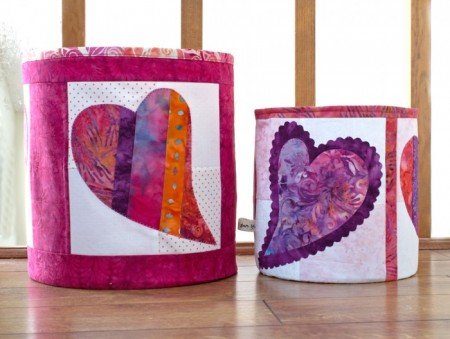 I have a free handout on how you can use the Little Bits of Love pattern to make the outside of your pop ups. Of course, you will need the Little Bits pattern, a pop up pattern and the rings, but if you have them, you are good to go! Just click here to go to the handout to see how make the outside from the Little Bits pattern!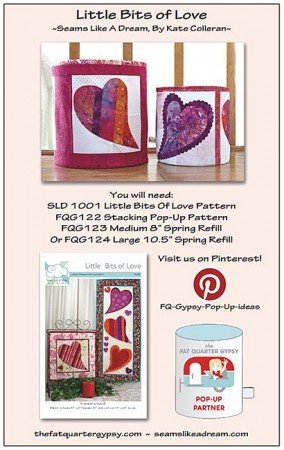 I use that large heart pop up all the time. It is what all my scraps from my sewing get collected in. Well, the scraps I am keeping, not the throw away ones. Those go in a trash bin waiting to be stuffed into a pet bed.
Once the heart pop up is full, I may go thru it and find the scraps of various sizes and out them into their bins, or into the bins labeled by color for bigger scraps. Or, if I am too busy, I just smoosh them down and fit in more scraps!
Now if you want another heart runner, here is a link to a free tutorial I did a few years ago for a Valentine's Day runner. No PDF- just a blog post tutorial. So you can get ready for Valentine's Day.
And my good friend Tammy Silver of Tamarinis has a blog post for you on some other heart related quilting! Click here to see what she has in store for you.
Have fun making hearts!
happy quilting,
Kate
There are only a few days left to be entered into the drawings from the Island Batik Four Seasons Blog hop.
Click here for my post 1 and here for my post 2! Each post also contains all the links to all the other Four Seasons blogs and giveaways!
SaveSave
SaveSave
SaveSave