Welcome to our series Exploring Quilting Basics! Previously, we looked at how to plan quilt layouts. Coming up next in our basics lineup are 3 tips for adding quilt borders. Or if you would like to start from the beginning and work through all the topics, you can find them all here. 
Hi friends!
Exploring Quilting Basics
Today in the Exploring the Basics blog series, Tammy and I are chatting about assembling a quilt. We broke up assembly into 2 parts- part 1 today about the center of the quilt and part 2 next time about borders.
In the last Exploring the Basics blog post we talked about the many different layouts for a quilt top. Now, let's talk about some tips for sewing those together and assembling a quilt.
Tip #1 Make a Pressing Plan.

 
Sometimes a quilt pattern will have tips on how to press your blocks and how to press when you are sewing the blocks together.
Review the pressing plan or, if there is not one, come up with a pressing plan that works for you.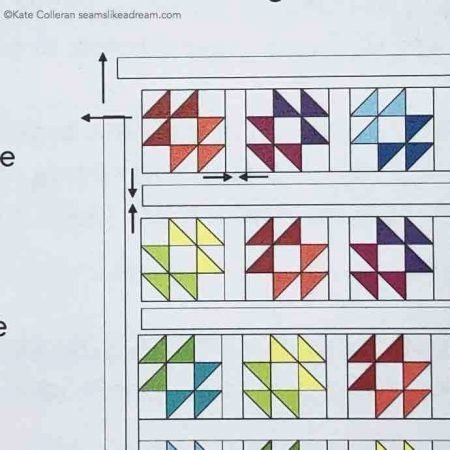 Most of the time, I like to press to one side but many people prefer to press seams open. We talked about pressing here in an earlier post. Whatever you like to do, decide ahead of time how you will press all the intersections so they piece together easily and lay as flat as possible.
Tip #2 Lay Out the Blocks to Assemble your Quilt
In this earlier post, we talked about a design wall. A design wall is an amazing tool, if you have room. I have yet to make myself a larger design wall but I know it will help me when I do make it!
How will it help? Well, if you can layout the blocks and then, after each section is sewn, put it back on the design wall, hopefully you will notice when you turn a block and sew a section incorrectly.
I sometimes will catch the mistake but it is easier to see if you have room to lay it all out.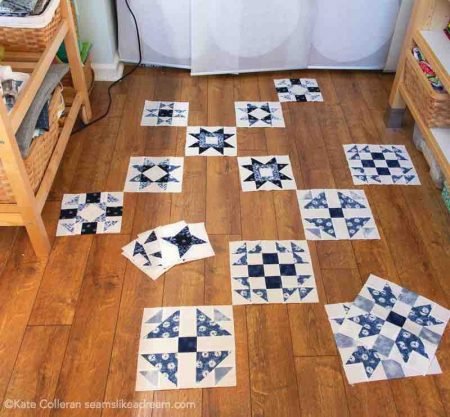 Currently I lay out quilts on the floor and that doesn't always work!
Tip #3 Take a picture of your Assembled Quilt
Take a picture of the finished quilt top with your phone and then look at it. Check for mistakes. When the quilt is laid down and you get some distance, you may notice a mistake that you missed when looking at it close up.
Ask me how I know!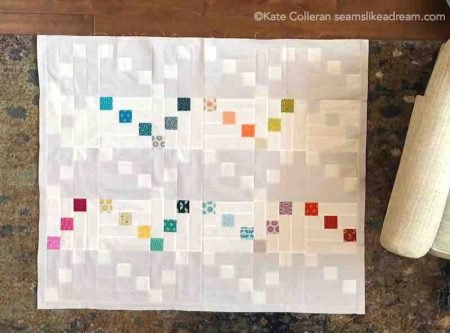 I like to take my quilt top, lay it on the floor in the living room and then take a picture from my sewing studio. I get a birds eye view that way (though putting the quilt on your design wall and stepping back to take the picture would work too).
Tip #4 Take your Time to Assemble a Quilt
Once you have your blocks made, it is tempting to put the pedal to the metal and sew like crazy!
Get those rows done!
Add those borders!
Finish that quilt!
Slow down here. I make the most mistakes when I am rushing and trying to sew at top speed. You need to slow down to speed up.
Since you are less likely to make mistakes or get puckers or missed points when you sew slow, you will speed up the process by not having to pull out Jack (the seam ripper)!
Tip #5 Measure periodically while assembling your quilt.
When I making a block, I like to take the time to measure my units before I sew them into the block. If the units are the right size, I have a better chance the block might end up the right size as well.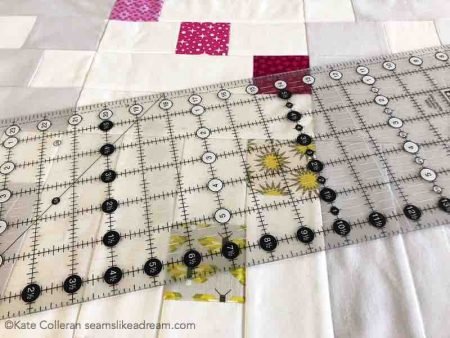 The same goes for sewing the blocks together. Measure your rows and sections to make sure you are on track. You will be happy you did when you get to the borders!
Click here to head on over to Tammy's post- she has got some information on ways to assemble the quilt top and get you thinking! Next time in the Exploring the Basics series, we will chat about adding borders- see you then!
Happy quilting,
Kate
Designer's Quilt Show
Monday April 13th is the start of the Designer's Quilt Show!This is an online quilt show where different designers will be featured each day!
Every day from Monday April 13th through Sunday April 19th, you can go to the website whenever its is convenient for you, look at the featured designers' quilts, enter the giveaway and check out the calendar to see what classes might be happening that day! 
So you don't miss anything, click here and go sign up for their newsletter!
It will be fun! I can't wait to watch some of the classes. And yes, I will be hosting one class on my FB page next Thursday.
~K