Welcome to our series exploring the basics of quilting! Last time, we discussed easy half square triangle. Next time, we'll be looking at quarter square triangles. To see all the posts in this series, click here. 
Hi friends!
Today in the Exploring Quilting Basics blog series, Tammy and I are talking about Flying Geese (FG) units.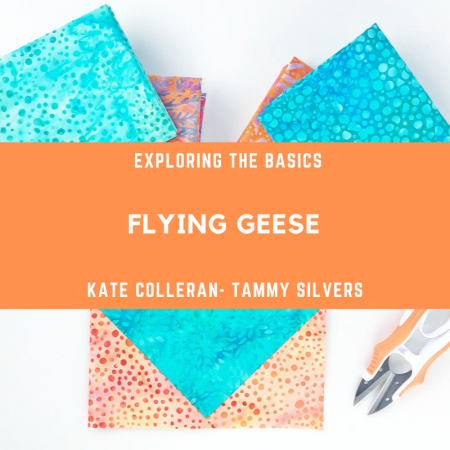 Do you like making FG units? I will admit, for quite a while, I didn't like making them, but they have grown on me. I think it is because I have learned new techniques to make them. So let's chat about a few different techniques.
Flying Geese Tutorial: the Stitch and Flip Method
This is the way I always used to make my Flying Geese (FG) units. I would cut a rectangle of the "geese" fabric and squares of the background fabric. Draw a line along the diagonal on the wrong side of the small square…
lay it RST on the rectangle…
sew on the line, trim the seam and repeat on the other corner…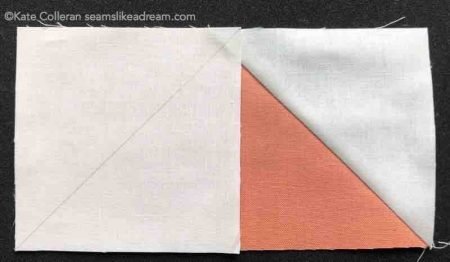 Done.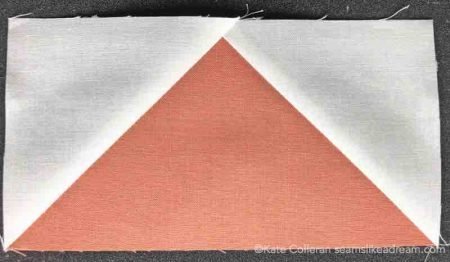 And it works. It'a great method. Often for me, because I can't seem to sew straight, I would have little bits to trim or one side might be a little wonky… but when I am careful, it works out just fine. The one above looks pretty good!
There is a debate about whether to trim the bottom layer when trimming the seam but I never want the bottom fabric to show though the top fabric so I always trim both fabrics away.
And here is a tip: if you sew a second line of stitching, you will have a leftover HST unit!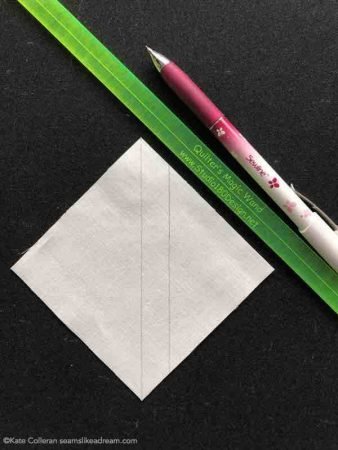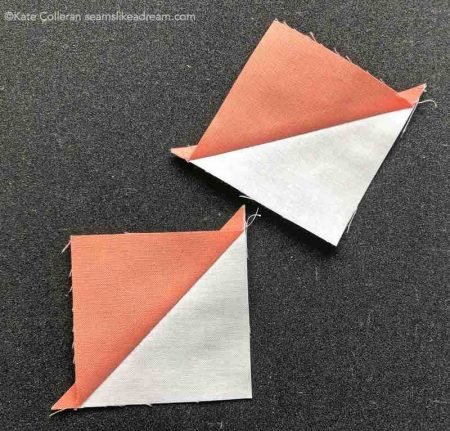 Flying Geese Tutorial: the No Waste Method
This is also described as making 4 FG at once. I find myself using this method a lot now. This is the method I used in my pattern Up and Down.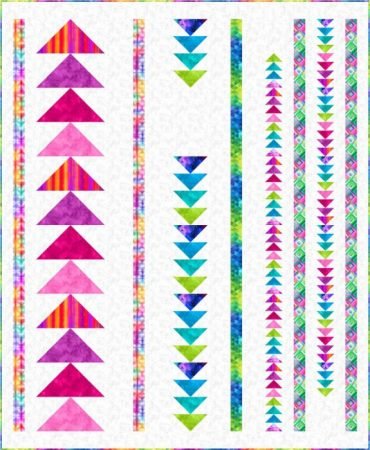 And I even gave instructions for a bonus quilt using the leftover geese units!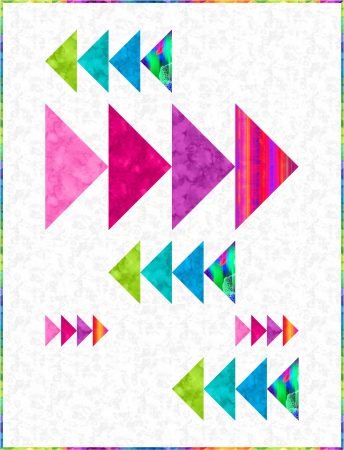 To do this method, you cut 1 large square of the geese fabric and 4 small squares of the background fabric. If you want the math to know how big to cut your squares, click here for my PDF with the math information.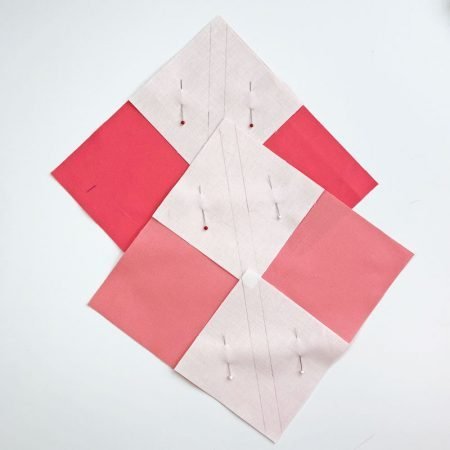 To start, draw your lines on the wrong side of the small background squares. Then place 2 of them in opposite corners; they will overlap in the center.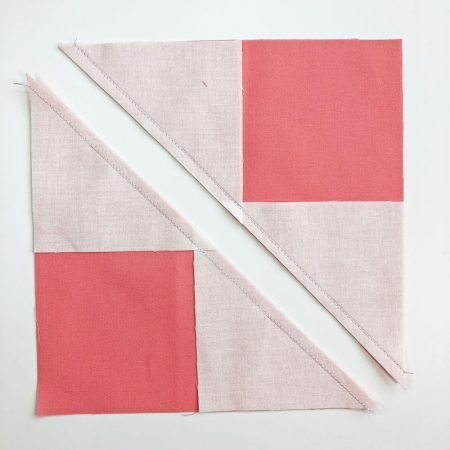 Sew on the lines, trim through the center and press.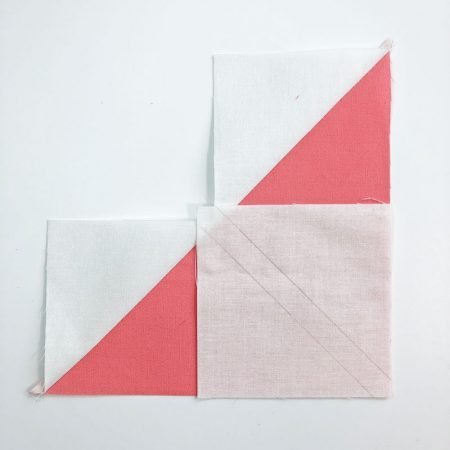 Use 1 of the last 2 small squares to repeat in the other corner of each unit, cut, press and voila!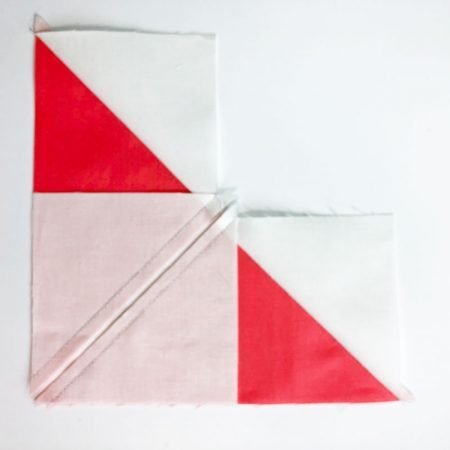 Flying Geese units. Easy peasy.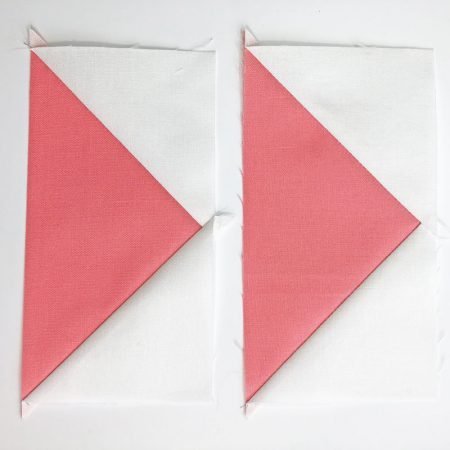 Making your Flying Geese Units Oversize
Now, sometimes I have trouble with the 4 at once method.
Have I mentioned I can't sew straight? Trust me, I have tools and know the tricks but I believe part of it is sometimes I go too fast, sometimes I am easily distracted  and forget to watch what I am doing and sometimes I am fending off pets!
For those of you who like to have a little wiggle room, and don't mind trimming, you can still use the No Waste method and have just a tiny bit of waste!
Cut the squares just a tad bigger than called for: for example, if the small squares are supposed to be 3 ⅞", make them 4" instead. If the large square is supposed to 7 ¼", make it 7 ½" instead. Draw your lines on the small squares and then, when laying them RST with the large square, nudge them a few threads inside the outside edge of the large square. Not quite lined up.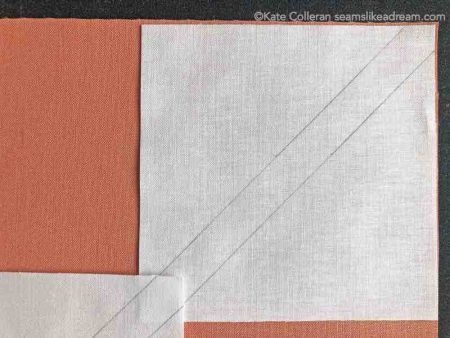 Then you can trim them to size once you are done and they will be perfect. It may take you a few tries to get the spacing just right, but then there is less wonkiness.
Trimming your Flying Geese Units
You can trim using your regular ruler but the Wing Clipper by Tucker is my favorite trimming tool.
I like that is has the lines with the crosshairs so I can line up my seams and get those corners just right.
Flying Geese Tutorial: Other Methods
There are many other methods for FG units- Eleanor Burns has FG rulers with her method that is similar to the No waste method. 
You can cut the triangles – the geese are cut from large squares into 4 quarter square triangles and the background is cut from small squares that are cut into 2 half square triangles.
(By the way, the math for this method is the same as for the No Waste method!).
You can cut triangles using your Go! cutter. So many options! 
Think about how many do you need and what method works for you? When I can, I use the No Waste method, oversize my cuts and trim down. That works best for me. And if I have a few leftover geese, well, they go in the pile to be used in a leftover project!
But remember, you can use any method in this Flying Geese tutorial that you prefer to make Flying Geese units. Just adjust your cutting to suit the method you prefer. There is no one right way to make them.
Have fun making Flying Geese units- they really aren't hard to make and they look amazing!
Don't they look super cool in my quilt In and Out?
We used them in A Road Trip quilt as well.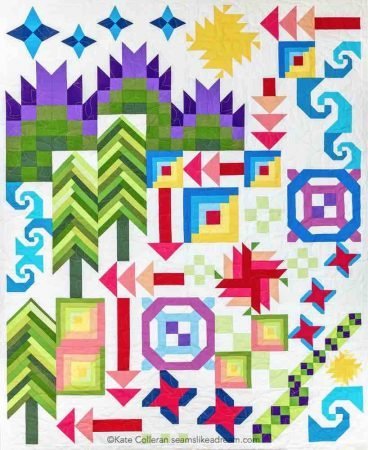 And this flying geese tutorial will come in handy next week for Block 2 of the Adventure in Color Quilt Along quilt Luminous! 
Tell me, what is your favorite Flying Geese method?
Don't forget to head over to Tammy's blog– she always has great tips for us!
happy quilting!
Kate