Hello friends! Can you believe it is May?
It's May, it's May, the lovely month of May…. it's so funny. Last weekend we had 10″ of snow on the deck and today it is sunny and going to get to 80 degrees! I am not complaining though. We needed the moisture and I think this weekend will be lovely.
A lot is going on this week here at SLAD. Where to start?
Craftsy: A few months ago, Craftsy asked me to design some patterns using one of their new fabric lines. The line is called Rosemoor and I designed 2 patterns: Evening Garden and Flower Basket.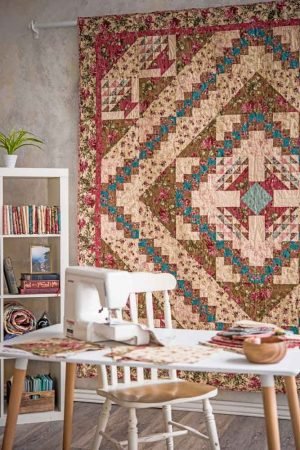 They also asked me to film a short class for one of the quilts. More just tips and tricks, not a full blown class with every step by step. They called it a "Quilt Along" and if you buy the kit, you get access to the class. How cool is that? It just became available.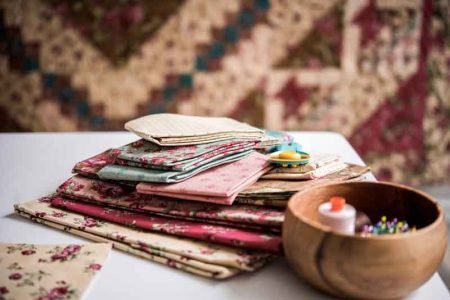 The fabrics are really lovely and have a nice hand.
International Association of Quilters: a few months ago, Becky of IAQ asked me to be one of her guest designers for her on line quilt group. Her site is pretty cool. There are some things you can access without registering, but if you pay her yearly fee, you get access to a lot more!
Click on my affiliate link to see more.
So, this is the quilt I designed for the month of May. I called it Five Carat Gem and if you join, you can get the pattern!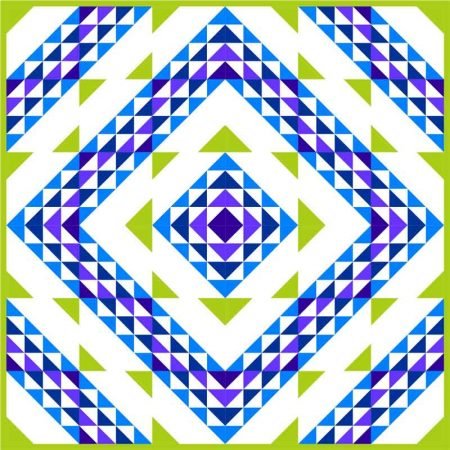 Hmmm… what else?
OH! QNN tv!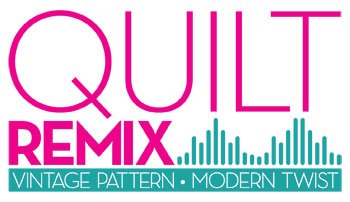 A few months ago, I taped an episode for QNN tv for part of their Quilt Remix series. We had to take a quilt that was a little more traditional in design and remix it to give it a more modern look. It was a fun challenge. The host for the whole series is Kelly Bowser.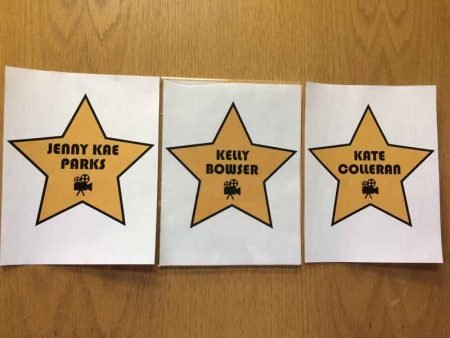 Kelly is a hoot and we had so much fun on taping day as my good friend Jenny Kae Parks was also taping her episode that day. Find Kelly at her website here. And Jenny Kae at her website here.
I think the real magic is seeing the inspiration quilt and then seeing ours. But… here are our remix quilts!
I love how different they are! Kelly used Liberty of London fabrics and I used Pixie Dots from Ink & Arrow. And I used my Braid Template- of course! I hope to have the quilt out as a pattern soon.
You can just click here to go to QNN tv to watch the episodes and see the original quilt. My episodes launch this month. Part 1 is up and available to see! They are free; you just need to create an account.
Quiltmaker's 100 Blocks
Quiltmaker is having a blog hop this week for the new issue of Quiltmaker's 100 blocks. And yes, I have a block in the issue! I am not part of the blog hop but that does not mean I can't post about it!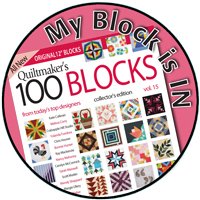 My block is called Spin Dance and it is on page 38 of the magazine. I used some leftover Pixie Dots from my QNN remix quilt. Love it!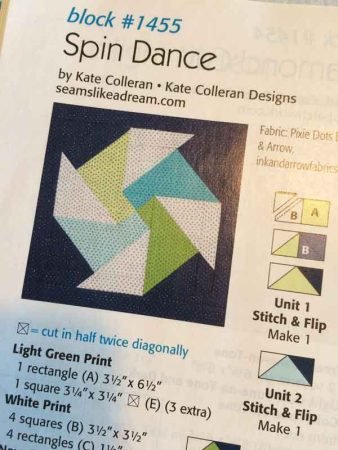 So click here if you want to check out the whole blog hop. BUT, I mentioned a giveaway did I not?
Leave a comment below if you want a chance to win a magazine! I have 2 copies to give away.
Leave a comment before Tuesday night May 9th at 9pm (my time!) and you will be entered. Leave a second comment if you subscribe to my email newsletter (not if you subscribe to the blog; just my newsletter) and you will get a second chance.
Winners must have a continental US mailing address. Sorry, other postage is just too steep!
Thanks for visiting with me! Have a great weekend and, as always….
happy quilting!
Kate