Hi friends!
Today is my day on the Kismet Blog Hop!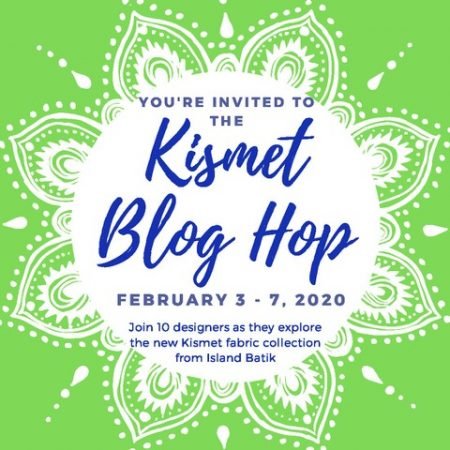 Kismet Fabric Collection
Kismet is the new fabric collection designed by Tammy Silvers for Island Batik. It is just awesome!
Many of you know I love bright colors so when Tammy asked if I wanted to play with her new line, it was a resounding YES! And I new right away what I wanted to make with it.
Crossroads Quilt with the Kismet Fabric Collection
I have a pattern called Crossroads that was badly in need of an update. It was originally designed for a quilt shop hop a few years ago and then the directions got a refresh. I updated them and made the piecing a little easier. But the cover needed an update as well. And now it has one!
Say hi to Crossroads in the Kismet fabric collection!
The quilt is made using 2 ½" strips and there are 2 sizes of the quilt in the pattern. This is the larger size with borders.
I love how the quilt came out!
Tote That!
And because the fabric was so much fun to play with, I also made a tote bag using my pattern Tote That!
Moon Flower Mini
I was also happy to play around with this thread pack from Aurifil. Aren't these colors yummy? They were picked to go along with the Kismet line. So I used some of my leftover bits of fabric and made a mini version of my quilt Moon Flower Mini! A mini mini!
Isn't it cute? I used the thread to stitch around the appliqué and to do a little quilting on this mini quilt. Love the thread! Love the fabric! Love the quilt!
The Kismet fabric collection is such a bright and happy group of fabrics. The colors make me smile every time I look at the quilt, or my little tote bag or my new mini quilt- perfect for snack time!!
For those of you who love to make precut quilts, my Crossroads quilt pattern is $2 off for the rest of the blog hop! So you have until Saturday Feb 8th at 9 pm MT to go to my shop and get the pattern. Use the code Kismet2.
Blog Hop Schedule
Here are links to everyone on the blog hop and there might even be some giveaways so be sure to click here go to Tammy's first blog post for her fabric bundle giveaway.
Monday 2/3
Tammy Silvers Tamarinis
Island Batik Island Batik
Pauline McArthur Funky Friends Factory
Tues 2/4
Joanne Hillestad Fat Quarter Gypsy
Wed 2/5
Kate Colleran Seams Like A Dream
Becky Jorgensen Patchwork Posse
Thur 2/6
Kris Poor Poorhouse Quilt Designs
Swan Sheridan Swan Amity
Fri 2/7
Erin Sampson Aurifil
Jessica VanDenbrugh Sew Many Creations
Sarah Furrer Studio 180
Tammy Silvers Tamarinis
happy quilting!
Kate
p.s. Thank you to everyone who entered the giveaway from Block 1 of the Adventure in Color Quilt along! The giveaway is now closed and the winner has been notified!