Hi friends!
A couple of weeks ago, in this blog post, I introduced Moonlight Sky- a new batik line by Island Batik. Today I want to show you a few more projects using it and at the end of this post, you can enter a giveaway of a FQ bundle of the fabrics!
The Fabric
Moonlight Sky, a new batik line, was designed by Kathy Engle of Island Batik for me! I love all the rich blues and deep purples and black and white prints!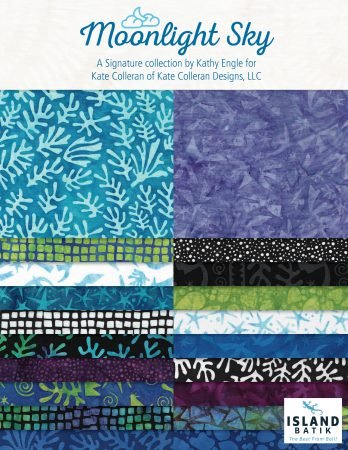 And that pop of green is so fun!
The Quilts
Last time I showed you Deep Space,
and Solar Energy.
Today let's look a few more quilts using the Moonlight Sky line!
Twilight Sky
Twilight Sky is another new star quilt- who doesn't love stars?
For this quilt, I used the black tone on tone for the background to really resemble the night sky- all dark and moody with the stars twinkling at you!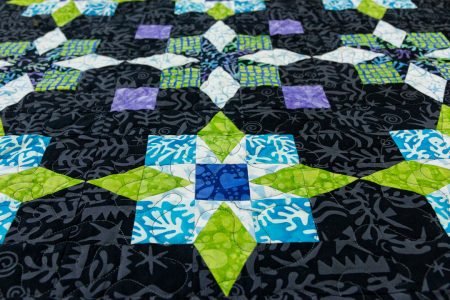 The pattern has 2 sizes- lap and queen.
Crystal Falls
Crystal Falls is a triangle quilt. I happen to love triangle quilts! Ever since I made my first one for a magazine, I love how you can use the same basic layout to create different designs.
This arrangement reminded me a a waterfall. Hence the name!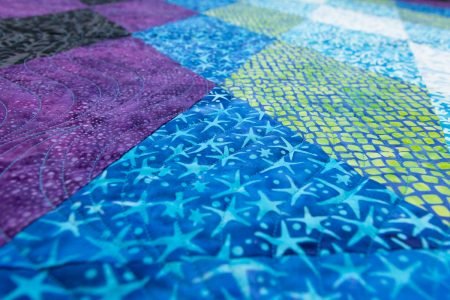 The pattern has 4 sizes- crib, youth, lap and queen!
Pack it Up!
These next few patterns all work with the Mini Braid template.
Pack it Up! is one of my most popular patterns and I love coloring it in new fabrics!
Doesn't it look fabulous in this new batik line, Moonlight Sky?
If you haven't made one yet, the pattern has 4 sizes so you can make one to fit whatever stuff you need to pack!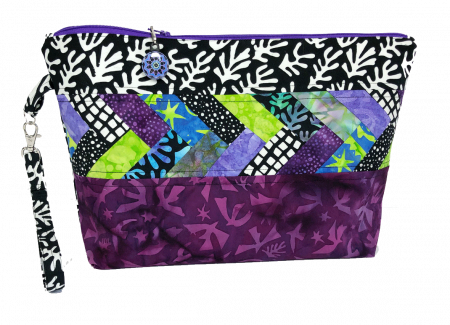 Jot it Down!
Jot it Down! is a fun quick notebook cover!
These make great gifts for friends (especially your book club friends!), kids and anyone who loves to write things down!
Top This!
Top This! is just a fun to make table runner!
More Quilts
Are you on Instagram? Some of my quilt pattern designer friends are sharing images of projects they made using the Moonlight Sky line. Go to my IG page here and then click on the tags to see all the projects!
My friend Kris of Poorhouse Quilt Designs has a blog post about her project using the fabrics- click here to see! And so does my quilt friend Lisa Ruble of Color My World – click here to see her blog post!
The Giveaway!
I have 2- count them- 2!!!! fat quarter bundles to giveaway! Each lucky winner will win one FQ bundle and a FQ pattern from my collection.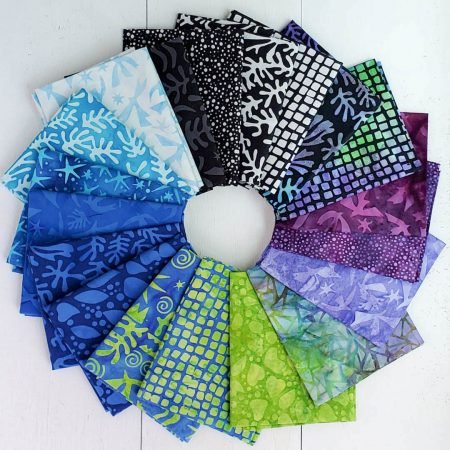 To enter- please leave a comment on this blog post. You can tell me your favorite color!
Contest is open until Sunday October 17th at 8pm MT and is open to all within the US. I'm sorry to my out of US followers- shipping is too much these days!
Giveaway is closed! thank you to all who entered and left comments! I am so glad you like the Moonlight Sky line!
Another Giveaway!!
Wait? What?
Yes, we have another chance to win some of this fun fabric! My friend Kathryn of Dragonflys Quilting Design Studio is giving away 3 pieces of the fabric that she did not use in her quilt. How sweet is that? Click here to go to her newsletter or here to go directly to the Rafflecopter link!
happy quilting!
Kate
P.S. Hey- have you signed up for my email? See below to get the free pattern!