Hi friends!
Today's blog post is a little different than usual; I don't have a particular quilt topic!
Say what? I was thinking about my posts for the rest of the year and realized that, now that the A Quilter's Alphabet series is done and that Tammy and I are only collaborating on a single post each month for the Exploring Quilting Basics series, that I need to rethink what I want to chat about with you all!
So I am in the process of brainstorming for upcoming posts. And… well,  I forgot about today's post! But then I realized, it is good every now and then to take stock, reflect on what has been done and what might be next.
So first, what's next?
A free Mystery Quilt Along!
Did you know that I am hosting a free Mystery Quilt Along right now? It is my way of saying Thank You to all the readers of my blog and my newsletter for your support of my small business.

I love designing quilts, writing my blog and sharing tips and tricks. But, being in business also means sales and asking for sales is hard. Did you know that the other day I read that many people are more comfortable giving their money to a big box or online store than to their local small shop owner?
What? Why wouldn't people want their friends and neighbors to be successful?
Anyway, many of you have been very supportive of my business and this Quilt Along is my thank you.
Quilt Along Details
As some of you know, I have been participating in a block challenge each month on Instagram. Tammy Silvers and I started this back in February and each month different quilt designers join us to reimagine a basic quilt block.
We post each week for 4 weeks on Mondays; 3 posts with sneak peeks and then the 4th post is the block reveal! And sometimes a project as well.
Each month I also share the block on my blog as part of the Exploring the Basics blog series.
November's block is Birds in the Air. I always start wondering… what will I do to reimagine it?
But then this time, I got to thinking… wouldn't it be fun if I made this reimagined block into a Mystery QAL? 
Yes!
I am making a table runner with my reimagined block. So the instructions for the Mystery block will include enough blocks to make a runner.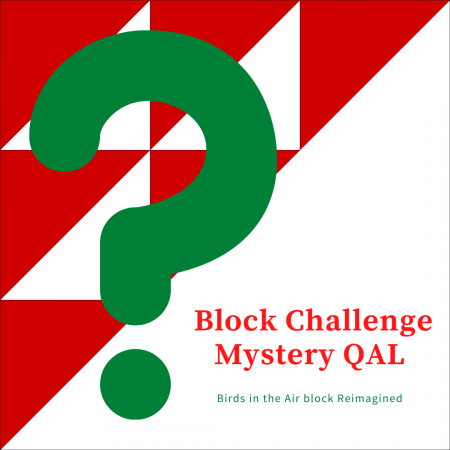 How will it work?
I will be sending out emails to anyone who signs up starting Monday November 1st. Here is the schedule:
Nov 1 – the fabric amounts
Nov 8 – Clue 1
Nov 11 – Clue 2
Nov 15 – Clue 3
Nov 18 – Clue 4
Nov 22 – Last clue with the block and instructions to make a table runner!
Even though clue #1 went out this past Monday, you can still sign up. Just click here.
Note: This signs you up for my regular newsletter as well as the mystery block project newsletter. Once the mystery is over, you can always just unsubscribe to the rest of my newsletters. Just don't do it until the mystery is over!!! 
If you are all ready on my newsletter, you need to fill out the form below to get the special Block Mystery emails. But don't worry, you won't get duplicates of my regular newsletter. The system I use is pretty smart and will only send you one- unless you use a different email. Then… well…
Next Year Plans
2021 is speeding to a close! Like many years, it seems when we get to November that the year speeds up and the last 2 months fly by! Probably, because this is the time of year when we are all busy making plans to spend time with family and prepping for the holidays. I know I can't wait to go see my kids!
I am also prepping my work calendar for next year and planning out what will happen. One thing that I do in my business is travel to lecture and teach. Well, I used to! Now I do a lot of Zoom meetings but I do have a few travel plans set up for 2022.
And while I love to lecture and teach, my days of traveling and schlepping large suitcases of quilts is going to slowly start to wind down. So if your guild is interested in having me come visit, send me an email. I am limiting how much I travel to teach and I still have a few spots where I can schedule in a trip in 2022.
In December I will share more about my plans for next year, including a Quilt Along with Tammy and another Mystery Quilt Along! I will also be able to share some really fun news next year (shhh… don't tell, but I designed a fabric line and it will be in shops in 2022!) and as always, there will be new patterns!
Patterns and PDFs
Paper Patterns
My patterns have been going through an overhaul. Slowly, oh so slowly, I am converting my patterns to booklet format. My patterns have always been written on a half page and folded so they resembled a booklet, but they were not stapled or numbered like a booklet. That way you could just lay the entire page flat and then turn it over. I liked the format (though it did confuse a few people who thought the pages should be numbered like a booklet) BUT, because the pages were loose, they had to be in a plastic bag so they stayed together.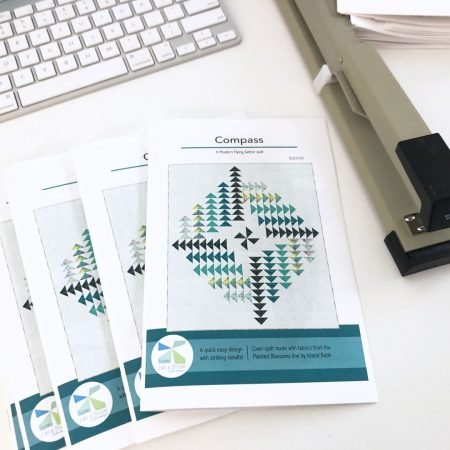 With the new booklet format, I can send out patterns without plastic bags and reduce my plastic footprint. So starting in 2022, all patterns that are in booklet format will be shipping without a plastic bag unless requested. I will make it easy to click a button to ask for one, but if you don't click, the pattern will come without one.
Of course, any patterns sold to a shop will be in plastic bags.
PDF Patterns
And the other change is that I will be releasing my new patterns as both paper and PDF at the same time starting next year! I am slowly (again, Oh so slowly!) converting all my patterns to PDF so you can download them instead of waiting for them to arrive in the mail!
The only trouble with PDFs is understanding how they arrive in your device and where to find them once you download so next week we will have a PDF primer on the blog.  And a PDF sale!
OK friends… that's it for today! I am off to work on my next quilt!
Thanks for being here.
happy quilting!
Kate