Hi friends!
We are so excited to announce our new Sisterhood Quilt Along for 2022! Tammy Silvers and I have worked hard on an amazing sampler quilt we called Sisterhood. 

The quilt celebrates the supportive and wonderful women in our lives and we can't wait to share it with you!
The Sisterhood Quilt Along
Starting in April 2022, we will sew our quilts together. There will be weekly newsletters with tips and video tutorials for some techniques; there will be 3 different sizes you can make and a few giveaways for those on the newsletter list.
Don't miss out on the fun! Sign up today – click here!
The Sisterhood quilt celebrates women who have been an important and influential part of our lives. Mothers, grandmothers, aunts, sisters, daughters and friends who are our support system.
Women who have supported us, nurtured us, laughed and cried with us. Women who we value and love.
We have taken 30 quilt blocks and renamed them with the names of all these wonderful women. In the newsletters during the quilt along, we will share a little story about each of these women that have shaped and influenced us.
Why sign up for the quilt along newsletter?  
Helpful tips
Occasional videos delivered straight to your mailbox
Fun giveaways
Backstory – story of the women of the blocks
Encouragement and inspiration to keep up with the project
After signing up, you'll receive a Welcome newsletter with links to a supply list, where to purchase the pattern and to a list of blog posts you may find helpful!
Each week during the quilt along, on Thursdays from April 21st through June 23rd, you will receive a newsletter full of fun tips, techniques and back stories for each block.  Each newsletter will focus on 3 of the blocks. We will focus on a specific technique each week and showcase blocks that use that technique. 
As a bonus, we will send a newsletter on April 7th with tips for organizing your fabrics and your sewing space as you get ready for the quilt along.
Sponsors
We have some wonderful sponsors – Aurifil, Island Batik, Oliso, Schmetz, Studio 180,Warm Company – and will be periodically giving away terrific prizes from these companies to quilters that are signed up for the newsletter at the time of the giveaway.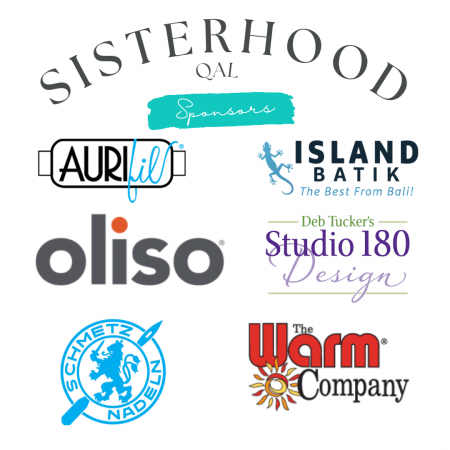 Drum roll –  our first giveaway is April 7th! 

 
If you sign up for the Sisterhood Quilt Along Newsletter (click here to sign up) by April 6th, you will be entered to win a fabric stack from Island Batik!  The Island Batik fabric stack is a luscious ½ yard bundle of the 12 fabrics we used to make our quilt blocks.  The winner will just need to add their background of choice!
How do I claim my prize?
The name of the winner of the giveaway will be posted in the newsletter; we will NOT be emailing the winner. 
So, yes, you have to read the newsletter to see if you won!
We have some really great prizes from the wonderful sponsors pictured.
You have 3 days to respond; Thursday, Friday and Saturday. We understand that people travel or don't look at their email everyday but you only win if you respond to the email in 3 days!!!! No exceptions.
You can respond to the email by hitting reply from the newsletter, or, if you prefer, you can directly email Tammy at: info@tamarinis.com or Kate at: Kate@katecollerandesigns.com.
Let us know your first and last name and your mailing address!
If we don't hear from the winner by 9am ET on Sunday, we will choose a new winner.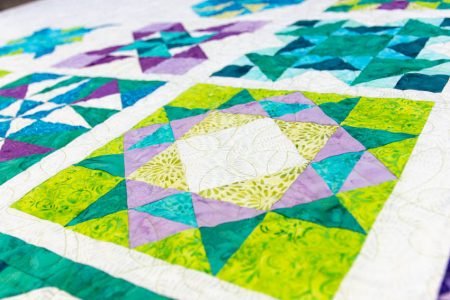 FAQs
Do I need to purchase the quilt pattern to participate?

You are welcome to sign up for the quilt along and enjoy all of the useful technique demos and information, but you will need to purchase the pattern to make the quilt.

What is the cost for the quilt along?

It's free to sign up for the newsletter series.  But…..if you want to make the quilt, you will need to purchase the pattern.

What tools do I need?

The pattern includes instructions to make the blocks using standard rotary rulers, but there are also Studio 180 friendly options.  Choose the method and tools that works best for you.

Recommended Studio 180 Tools:

Tucker Trimmer 1
Wing Clipper
Split Rects

Not required but VERY useful

Square Squared
Tucker Trimmer 2
V Block
Magic Wand

For ALL quilters, it is strongly recommended you have rulers that have ⅛" markings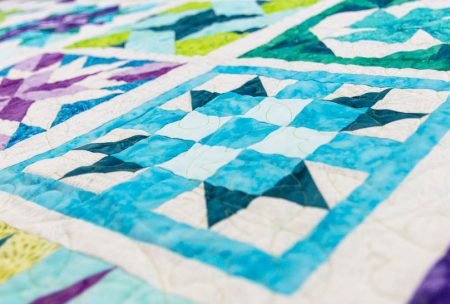 Skill Level: Intermediate
While the pattern is written for the intermediate quilter, this pattern can be a wonderful skill builder for the quilter ready to take on the challenge.  The blocks range in complexity, but use many common units.  Helpful tips and video demonstrations will be part of the quilt along (another great reason to sign up!)
The Quilt – 3 Setting options
The Sisterhood Quilt Pattern offers three different size options, each using the same 30 star blocks.  For the traditional quilter, we have designed a charming lap quilt that finishes at 67" x 80".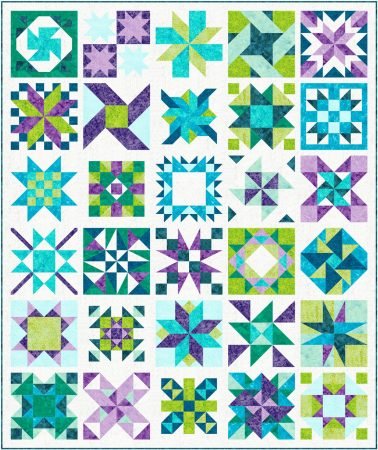 There are two more contemporary layout options, each with some negative space.  The small bed quilt finishes at 83" x 93", while the largest is 90" x 94".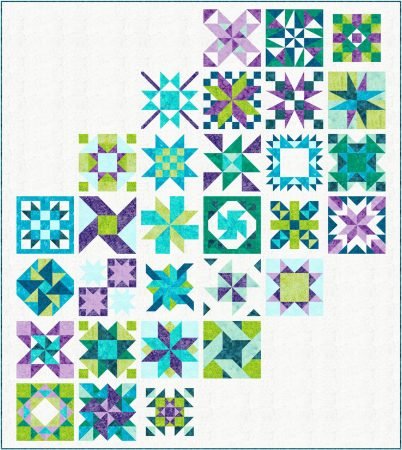 And of course, any of them can easily be made larger by simply adding borders!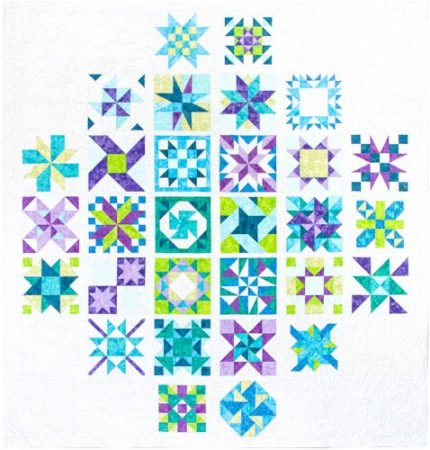 The Sisterhood Quilt Pattern
You will need to purchase the Sisterhood quilt pattern (available in print or pdf) to be able to make the quilt.
Pattern Pricing
Early Bird pattern pricing:
Purchase by April 21st: $32.00
Purchase during the Quilt Along (April 21 – June 29): $36.00
Regular Price (starting June 30th): $42.00
Click here to order the print pattern from my website!
Click here to order the pdf pattern from my website!
International customers: please click here to go to my ETSY shop for the PDF pattern.
Fabric Kits
We are working with shops that will plan to offer kits for the quilt.  Once available, we will provide links to their website from our Quilt Along pages.
We are so excited to share our Sisterhood quilt with you, and during the quilt along, to share the stories of the women that inspired each of the thirty star blocks.
Sign Up today!
Be sure to sign up today for the quilt along so you don't miss a moment of the experience.  Once you sign up, you will receive a Welcome Newsletter containing a link to a Supply List outlining everything you will need to make your Sisterhood quilt and a link to a list of helpful blog posts.  
The Quilt Along Newsletters will start April 21st, with a bonus issue on April 7th covering fabric organization AND a special fabric giveaway.  So click here to sign up now!
Disclaimer:  Please note that when you sign up for the Sisterhood Quilt Along newsletter, you will be signing up for Kate Colleran Designs' newsletter, as well as Tamarinis' newsletter.