Hi friends!
Today is my day on the Savannah Blog Hop– a new batik line designed by Tammy Silvers for Island Batik!
How fun!
And I have a new quilt pattern to show you using the fabrics!
Savannah Blog Hop
The fun of a blog hop is you get to see the fabric used by different designers in different patterns- a way to showcase the fabrics and see how you might like to use them!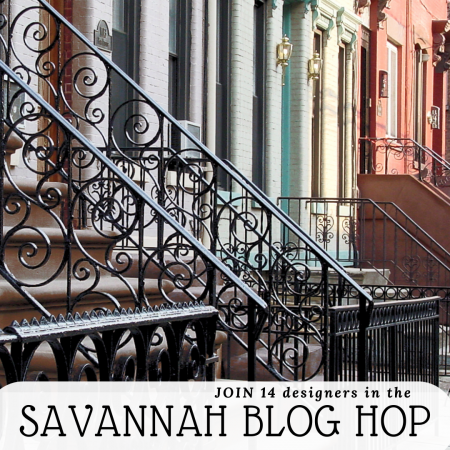 There are 14 designers posting from June 27- July 1. Below is the full list so you check check them all out!
The Savannah fabric
Savannah was designed by Tammy based on photos she took while in Savannah! Hence the name. The colors are wonderful!
I remember one time when we were all in Savannah for Quilt Con; I took so many pictures of the city and the architecture. Unfortunately my pictures where lost in a computer crash but I now have Tammy's images in fabric to remember all the wonderful scenes!
The Rosette quilt
I designed a quilt specifically using the fabrics called Rosette.
The quilt itself reminds me of an architectural element- maybe a detailed railing or fence?
The quilt looks complicated but really, it is 2 blocks which have a love affair with HSTs!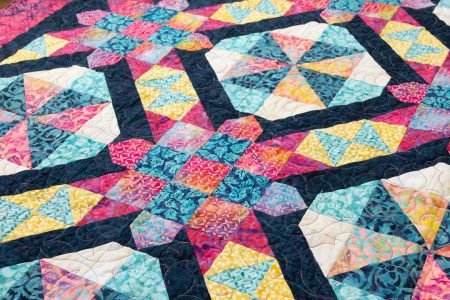 I love that the dark blue makes such a strong statement.
And the quilting thread we choose to use is so fun!
Other Designers in the Savannah Blog Hop
Be sure to go see all the great quilty projects using the Savannah fabric!
Here are links to all the other designers:
June 27 :    
Tamarinis               https://tamarinis.typepad.com/tamarinis/2022/06/savannah-a-blog-hop.html
Swan Amity           https://www.swanamity.com/single-post/savannah-by-tamarinis-from-island-batik   
Faith and Fabric      https://faithandfabricdesign.com/2022/06/savannah-fabrics-by-tamarinis-for-island-batik.html
June 28:    
True Blue Quilts       https://truebluequilts.com/savannah-collection-starburst-pillow/ 
Sew Joy Creations  https://www.sewjoycreations.com/2022/06/savannah-island-batik-fabric-blog-hop.html
Said With Love        https://saidwithlove.com.au/savannah-island-batiks/
June 29:    
Studio R Quilts         https://studiorquilts.com/blog
Dragonfly's Quilting Design Studio    https://view.flodesk.com/emails/626c8eb7047591650544e8d6
June 30:    
Kate Colleran Designs    https://katecollerandesigns.com/savannah-blog-hop-new-fabric-new-quilt-pattern/        ME!        
Quilt Blox                 https://quiltblox/blog          
Sunflower Quilting    https://sunflowerstitcheries.com/savannah-blog-hop/
June 1:      
Slice of Pi Quilting    https://www.sliceofpiquilts.com/2022/06/flutterfly-in-savannah-batiks.html
Masterpiece Quilting    https://masterpiecequilting.blogspot.com
Quilter's Treasure Chest    https://www.quilterstreasurechest.com/blog—raijas-bits-and-pieces
happy quilting!
Kate