Hi friends!
Some of you may have followed along when my friend Jenny Kae Parks and I created our Quilter's Color Play challenge blocks and quilts. We had fun playing with those 2 blocks and seeing how different our quilts ended up!
Picking a Quilt Design for my Color Play Challenge Quilt
Now that I have a quilt top, it needs to get quilted! I decided to quilt it myself, which if you know me, is not something I do a lot of. I rely A LOT on my long arm quilter, Crystal Zagnoli of The Quilted Cricket, to make me and my quilts look their best.
So what was I going to do?
I needed a plan. Usually my quilts are done with an all over design. I love custom quilting but I don't have the $$ to get all my quilts custom quilted.
Picking a Thread Color
First I needed a thread color. After trying out a few different options, I chose this purple. Love it.
Sometimes a color like this can overwhelm a light fabric. But because my white has so much color in it, it works out great!

Picking a Quilting design
Being used to picking out an all over design made it even trickier to pick a design for my quilt. One thing I knew for sure; it was not going to do swirls or free motion- if I am quilting it, I am a straight line kind of girl!
I looked thru a few quilting books to get some ideas.
Quilting the Color Play Challenge Quilt
The rule of thumb is to start your quilting in the center and move outwards.
Did I do that? Of course not! Because instead of starting with a plan, I had an idea for quilting the outer sections and I wanted to get started, so I started there.
Lark thinks a plan probably would have been a better idea.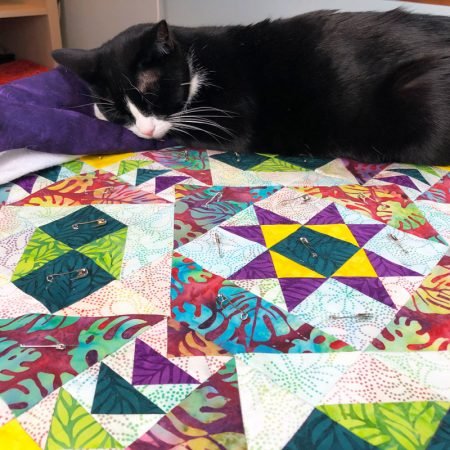 That's OK- I like how the outer sections turned out. And I love the purple thread on the green fabric.
On to quilt the center of the quilt! Wish me luck!
Next week Jenny and I will be sharing our finished quilts on Thursday during a Facebook Live. I can't wait to see how Jenny quilted her quilt!
And I will post my finished Color Play Challenge Quilt here on Friday for those of you not on FB!
happy quilting,
Kate