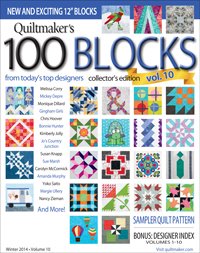 Hi everyone! Welcome to Seams like a Dream and the Quiltmaker's 100 Blocks Blog Tour. Wow! 10 issues, 100 blocks each= 1000 blocks!
We are so excited to be part of the fun.
Here is our block, Starry Hearts.
I know everyone is prepping for the upcoming Thanksgiving, Chanukah and  Christmas holidays, but really, Valentine's Day will be here before you know it!
It would be pretty easy to take the block and make it into a table topper or wall hanging.
Something like this: Isn't that fun? I love dots.
Or, if you want a slightly calmer background, you could do this.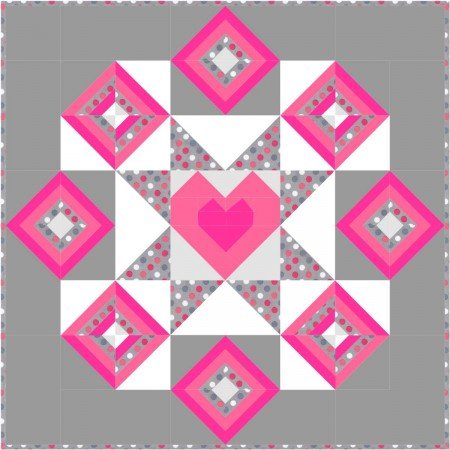 Or you could use four blocks and make them into a spiffy table runner. Like this:

Or, if you didn't want to use traditional colors for your hearts, how about this?

So many options!!
Want to make a runner? It is pretty easy.
The runner finishes to 14″ x 50″.
Make 4 blocks following the directions in the magazine. Sew them into a long row.
Get ½ yard of border/ binding fabric and ⅞ yard of backing fabric.
From the  border fabric cut 4 strips 1 ½" x WOF and piece them together.
Cut into 2 side borders 1 ½" x 48 ½" and 2 borders for the top and bottom at 1 ½" x 14 ½". Sew the borders first to the sides and then to the top and bottom.
Cut the backing fabric into 2 pieces, about 20″ x 29″ each.  Sew them together and trim to a backing piece about 20″ x 56″. Quilt as desired and bind. You will probably need 4 strips to make the binding ( I use 2 ¼" double fold binding for most projects though, for a runner, you could just use 1 ½" strips and make single fold binding).
Have fun with the block- and if you play around with it, pleases, send us a photo! We would love to see what you do.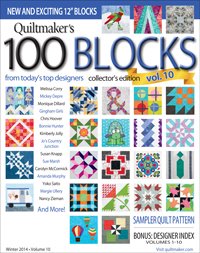 In the meantime, would you like to win a copy of Quiltmaker's 100Blocks Issue 10?? Of course you would!
Well, leave a comment and, if you want, you could tell us what colors you would make your block in. Comments will be open until I get up Saturday morning- then I will draw a winner.
Ok. 2 winners.
happy quilting,
Kate
Contest is closed- winners have been picked! Thanks everyone!