Today is another scrappy post- a great way to use up chunks of your leftover fabrics is to make scrappy backs. I have always liked pieced backs- it seems like you get two quilts in one that way!
But who wants to use small pieces for that?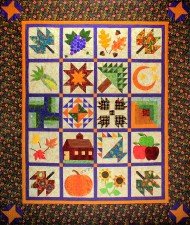 For my quilt Autumn View, I cut the leftover chunks of fabric into 10″ (or 10 ½") squares and sewed them together.
I also added all the "reject" blocks- just because they weren't good enough for the front doesn't mean they aren't good enough for the back!
I also did a scrappy back on my Blustery Day quilt. On this one the smaller reject blocks became my hanging sleeve!
And here is another.
Just another idea for your scraps, or fabrics that you no longer love but are still good. Scrappy backs.
happy quilting,
Kate