Hi Friends!
Today I want to share some images of one of my newer quilt patterns, The Stars Align.
Last fall for Quilt Market, I made my first version of this fun star quilt pattern using fabrics from Batik Textiles.
The line I used for this The Stars Align quilt pattern is called Puffin Ridge and the background fabric has these animal footprints that I just love. So fun!
The colors are rich and deep and it seemed to really fit with the time of year- fall!
Then I made (well I partly made and my daughter Alyssa finished the piecing for me) another version of The Stars Align quilt using the new fabric line Delight from Tamara Kate for Michael Miller fabrics.
And this one feels like spring!
Don't you just love how different fabrics can change the look and feel of a pattern?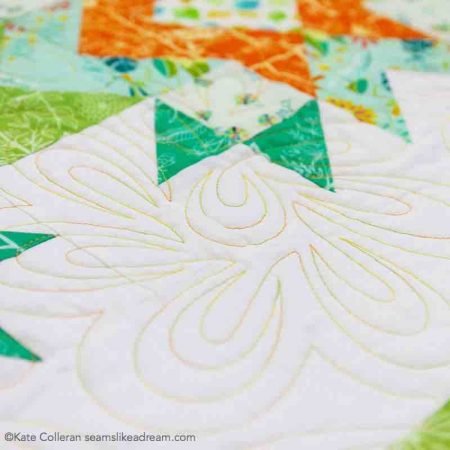 At first glance, this block looks like a normal star block. But then you notice something is different and figure out the points aren't the same on all sides!
It's fun to take a block and give it a spin and make it a little different!
In this second version, I also added another fabric for the center of the star blocks because I wanted to use the dots fabric. I love how the quilt came out!
What colors would you make this quilt in?
Click here to get The Stars Align quilt pattern and make your own version!
happy quilting,
Kate
Did you enter the giveaway over on the blog post for Block 3 of the Adventure in Color Quilt Along? Remember, you don't have to be making the quilt to enter the giveaway! Click here to go to that blog post.