Hi friends!
Today is the day for Block 8! And Block 8 is great!
Link for the block is at the end of the post. There is a giveaway there too!
A Road Less Traveled
Many of us plan trips knowing exactly where we are going, what we are planning to do and when. We research the area, look up what activities there are and make sure we know are the best places to stay and to eat.
What if we planned a trip where the only things we knew were our mode of transportation and the direction we head first?
Could you do that? Just go with no destination in mind?
Or, have you done that?
I haven't. I am a planner. I want to know where I am going, when I will be there and what happens next! Yes I know there is a word for that, but let's just say I like to be in control.
Block 8
In our quilt, the arrow blocks represent the options we have as we travel on our adventure – go here, go there… pick a direction and see where it leads you. To make our arrows, we are using Flying Geese units and strip sets.
The Flying Geese are made 4 at a time which is often called the No Waste Method. I love this method and I often use it even if I am left with a few extra geese!
We gave you all the steps in the pattern, but here are a few of the steps so we can chat about tips.
You start with 1 large square and 4 small squares. The large square is the "geese" fabric and the small squares are the smaller triangles in the block.
If you want to know how to determine the size of the squares, the math for this is in a FG handout on my tutorials page that you can download.
Draw diagonal lines on the wrong side of the small triangles. You can either draw the center diagonal line and sew ¼" away on both sides OR draw the sewing lines.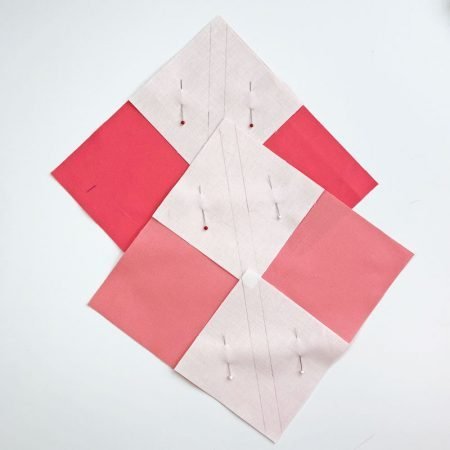 Line up 2 small squares on the large square so they overlap in the center. Sew ¼" away from the diagonal line on both sides and cut the unit apart along the center diagonal.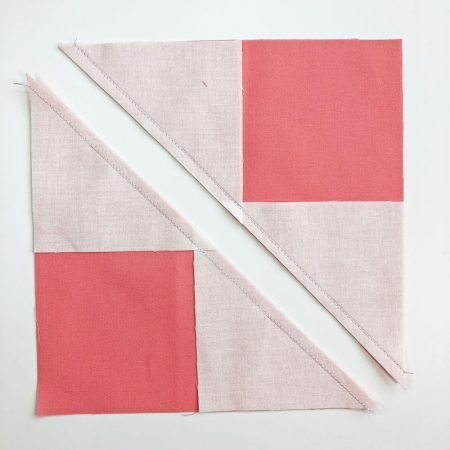 Tip: Draw a scant ¼" line and when sewing, sew just inside the line (towards the center) so that your unit is not too small. You can always trim down but you can't add fabric!
If you have not done this method before, you might want to make a test unit out of scraps just to make sure you have the lines in the right place!
Note: some people will cut their squares a little oversize; I usually just use a scant ¼" seam so I have little bits to trim and that works fine for me.
Press the small triangles away from the geese fabric and line up the next small square on your unit.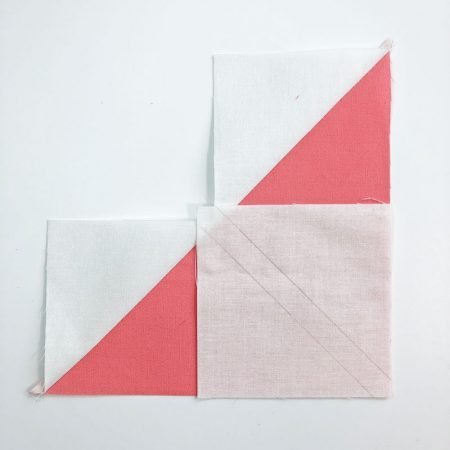 Sew ¼" away from the diagonal line on both sides and cut the unit apart along the center diagonal.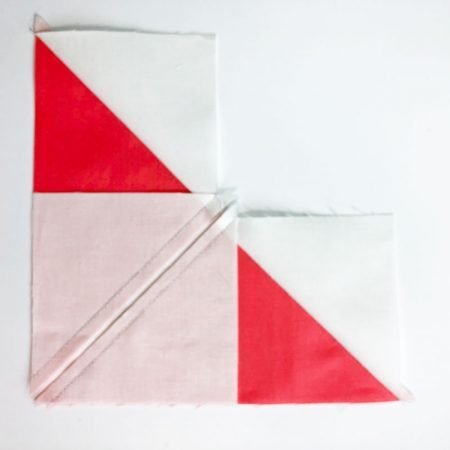 Press to the small triangle and ta-da! You have 2 FG units. Now make the other 2 from the other section. Trim to size as needed.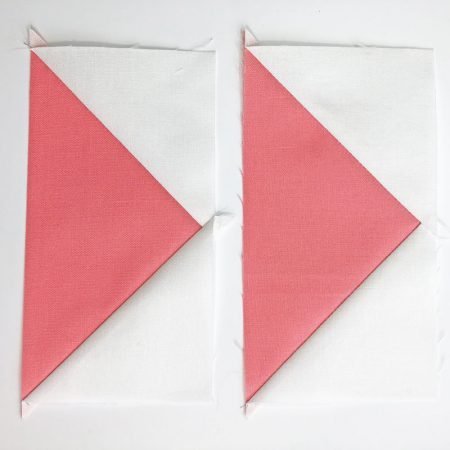 Trim: I love to trim using Wing Clipper. It has these great lines that make it so easy.
Easy peasy right? You will have those FG units ready to sew together with your strip sets into arrow blocks in no time!
For some reason, this whole thing reminds me of The Wizard of Oz and I have been singing, Follow the Yellow Brick Road, follow the yellow brick road …. as I type.
I think it is because, while they knew where they had to end up, they had no idea where the road would take on their journey to their destination. Kind of like life. What is the saying? Life is what happens while we are busy making plans…
Link
Click here or on the image below to go to the page to get Block 8!
And click here to check out Tammy's Block 8 post!
Giveaway
This week, I am giving away a Braid Template!
In a couple of weeks we will be making our Treeline blocks and this tool is helpful for cutting out the shapes (not required, just helpful!).
I thought I would give one away now, so the winner has it by the time we get to the trees!
To enter, leave a comment on this post telling me where you want to go on your next trip. Doesn't have to be someplace you are going, just a place you would like to go! Contest ends Tuesday March 27th at 6pm MT.
Have fun with Block 8!
happy quilting,
Kate
Facebook Live
I will be doing a FB live this Saturday going over the Flying Geese method we used. If you want to see it done in person, then head over to my FB page, seamslikeadreamquilts, at 2pm Mountain Time on Saturday. I know I usually do it earlier but I have a guild meeting to go to in the morning.
Block 9
Next week and the following week, Blocks 9 and 10 will be on Tammy's blog. I am heading out of town for a little business, and then some family time. I will get to see my older son on his 35th birthday, see my daughter for lunch and then head to FL to see my other son and celebrate MY birthday. It's a big one so I might as well spend it at Disney World! See you back here for Block 11 in a few weeks!