Hi friends!
If you have been following along with Kris, Joanne and I on Instagram, we have been posting about some great holiday gift giving ideas under the hashtag: #amakersgiftguide.
In case you missed any suggestions, and to add a few more, I have compiled a list of my Top 10 Last Minute Quilting Gifts.
Top 10 Quilting Gifts for Quilters
Last Minute Quilting Gift for Quilters #1
A table runner. Many quilters make these kind of things for other people and forget to keep one for themselves! So they are good not only for your friends and family that don't quilt, but for your friends who do! And here are 2 great options from my collection of patterns: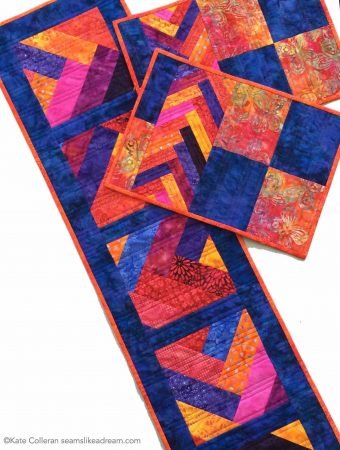 This one would be awesome in leftover Christmas fabrics. I am working on mine…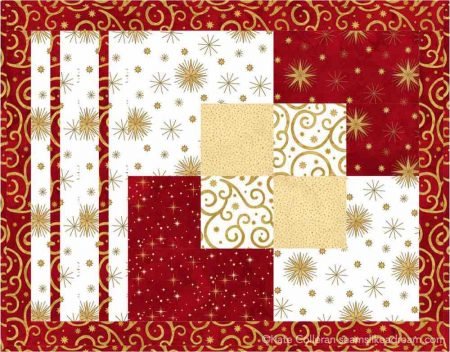 I showed this one in an earlier post for the #amakersgiftguide. Click here to see the fabric line I used!
Last Minute Quilting Gift for Quilters #2
A bag! Your friends probably would love a homemade bag with fabrics chosen by you just for them. A quick easy project but on that they will use over and over! Great for quilty friends and non quilty friends! Here are 4 great pattern ideas:
A size for different projects or uses! I love the extra large for my current knitting project and the medium is perfect for all my computer cords and chargers!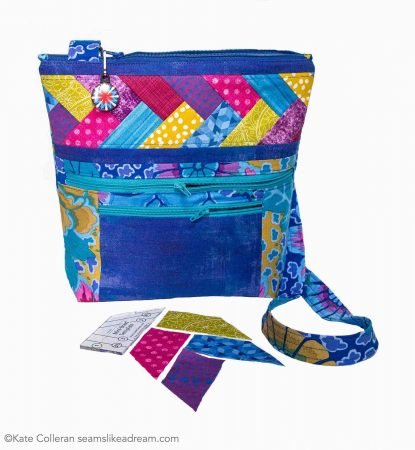 Last Minute Quilting Gift for Quilters #3
A scarf.  Seriously this pieced infinity scarf couldn't be easier to make! Well, I guess if you made one with just one fabric it would be easier but a pieced scarf is so much more interesting! Chose 4 fabrics that your friend will love and you can make her a scarf in just a short while. And if she lives somewhere where it is cold and frosty, put minky or a soft fleece on one side to make it extra warm and snuggly.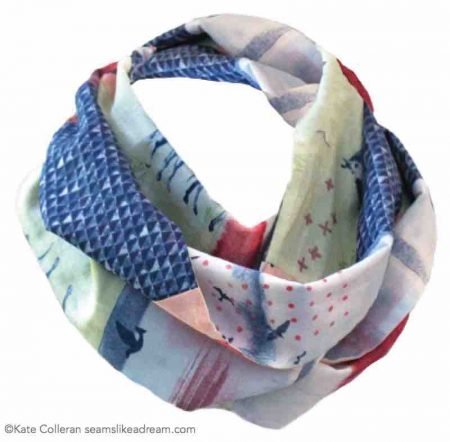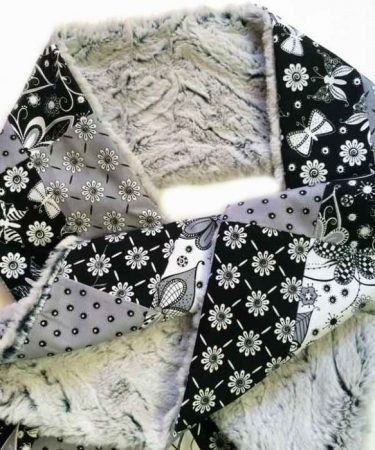 Love my snuggly scarf on those cold wintry days!
Last Minute Quilting Gift for Quilters #4
Stockings! Christmas stockings are a great way to make a personalized gift for family and friends. Make this fun Winter Star Stocking and then personalize the top with their name or initial. Fill it with some goodies to make it even more special. (See gift ideas 6-10 for your quilter friend!)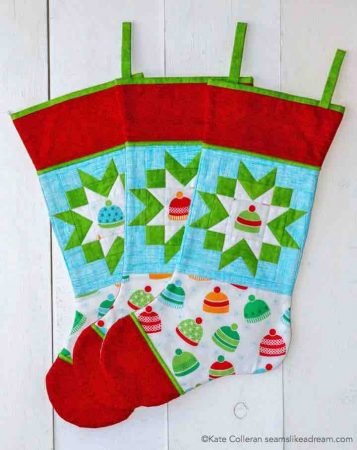 If you need more help with making stockings, I  also have a class on Bluprint all about making Christmas stockings.
Last Minute Quilting Gift for Quilters #5
How about making something to decorate their door or hallway? Make a fun holiday wall hanging or door banner;  something that every year when they pull it out, they will think of you.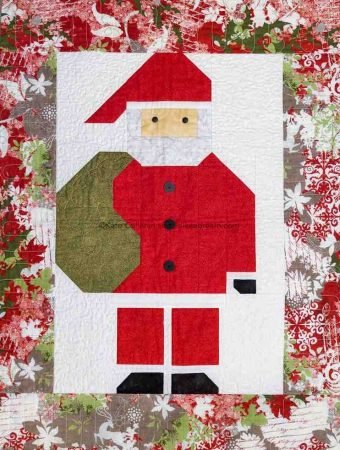 Last Minute Quilting Gift for Quilters #6
Any of your family and friends book lovers? Anyone like to keep a journal? Make a journal cover and enclose a standard composition notebook and a fancy pen. They can keep track of the books they have read, make notes for a class in style or draw! They can use the cover over and over as they fill up their notebook!
Make a notebook cover in fabrics to suit each person!
Last Minute Quilting Gifts for Quilters #7-10
These last few gifts are just for your quilty friends. Things that only a quilter would love!
7. New Rotary Cutter Blades and Sewing Machine Needles. We all need them, we all hate to buy them!
8. A new ruler. Usually we know what ruler our quilty friends have been coveting. Maybe make their day with that new ruler or template they have been dreaming about getting?
9. Fabrics! Who doesn't love fabric? How about a FQ pack from her favorite designer?
10. Wool pressing mat. Mini iron. Binding clips. Glass head pins. Snips. Scissors. Quilting T-shirts. The Quilter's Planner. 
What is your idea for a great last minute quilting gift for a quilter? What tool would you love to receive this holiday season? Leave a comment below so we can all get great ideas for our holiday shopping.
happy quilting/gifting!
Kate
Bonus gift idea! Have you downloaded my free Quilted Coaster pattern over at Bluprint? A great little quick gift- just use what you have in your stash! Click here to grab that pattern.
Disclaimer: In the name of full transparency, please be aware that this quilting gifts for quilters blog post contains affiliate links and any purchases made through such links will result in a small commission for me (at no extra cost for you).