Hi friends! Today is the Broken Glass Blog Hop!
Broken Glass
What is Broken Glass? It's a beautiful batik line from Island Batik, designed for Kathy Engle for Swan Amity Sheridan of Swan Amity Studios and it's landing in stores this month!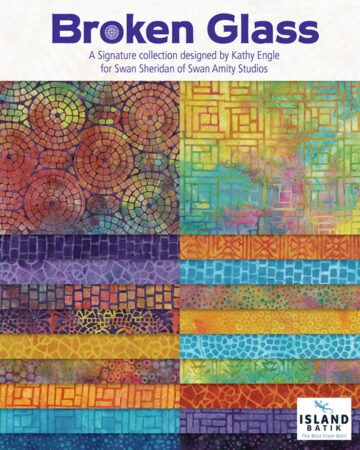 To help launch this happy line of fabric, I have joined a group of innovative designers to bring you an exciting list of ideas for smaller projects that make use of this beautiful batik.
My Projects
I didn't get a chance to play with the fabric (bummer!) but I thought it would be so amazing as pillows. I have 2 pillow patterns that use my mini Braid template and that is such a fun way to use small pieces of a line!
First pillow is my HeadRest pillow.
Doesn't if look good?
If you are local and want to make this pillow with me, I am teaching it on March 4th at The Quilt Store in Broomfield!
My second pillow is called Snuggle Up and it is also just so fun to make.
Sometimes it is hard to see what the pillow really looks like when all you see is a flat image. Pillow aren't flat!
Here is what my original Snuggle Up! pillow looks like. The quilting really adds to the design.
The Giveaway
Thank you to everyone who entered the giveaway! I will be contacting the winner soon.
If you go over to Swan's blog post, you can enter her giveaway for some Broken Glass fabric!
BUT I am doing a giveaway here as well! I am offering a Snuggle UP! pillow pattern AND a Mini Braid Template!
For a chance to win, leave a comment on this blog post – you could tell me which is your favorite color in this group of batiks – Purple? Aqua? Yellow gold? Orange? Or maybe you like one of those multicolor prints?
The giveaway is open to US residents only- sorry but shipping is SO much right now!
Giveaway closes Monday night Feb 21 at 9 pm MT.
Once you have commented here, and popped over to Swan's blog, you'll want to check out all the other bloggers- they will have some great projects to show you!
The full list is below with links.
Oh wait! Before you go, in case you didn't see the IG hop last week with the Brocken Glass fabric, I wanted to show you the quilt I colored using the fabrics. I think it looks SO GOOD!
It is my quilt pattern Foothills.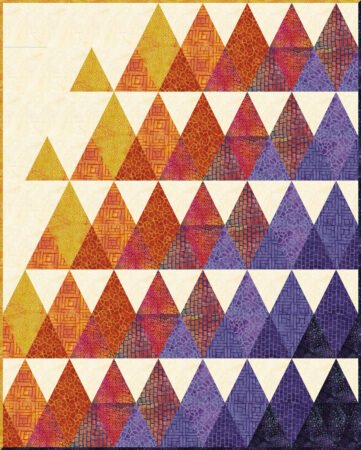 Happy quilting!
Kate
Other Bloggers using Broken Glass