Hi friends! In case you haven't heard about it, I wanted to share about my new MYSTERY quilt along called Luna!
Mystery Quilt Along
A while back, I had planned to start a mystery quilt along. I had the pattern and I started working on it. But… it never got anywhere. It kept getting shoved to the side for other projects. It was a quilt pattern UFO!
But last year I decided that March 2023 was the time and I was going to make this happen! And here we are! Ready to go!
The Name
Where did the pattern gets its name? Well, I have a history of naming quilt patterns after my cats. Or my daughter's cats or my friends cats!
Luna is my sweet white with black markings kitty.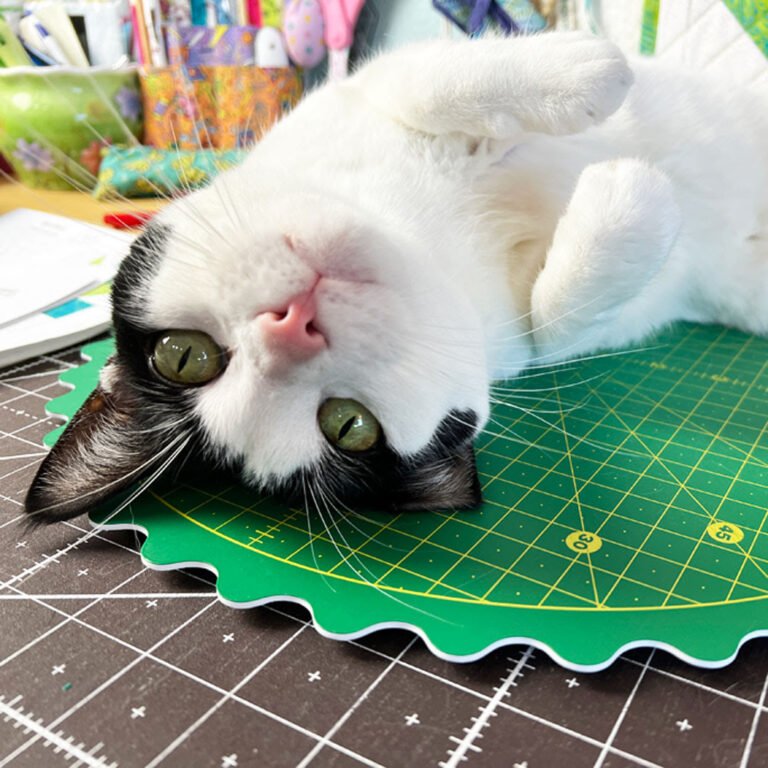 She likes to help me make quilts.
She is not always helpful. But she is so cute!
And yes, her sister Lark is a little miffed she doesn't have a quilt named after her but … I will.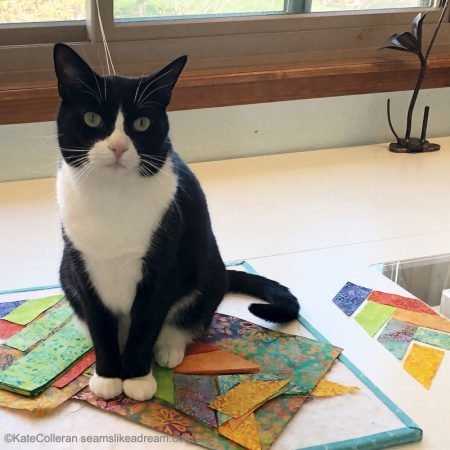 Plus, did you know that a luna moth represents new beginnings, a gift of intuition and a quest for truth and knowledge? When doing a mystery quilt along, it appears to me we are on a quest for the truth of what our quilt will look like. So it seemed appropriate.
The Plan
The quilt along officially starts March 15th. But before you can participate, you need to purchase the pattern.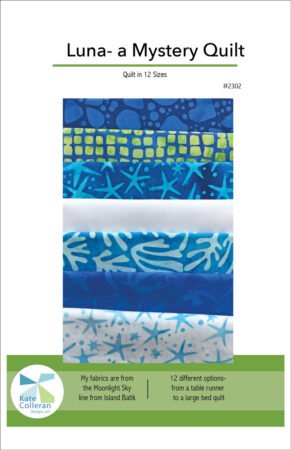 When you buy the pattern you will get a PDF of the Supply List so you can pick out fabrics and get ready to make a quilt. And a Welcome email to say hi.
Note- the pattern is on sale until March 15th!
The Schedule
The first clue will arrive in your inbox on March 15th. There will be a link to download the PDF of the clue. After that, each Wednesday you will get another clue via an emailed newsletter. The last clue is May 3rd.
What size is the mystery quilt along quilt?
Well…. the pattern has 12 size options. Yes- 12! From a small table runner to a large bed size quilt, you have options! So if you are pressed for time but want to play along, I've got you covered. You can make the small runner, or larger runner, or a wall hanging or even a crib quilt!
How many fabrics do you need?
The pattern calls for 7 fabrics (which include the block background) but you can use less if you prefer. In the supply list I give suggestions for how to combine the fabrics and use only 5 or 6. I also share suggestions on how to pick your fabrics.
Here are my fabrics!
I am using a selection of leftover fabrics in my stash for a line by Island Batik called Moonlight Sky. I love blue and this line has some great blues!
Intrigued? Want to quilt along with us? It will be fun!
Click here to see the pattern and get going on the quilt along! Everything will be done by email after that.
happy quilting!
Kate
p.s. p.s. Local peeps- did you see I am teaching at StitchFest in Loveland this April? As I wind down my quilt teaching career, this will be a fun way to go out with a blast! I am teaching 4 of my most popular classes! Click on the image below to see all the fun classes being offered!
p.p.s. Have you signed up for the Quilter's Color Mixer yet? It is offered by Creative Spark and is on March 30th! It will  be 4 hours of great information on color by 12 instructors with a keynote speech by Jean Wells, the color guru! Click below to use my affiliate link and coupon code mix1kate and save $20!!