Hi friends! Recently I realized that I seem to be doing more paper piecing of quilts lately. I wonder why?
Paper piecing often gets a bad rap- people seem to love it or hate it. I'm in the "I don't mind it" category. 
Want more on paper piecing? Click here to go to my post on how to paper piece.
Recent Paper Piecing quilts
Last year as part of the Block Remix challenge, a couple of the blocks used paper piecing. I went back to look and I used paper piecing for 2 quilt blocks in 2022 and 3 quilt blocks in 2021.
Which may not seem like a lot but given I don't do it a lot, it is!
Let's take look at my block challenge quilts done using paper piecing.
Snowball Remixed Block 
My first challenge block in 2021!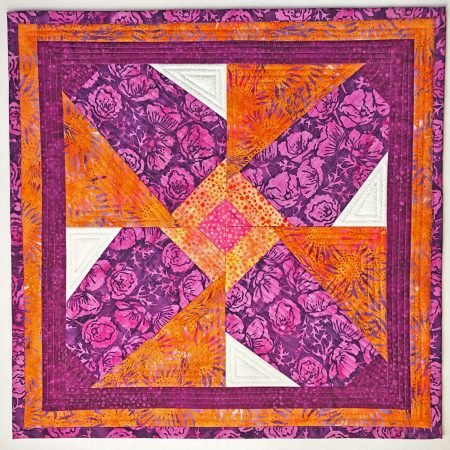 Rail Fence Remixed Block
Strip Star Remixed block
Hourglass Remixed Block
Old Maid's Puzzle Remixed Block
As you look at each of my block remixes, I used paper piecing when it was easier than trying to cut unusual shapes. Or in the case of the Old Maid's Puzzle remix, those small strips cut with angles would have been so easy to stretch out of shape. Or not have them end up straight!
January's remixed block will be made with paper piecing. The block this month is the Dresden Plate block, which is usually appliqué but hey- I am doing a remix so mine will be paper pieced!
AND will look nothing like the original to be honest. I went a little crazy! I will share here on the blog in a couple of weeks. We reveal our blocks on IG Monday Jan 30th.
Other patterns
Always Welcome
Most recently, I released Always Welcome. The quilt shown is in my Paisley Got Mod batik line with Island Batik.
It is a basic pineapple block BUT the magic is in how you color it. Just changing up where the lights and darks go can create a whole new look!
Spiral Galaxy
Another quilt that I paper piece is my pattern Spiral Galaxy.
I am actually teaching this quilt block at a local shop in a couple of weeks. Another block that is pretty basic but you can change the look by changing where the fabrics and value goes. 
Check out this post to see more about playing with color and value!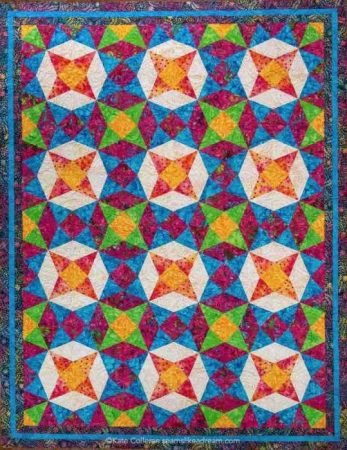 If you are interested in the class, go to The Quilt Store's website and check it out!
I think knowing how to paper piece it is a useful tool to have in our quilting toolbox, so when needed, I am happy to use that method. And finding the method that works for you is key.
Though I have to admit, my current block remix may be a challenge to piece. I will share how it goes in a couple of weeks! In the meantime…
happy quilting!
Kate
p.s. Did you know if have a free mini quit block that you can download and use to practice paper piecing?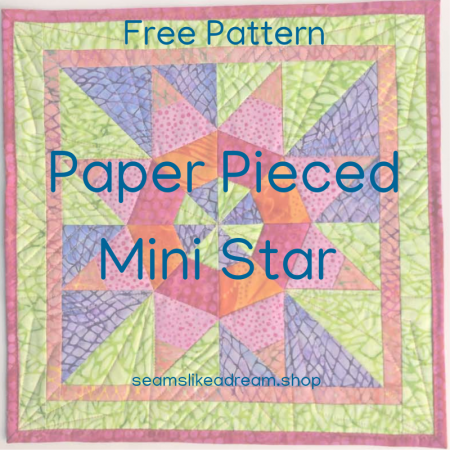 Click here to go to the Tips and Tutorials page and get the block!